From www.imore.com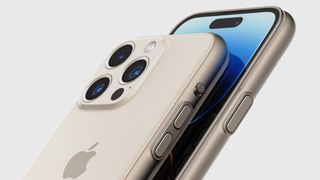 (Image credit: Jonas Daehnert)
Ahead of Apple's iPhone "Wonderlust" event, where we're expecting to see the launch of the iPhone 15 and iPhone 15 Pro, MacRumors has now confirmed the specs of both the storage and RAM that we can expect from the iPhone 15 Pro and iPhone 15 Pro Max handsets.
For months now we've been seeing claims about the storage and the RAM aboard the iPhone 15 Pro, with contradictory information and rumors landing each week. Now we know, according to MacRumors, that Apple has been testing a number of different storage configurations for both the iPhone 15 Pro and the iPhone 15 Pro Max, and these include 128GB, 256GB, 512GB, and 1TB.
Fake news
Anyone with a keen memory for iPhone rumors will know that earlier this year there were suggestions that a 2TB storage configuration might be on the way in the iPhone 15 Pro and Pro Max. This would have meant double the storage capacity of the iPhone 14 Pro. But it now seems like there's no solid evidence that that was being considered by Apple.
Another leak suggested that the ‌iPhone 15 Pro‌ would start out with 256GB of storage, but that appears to be incorrect as well. Instead, according to the data from MacRumors, all of the storage options for the iPhone 15 Pro and Pro Max are going to align with the storage tiers currently on offer from the iPhone 14 Pro.
MacRumors also shared more technical details about the upcoming Pro and Pro Max handsets. Specifically, that Apple is likely planning to use LPDDR5 DRAM for the ‌iPhone 15 Pro‌. This is the same RAM type that you'll find in 2022's flagship Pro and Pro Max phones.
Apparently, two types of RAM were tested, both 6GB and 8GB. Past rumors have suggested that the iPhone 15 Pro will only get 6GB of RAM. But a more recent rumor suggests that Apple is going to be offering 8GB on the iPhone 15 Pro. It's not yet clear which one of these Apple is going to be using, and it may depend on the storage of the phone. For example, higher storage could get 8GB of RAM.
We don't have to wait long to find out which of the rumors from the past few months are based on truth, as Apple kicks off its "wonderlust" event on September 12, at 10 am PT/ 1 pm ET/ 6 pm BST and we'll be covering all of the top news you need to know.
[ For more curated Apple news, check out the main news page here]
The post Last-minute iPhone 15 Pro leak reveals RAM upgrade, no 2TB storage first appeared on www.imore.com