From www.imore.com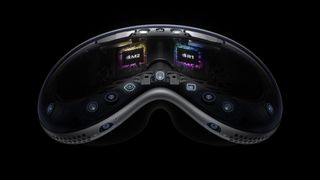 (Image credit: Apple)
Apple introduced its first mixed-reality headset earlier this year. The Vision Pro marks Apple's entry into a new product category for the first time in a while, but Apple isn't planning on slowing down now. With the Vision Pro yet to actually go on sale, Apple is already making progress on the sequel, according to a new report.
A new report by Macrumors sheds light on the development of this next-gen Vision Pro, which is apparently codenamed Project Alaska. The report had some details on what we can expect from the headset, even though it's pretty early in the development process, as well as a potential launch window.
Vision Pro sequel likely to arrive in late 2025 or early 2026
Macrumors notes that Apple is working on the new headset under the codename Project Alaska and device identifier N109. Apparently, it looks rather similar to the first-gen Vision Pro.
There may be changes to the speakers, with some designs showing missing speakers housing while others show speaker-type holes near the top vents area. References to an audio accessory have also been found in documentation, which could mean we see an external speaker accessory for the next headset.
Straps are another difference in the new design, according to the report.
"The second-generation headset features straps that are simpler in design and appearance, being somewhat reminiscent of the flat straps commonly found on laptop bags or backpacks. Prior rumors have suggested that the next Apple headset could be cheaper than the Vision Pro, and the design of the rear straps on the second-generation headset lends some credence to this theory."
The report also listed key hardware components of the second-gen Vision Pro. The sensors include a compass, ambient light sensor, magnetometer, and gyroscope. Connectivity includes Wi-Fi, Bluetooth 5, and ultra-low latency audio. The rest of the hardware includes two micro-OLED displays, a TrueDepth camera, four computer vision cameras, two RGB cameras, two infrared illuminators for low light, and semi-automatic interpupillary distance adjustment.
The headset is expected to enter the product validation testing (PVT) stage in 2025. That means we could see Apple launch the second-gen Vision Pro by late 2025 or early 2026. It's expected to be cheaper than the first-gen model, but we'll have to wait a while longer to know exactly how much it will cost.
[ For more curated Apple news, check out the main news page here]
The post Leak details Apple's second-gen Vision Pro headset codenamed Project Alaska first appeared on www.imore.com