From www.techradar.com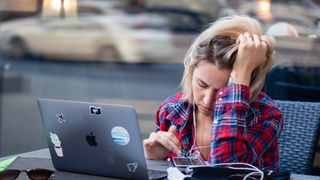 (Image credit: MikroKon / Shutterstock)
While iPhone fans are likely to be well served by tomorrow's (September 12) Apple September event, with the expected launch of the iPhone 15 range, it seems that those hoping to see new MacBooks this year will be disappointed.
As MacRumors reports, well-known Apple analyst Ming-Chi Kuo has revealed on X (formerly Twitter), that Apple "will not launch new MacBook models (equipped with M3 series processors) before the end of this year".
看起來到今年年底前,Apple應該都不會發售新款的MacBook (配備M3系列處理器) 機型了==It seems that Apple will not launch new MacBook models (equipped with M3 series processors) before the end of this year.September 8, 2023
See more
This contradicts earlier leaks that suggested Apple could hold an event in October to show off new MacBook Air and MacBook Pro models, alongside a new iMac – all powered by the rumored M3 chip, its follow-up to the M2, which launched last year.
All is not lost
While this latest leak is certainly a blow to anyone looking forward to seeing new MacBooks, there is still a glimmer of Mac-related hope, as people have latched on to the fact that Kuo specifically says there'll be no new MacBooks, possibly suggesting that other Mac devices could still arrive in 2023.
This might be reading a little too much between the lines, but if that is the case, a new 24-inch iMac seems like an obvious candidate. Apple's iconic all-in-one hasn't had an update since the M1 24-inch iMac model, launched in 2021, so a new model would certainly make sense.
As for a larger iMac, there hasn't been a new model with Apple's own chips – the last one still ran on Intel hardware – so that would be another candidate.
However, in the grand scheme of all things Apple, iMacs are a relatively niche product (despite being some of the best all-in-one PCs you can buy), and the company might simply think it's not worth updating them. And if it does, I can't imagine that Apple would choose iMacs as the devices to debut the M3 chip in; if new iMacs are indeed coming, it would make more sense that they're powered by the M2 chip.
The fact that we might not see the M3 chip – or any devices powered by it – until 2024 actually makes sense, even if, on the face of it, it's disappointing. Apple is still releasing new M2-powered devices, with the 15-inch MacBook Air launching just a few months ago, and the MacBook Pro 14-inch (2023) and MacBook Pro 16-inch (2023) launched earlier this year powered by the high-end M2 Pro and M2 Max chips. So Apple launchinh an M3 chip that makes those new products already seem dated wouldn't go down too well with customers who've splashed out for them.
Holding off until next year will give those M2 MacBooks more time to shine, and will hopefully allow Apple's engineers to produce something truly special with the M3 to make it worth the wait.
You might also like
[ For more curated Apple news, check out the main news page here]
The post New Apple leak is bad news for MacBook fans – but there's still hope for a new iMac first appeared on www.techradar.com