From www.imore.com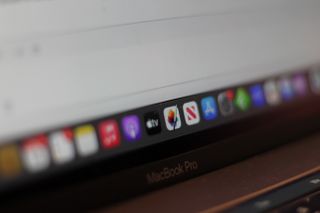 (Image credit: Future)
It may finally be time to replace your old MacBook Pro with rumors of an M3 variant lingering ahead of Apple's Scary Fast event next week. The next line of MacBook Pros is rumored to have up to 16 CPU cores and 40 GPU cores so the high-powered M3 Max chip is sure to take advantage of all that power.
As originally reported by Mark Gurman, Bloomberg's Apple expert, "New high-end MacBook Pros are in mass-production and are likely shipping imminently. I have little doubt these are being announced next week."
A surprise Mac Apple event was announced on Tuesday and is set to stream on October 30. Entitled "Scary Fast", the 3nm M3 Silicon chip is due to be officially unveiled alongside the first machines it will power. Perhaps the strangest part of this event is its air time of 5 pm Pacific time, 7 hours after Apple's normal event time of 10 am Pacific. Given the event airs the day before Halloween and has some spooky imagery, this could be an effort to add to the theming of the event.
A Staggered release — iMore's take
13-inch and 15-inch MacBook Airs with M3 chips are in development, according to Mark Gurman, but much further behind, suggesting the M3 Max chip is Apple's priority right now. A new Mac mini, Mac Studio, and Mac Pro won't be here until next year at least. This means that Apple already has a big year planned for 2024.
Though, according to these reports, we are only expecting to see the release date of the M3 Max power MacBook Pro next week, we should get a lot of information on everything Mac. With the iPhone event last month and WWDC 2023 just a few months ago, this focus Apple has on the spectacle of its events is a great way of distinguishing its projects and keeping some level of hype year round. This is before mentioning that the impressive-looking Vision Pro is due to launch early next year too. Hopefully, the M3 chip will allow new MacBooks to complement the AR experience.
More from iMore
[ For more curated Apple news, check out the main news page here]
The post New 'high-end MacBook Pros' to be announced next week and they seem incredibly powerful first appeared on www.imore.com