From www.imore.com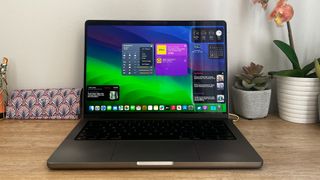 (Image credit: Future)
There's an Apple Event right around the corner, and we have what may be a last-minute leak about it. The Halloween event is likely to be heavily Mac-focused, with the MacBook Pro set to get the second refresh of the year. With the refresh so close to the last one, there's a lot of speculation about what would set these new models apart.
Apparently, it may not be the battery capacities. MacRumors has spotted regulatory filings for batteries for the upcoming MacBook Pro, along with an upcoming iPad mini and Magic Keyboard, and the listed battery capacities for these refreshes seem to be the exact same as existing models.
iPad mini 7 and refreshed Magic Keyboard also likely to retain battery sizes
The report says that Apple has resubmitted filings to Chinese regulatory database for existing Apple products, which likely suggests that these are for the refreshed models that may not get too many changes.
The models in question include Apple's best MacBooks, the 14-inch and 16-inch MacBook Pro models, set to be refreshed at the upcoming Apple Event. The filings also included the iPad mini, which is set for a March 2024 refresh, and the Magic Keyboard.
The filings are resubmitted with October 2023 issue dates. They were initially submitted in 2021 or earlier. Logically, there wouldn't be a reason to resubmit them, unless we're looking at minor refreshes with minimal changes, which the lack of change in battery capacities is pointing to.
Of course, we're expecting not much more except for an M3 family chip refresh for these models. Don't worry about battery life, though, as it is likely that there will be an improvement in those because of the improved efficiency of the new M3 chips.
The iPad mini doesn't seem to be accompanied with any other iPad here, which could either mean that those refreshes will be more extensive, or that we have more time to see the filings pop up as the potential refresh is a few months away. Could it mean that we'll see a surprise iPad mini refresh at the October event? Unlikely, but you can hold out hope anyway.
[ For more curated Apple news, check out the main news page here]
The post New M3 MacBook Pro may not get a battery capacity bump, reveals regulatory filing first appeared on www.imore.com