From www.macrumors.com
Apple's next-generation 13-inch and 15-inch MacBook Air models will both be equipped with an M3 chip, according to 9to5Mac sources. The report claims that Apple is also planning to release an updated version of the 13-inch MacBook Pro with an M3 chip.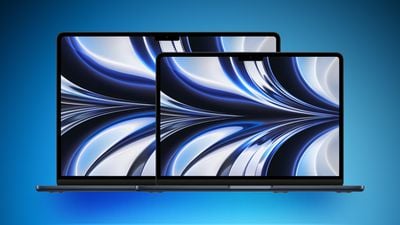 The unannounced M3 chip will have an 8-core CPU like the M2 chip, according to the report, but the chip is expected to be manufactured based on TSMC's latest 3nm process for further performance and power efficiency improvements. The M2 chip and its higher-end Pro and Max variants are built on TSMC's second-generation 5nm process.
The report doesn't indicate when the trio of MacBooks will be announced, but speculates that WWDC 2023 in June would be an ideal time for Apple to announce the M3 chip and the first Macs powered by the chip. Apple introduced the existing MacBook Air and 13-inch MacBook Pro alongside the M2 chip at WWDC 2022 last year.
On Sunday, Bloomberg's Mark Gurman said it was "plausible" that at least the new 13-inch MacBook Air would be equipped with the M3 chip. He said that Apple would likely launch both the 13-inch and 15-inch models "between late spring and summer."
There have been conflicting reports about whether the new MacBook Airs will be equipped with the M2 chip or the M3 chip and when they will be released. Just hours ago, display industry analyst Ross Young reiterated his expectation that the 15-inch MacBook Air will launch in April, but timing remains a question mark at this point.
Popular Stories
Apple is currently beta testing iOS 16.4, which includes a handful of new features and changes for the iPhone. Apple says the software update will be released to the public in the spring, meaning it will likely be available in March or April. Below, we have recapped five new features coming to the iPhone with iOS 16.4, including additional emoji, web push notifications, and more. 1. New…
While the iPhone 15 lineup is still around six months away, front glass panels for the devices were allegedly leaked today in a pair of videos shared on Chinese websites Bilibili and Douyin. The videos were later posted to Twitter by ShrimpApplePro and Unknownz21. iPhone 14 Pro front glass (left) vs. iPhone 15 Pro front glass (right) via Bilibili As previously rumored, the videos appear to…
The calendar has turned to March and Apple is rumored to have at least three product announcements planned between now and the end of April, including a 15-inch MacBook Air, a new Mac Pro tower, and a new iPhone 14 color option. Below, we have recapped what to expect from Apple this March and April based on rumors. This story was originally published in February and has been updated with new …
It looks like we could be seeing another Apple product introduction as soon as next week, and based on rumors and the timing, it appears it might be a new iPhone color. We're also continuing to hear rumors about the iPhone 15 lineup coming later this year and even a fourth-generation iPhone SE, so read on for all the details on these stories and more! Sources: Apple Planning Product…
Apple's next iMac has reached an "advanced stage of development," according to Bloomberg's Mark Gurman. In his newsletter today, Gurman said the new iMac will have the same 24-inch display size and color options as the current model. The new iMac will likely include Apple's upcoming M3 chip, internal design changes, and a new manufacturing process for the stand, according to Gurman. The M3…
Apple will likely launch both an updated 13-inch MacBook Air and a larger 15-inch MacBook Air "between late spring and summer," according to Bloomberg's Mark Gurman. However, he said the chips these models will use is a "big remaining question." Gurman said it is "plausible" that at least the next 13-inch MacBook Air will be equipped with the as-yet-unannounced M3 chip, which will reportedly …
The post New MacBook Airs and 13-Inch MacBook Pro Will Reportedly Feature M3 Chip first appeared on www.macrumors.com
In many places around the world, horse races are an attraction that a lot of people love to watch. With the fast-paced action and thrill that each game provides, it is no longer surprising to know that millions of fans have grown fond of it.
Cybersecurity threats have become vast and more sophisticated. The rate of malware attacks and malicious activity counts within seconds despite the size or sector the organization belongs to — no one is safe enough to expect that foe actors will bypass vital company resources.