From www.imore.com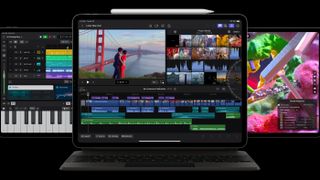 (Image credit: Apple)
An exciting new leak has brought us new details of Apple's hotly-anticipated OLED iPad Pro, widely expected to debut next year at the very top of the company's tablet range.
The iPad Pro, which recently celebrated its eighth birthday, has been the pinnacle of Apple's portable touchscreen lineup since its launch in 2015. The last update was a modest internal tweak that brought the M2 chip back in October 2022, but next year's release sounds like it could be the most exciting iPad in years, and not just because of that stunning new display.
In a new report, top insider Ming-Chi Kuo says that Apple plans to replace its current mini-LED iPad (the 12.9-inch model) with two new OLED iPad Pros, scheduled for mass production in late 1Q24-2Q24, i.e., the first half of next year.
Apple's new OLED panels "will adopt the Tandem design and LTPO backplanes" used in the iPhone 15 Pro to deliver much better display performance and power consumption. That means the OLED iPad Pro will not only look better but be kinder on battery life.
However, there's an even more exciting upgrade on the way, the all-new M3 chip.
M3 and OLED – name a more iconic duo
The new M3 chip was revealed at Apple's Scary Fast October Mac event, and sports some seriously impressive specs. It's made using a new 3nm process that packs in more power and efficiency than ever before, and there's also a very hot new GPU for unparalleled graphics performance compared to anything Apple has brought before. The company says M3 offers rendering speeds 2.5x faster than M1, with CPU performance and efficiency cores 30% and 50% faster respectively. The M3's efficiency and performance cores are 30% and 15% faster than the M2, which means this next iPad Pro promises to be an almighty upgrade over even the current best iPad.
The GPU offers some excellent new features that could make gaming on iPad absolutely incredible. Dynamic Caching allocates local memory in hardware in real-time, Apple says this is "an industry first" that "dramatically increases the average utilization of the GPU", "significantly" increasing performance with pro apps and games. It also offers hardware-accelerated ray tracing and mesh shading, which makes games look absolutely incredible. Amazing shadows, reflections, complex geometry, and more should all come into play.
So yes, OLED is a very exciting display upgrade coming to the iPad, but it's the power of that M3 chip under the hood that will bring those pixels to life in a way we've never seen on the iPad before.
More from iMore
[ For more curated Apple news, check out the main news page here]
The post New OLED iPad Pro leak reveals it could be Apple's most exciting tablet in years — and not because of its magnificent display first appeared on www.imore.com