From www.slashgear.com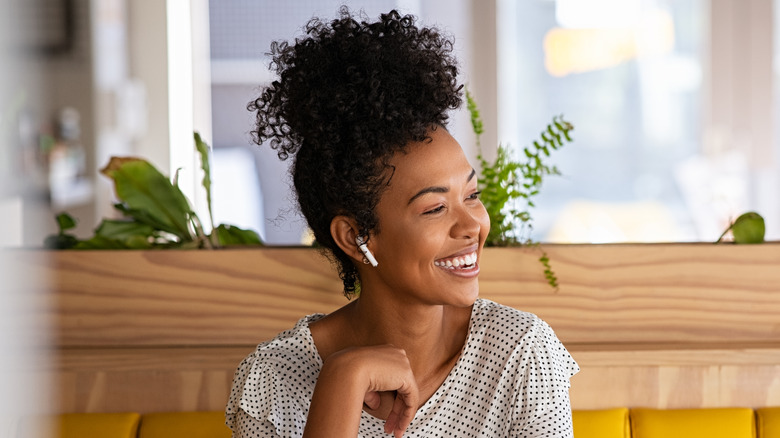 Ridofranz/Getty Images
Over the past decade, wearable gadgets like smartwatches and fitness bands have emerged as potent health-monitoring tools. Modern smartwatches from leading brands can track various metrics related to physical activity; including steps taken, distance traveled, calories burned, heart rate, and sleep patterns.
Some wearables also include features for monitoring other health indicators, such as blood pressure, oxygen saturation levels, and electrocardiograms (ECGs). These features can be useful for individuals with health conditions or anyone wanting to keep an eye on their health in general.
Apple, the leader in the smartwatches space (56% of smartwatch users in the U.S. alone), has had several instances of its products helping save lives. Apple Watches can detect an irregular heartbeat and warn people about potentially fatal conditions. Starting with the Apple Watch 4 Series, the devices gained the ability to detect if the wearer had taken a hard fall as well. During the COVID-19 pandemic, there were instances of the Apple Watch alerting users about low blood-oxygen levels as well, which in turn helped save lives.
Given Apple's record with health monitoring on wearable devices, it was only natural for them to attempt to extend these capabilities to AirPods. For years, there have been rumors about Apple working on bringing active health monitoring features to AirPods. In the most recent edition of Apple analyst Mark Gurman's weekly newsletter on Bloomberg, he asserts that Apple is closer to achieving its goal of enabling active health monitoring features on the next generation of AirPods.
What to expect AirPods health monitoring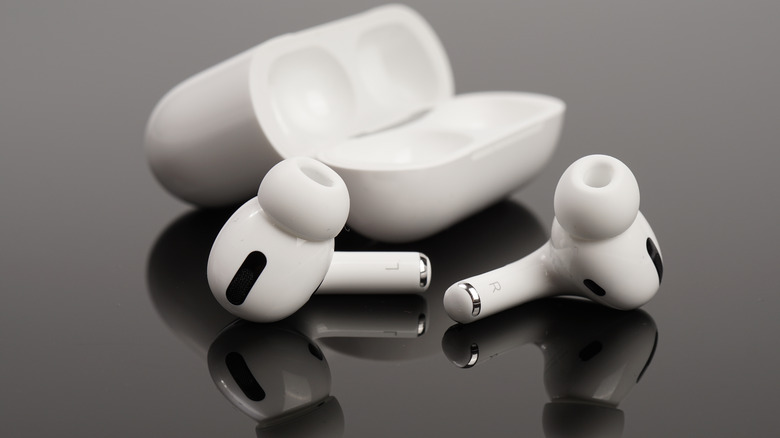 Mohd Syis Zulkipli/Shutterstock
According to Gurman, Apple is putting in a lot of resources to enable a bunch of health monitoring features on future AirPods. The company's initial aim seems to be to give the AirPods the "ability to get hearing data of some sort." Note that this feature would be different from Apple's existing LiveListen accessibility feature, which has been around since 2018.
The Live Listen feature can transform supported Apple devices and hearing devices into remote microphones. With the feature powered on, an iPhone or an iPad kept in a room could pick up sound from a source and wirelessly transfer the sound to the AirPods, enabling the listener (who may be farther away from the source) clearly listen to the conversation.
The feature has found favor with people who have minor hearing impairments despite the device not being an FDA-approved hearing aid. Gurman also indicates that Apple is pushing for FDA approval for some of the health-focused features for the upcoming AirPods.
While Apple has officially maintained silence over possible health monitoring features on the AirPods, there have been several rumors about it. In 2021, an Apple executive discussed the possibility of AirPods receiving health monitoring capabilities, without going into detail. It remains to be seen how long Apple takes to officially bring health monitoring features to AirPods, with Gurman estimating that it could take the company a couple of years.
The post Next Generation AirPods Might Be Able To Help Monitor Your Health – SlashGear first appeared on www.slashgear.com
In many places around the world, horse races are an attraction that a lot of people love to watch. With the fast-paced action and thrill that each game provides, it is no longer surprising to know that millions of fans have grown fond of it.
Cybersecurity threats have become vast and more sophisticated. The rate of malware attacks and malicious activity counts within seconds despite the size or sector the organization belongs to — no one is safe enough to expect that foe actors will bypass vital company resources.