From appleinsider.com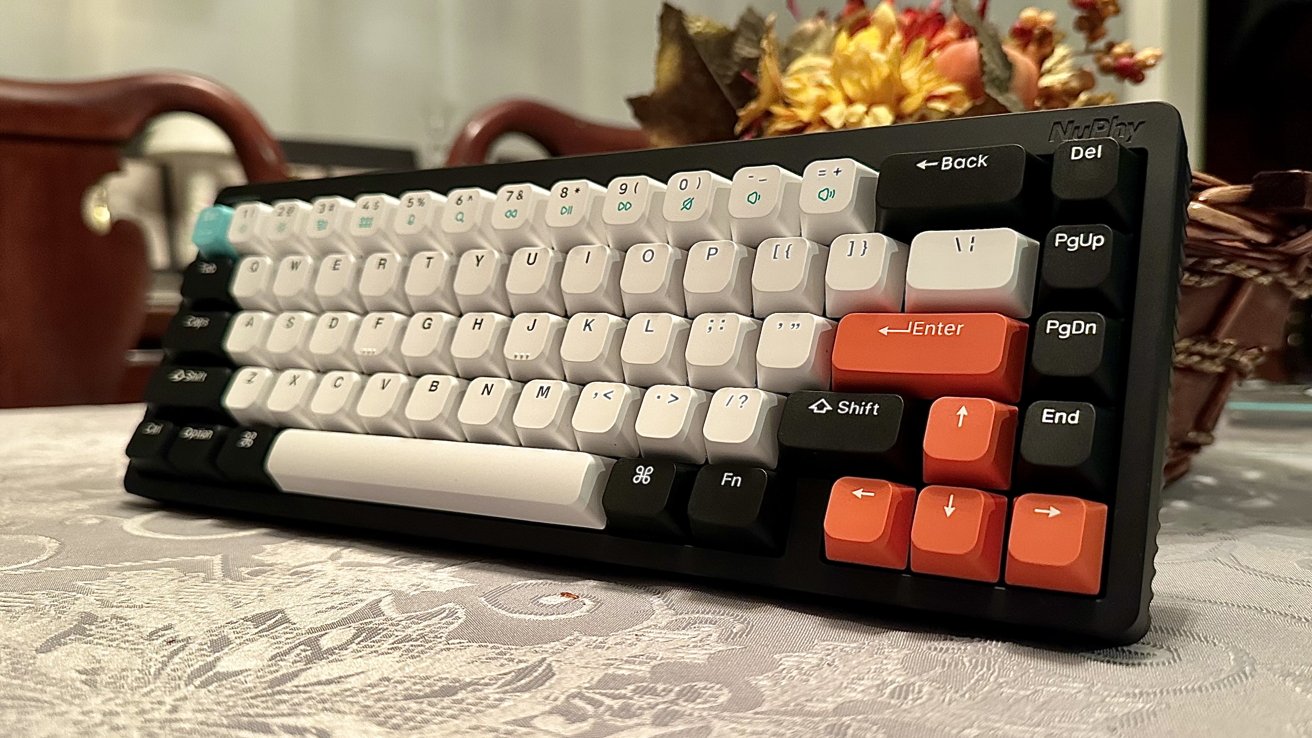 AppleInsider may earn an affiliate commission on purchases made through links on our site.
Nuphy's Halo65 is a mechanical wireless keyboard that's fairly compact and great to use, but its small size is countered by its premium pricing.
Wireless keyboards usually have a simple and light design that only offers a basic typing experience to you, but Nuphy takes that a step or two further with different colorful backlit keyboard modes and mechanical keys in its Halo65 Wireless Mechanical Keyboard.
The keyboard ships with replacement keys of different colors ranging from yellow to red, to white, and a USB-C to USB-A charging wire to either use the keyboard in Wired Mode or charge it after using it in Wireless mode. It also includes a tool to take off the keys when switching them out.
There are multiple wireless keyboards to choose from on the market. But if you are looking for a good mechanical one that offers a large range of customization options from the backlit colors shown to the outer design, then the Halo65 Wireless Mechanical Keyboard may interest you.
The design
The Halo65 Wireless Mechanical Keyboard comes in a small aluminum body that is 12.5 inches long and weighs 2.20 pounds. At that weight, this keyboard can be very heavy for some people looking for a traveling wireless keyboard.
The 65 in the name refers to it being an ANSI 65% keyboard, in that it eliminates the num pad, the function row, and other non-essential keys. In total, it actually has 67 keys.
The back includes a USB-C port to plug in the accompanying wire in the box to it either charge the keyboard or use it in Wired Mode. There is a switch next to the port as well.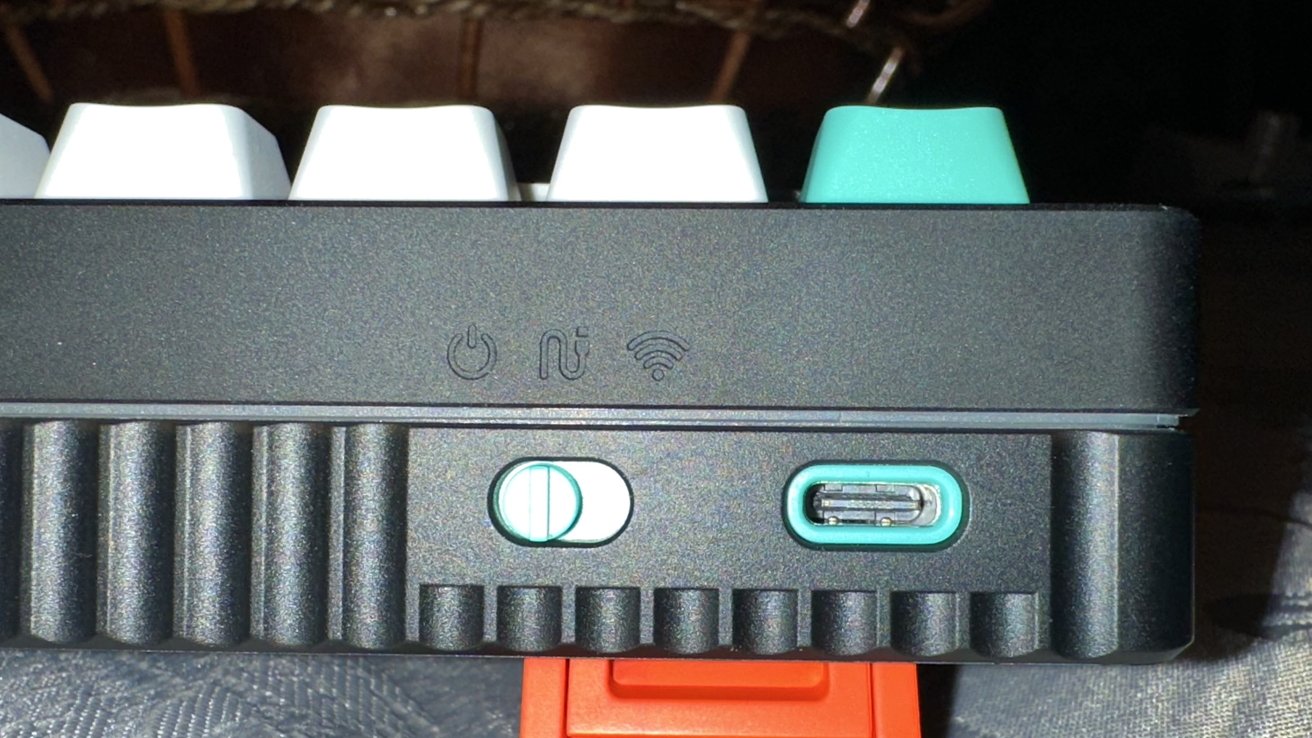 The switch is where you can set which mode you want to use the keyboard in, and turn the keyboard on or off. There are symbols that indicate which switch position performs which action. Wireless Mode is supported by Bluetooth 5.0.
Underneath the keyboard is two kickstands that allow you to position the keyboard at different angles. Since this is a mechanical keyboard, a higher angle may be more comfortable for some people during their typing experience.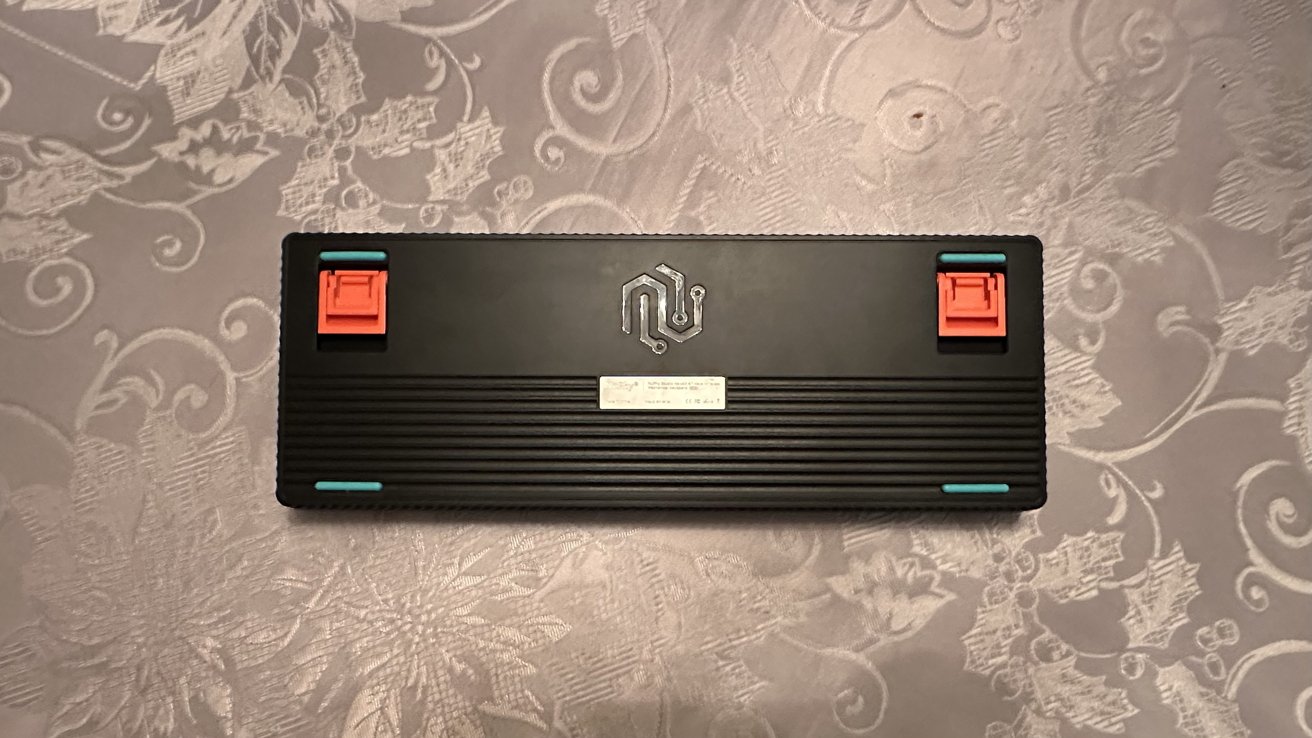 The kickstands are very adjustable and can be angled at nearly any degree. There is a tinier kickstand inside of each bigger one for more options when choosing an angle that is most comfortable for you.
The keys on the keyboard are mechanical and have a backlit board underneath them that offers some cool effects when typing. The top row is a number row, but it also has different functionalities to control your device's volume, screen brightness, media playback, accessing the multitasking screen, invoking search, and summoning Siri.
There is a small LED light strip on the top left of the keyboard as well. This strip can be customized and also indicates what the battery percentage is, if the caps lock is on, and if the keyboard is running wired or wireless.
Typing experience
The Halo65 Wireless Mechanical Keyboard is smooth and enjoyable to type on. The keys are responsive and bouncy and have zero stick to them.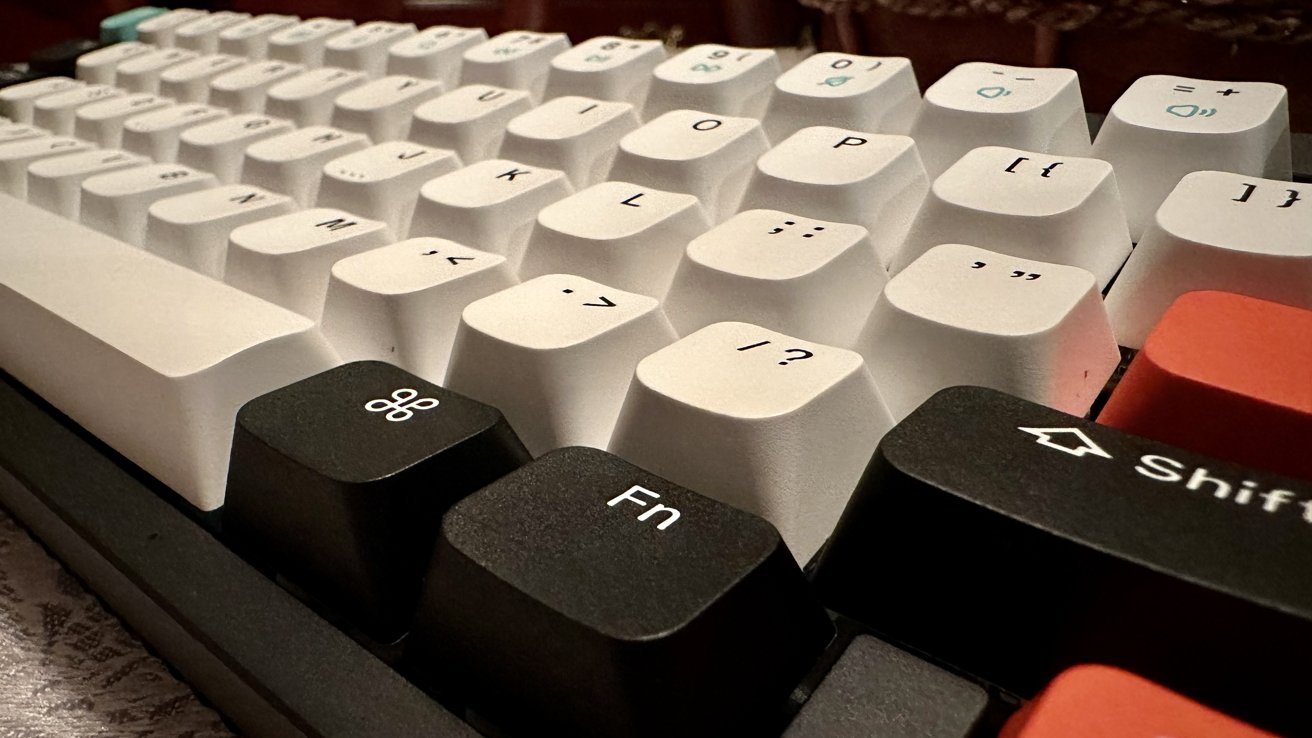 The clicking that they make is fluid and streamlined. The keys are also close enough together that it doesn't strain your fingers when typing.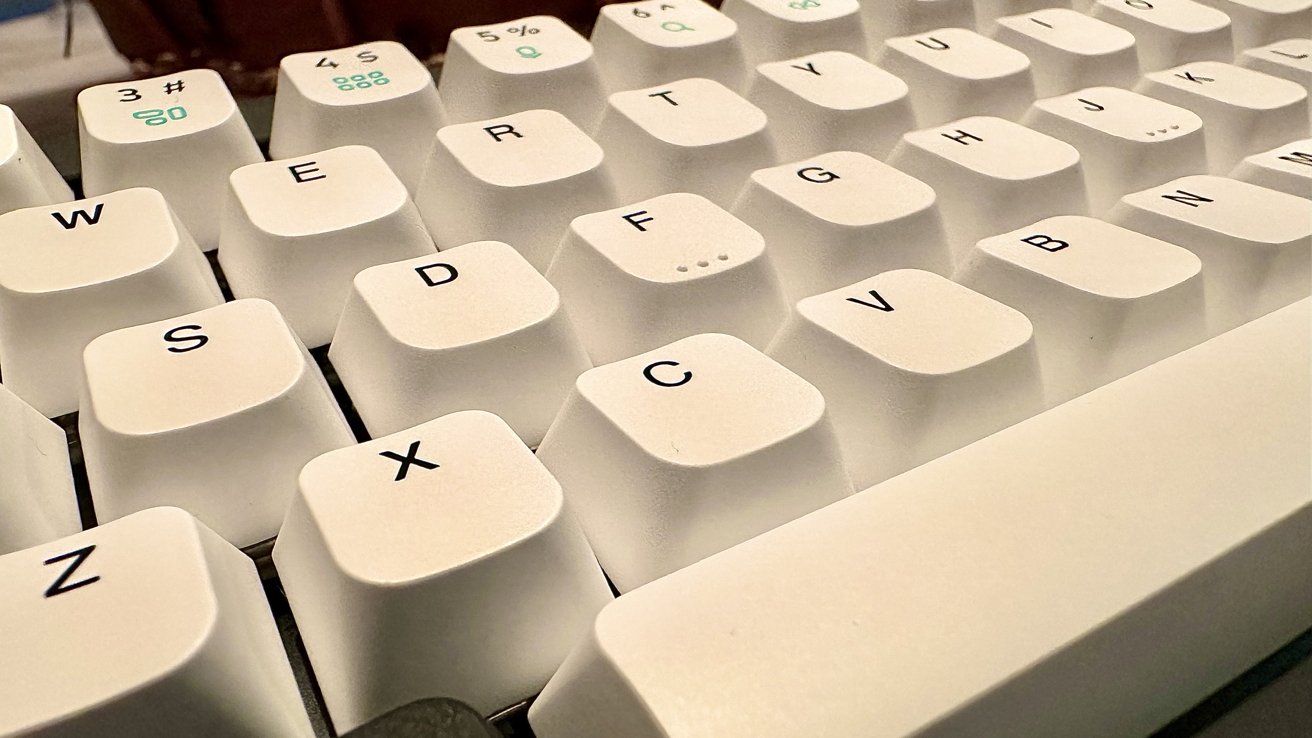 The backlit keyboard lights up the back of the keys instead of inside each key, and while this may not be ideal for some people, others may find it enough. A light will circle the outside of the keyboard, but when typing on each key, an LED will illuminate behind and around it.
Keyboard customization
There are two areas you can dive deeply into for customization, and that is through the backlit keyboard and the keys themselves.
Backlit keyboard
The backlit keyboard can be customized in several different areas – the color that is shown, the effect that is produced, the speed of the lights, and the brightness of the lights.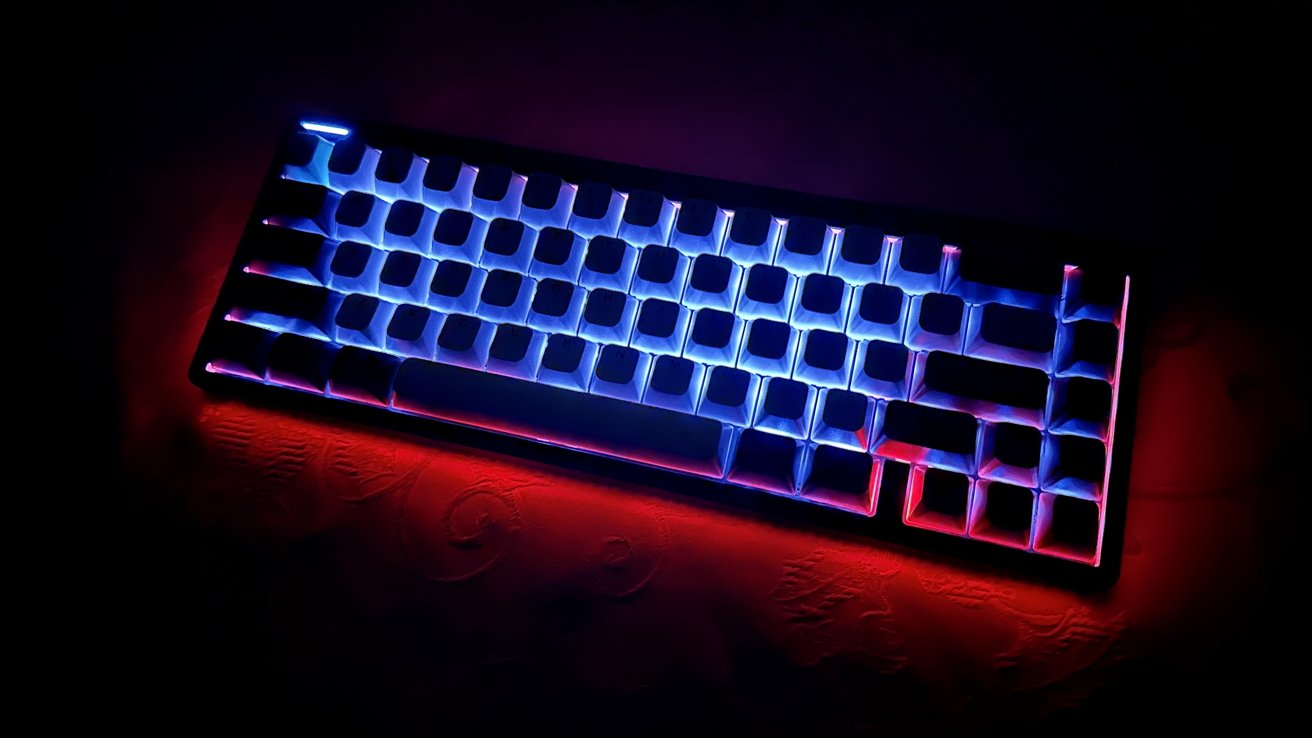 Holding down the Fn key and clicking each arrow key will customize each area. The left arrow switches the effect, the right arrow switches the color, the up or down arrow increase or decrease the brightness, and the comma or period key changes the speed of the effects.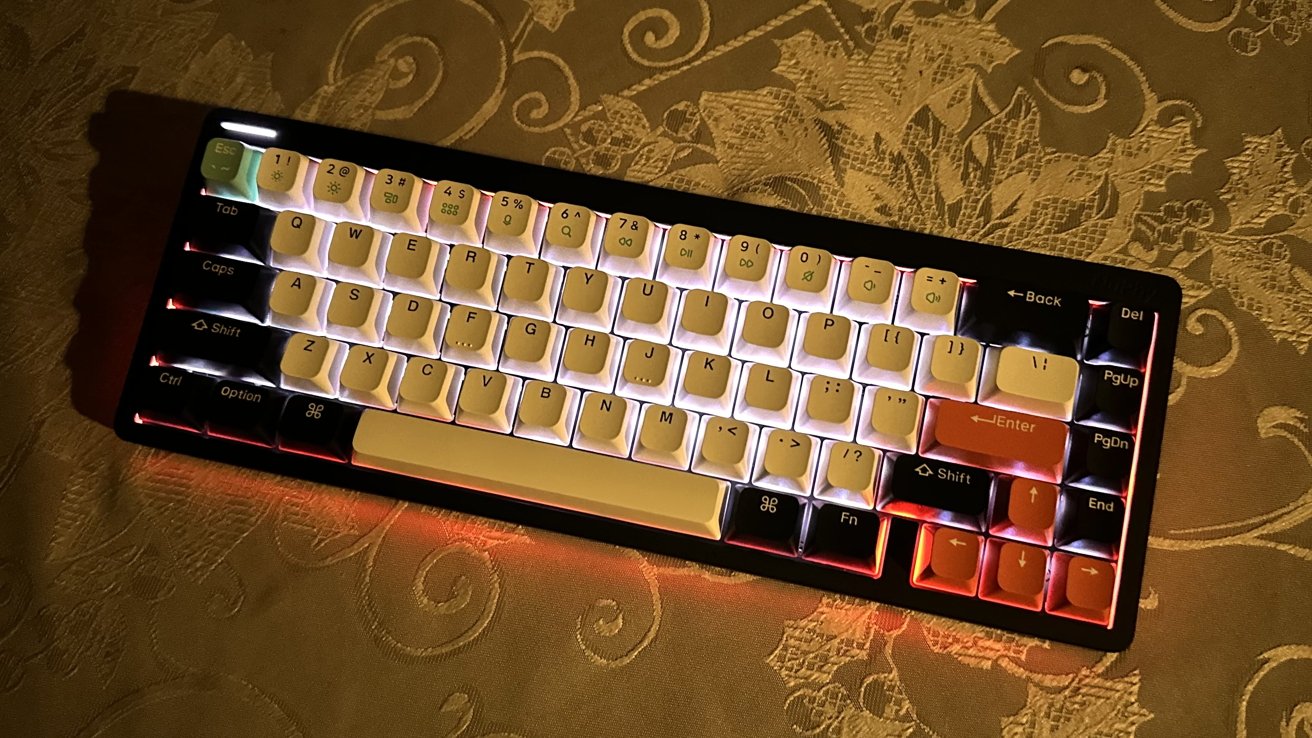 There are ten different backlight modes, four different sidelight modes, and four different halo light modes to choose from. These modes can range from a color spectrum starting from each key you type from and sweeping across to the edges, to a rapid wave of colors illuminating across the keyboard repeatedly.
These modes can be changed at any time.
Replacing keys
The color effects are not the only area that offers deep customization. You can remove each key and change them for different colors and themes.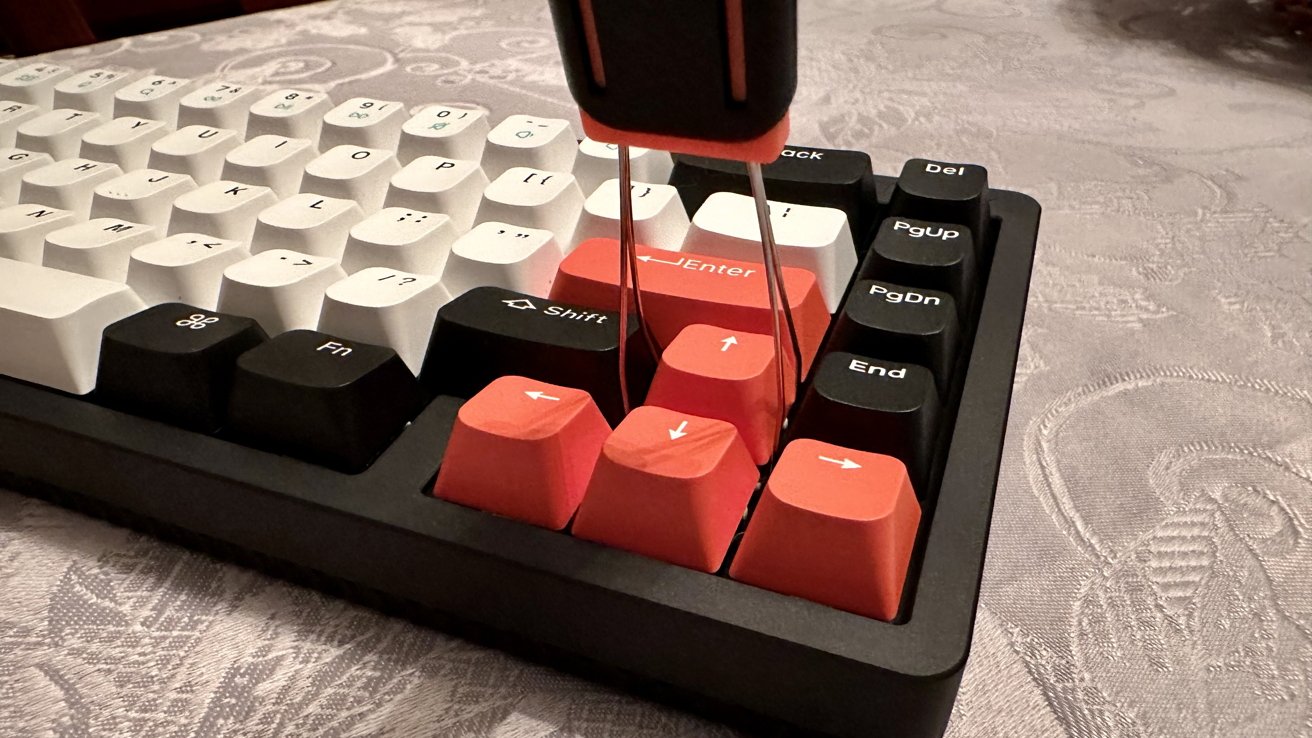 By default – out of the packaging – the keyboard comes with white keys in the center and black keys surrounding them – with a prominent red "Enter" key. You can changes these keys out for white and yellow ones (depending on the key it is).
The tool included in the packaging is easy to use as well. You just stick it over and under the key, tug at it, and then the key pops off. The key may go flying, so be cautious of that.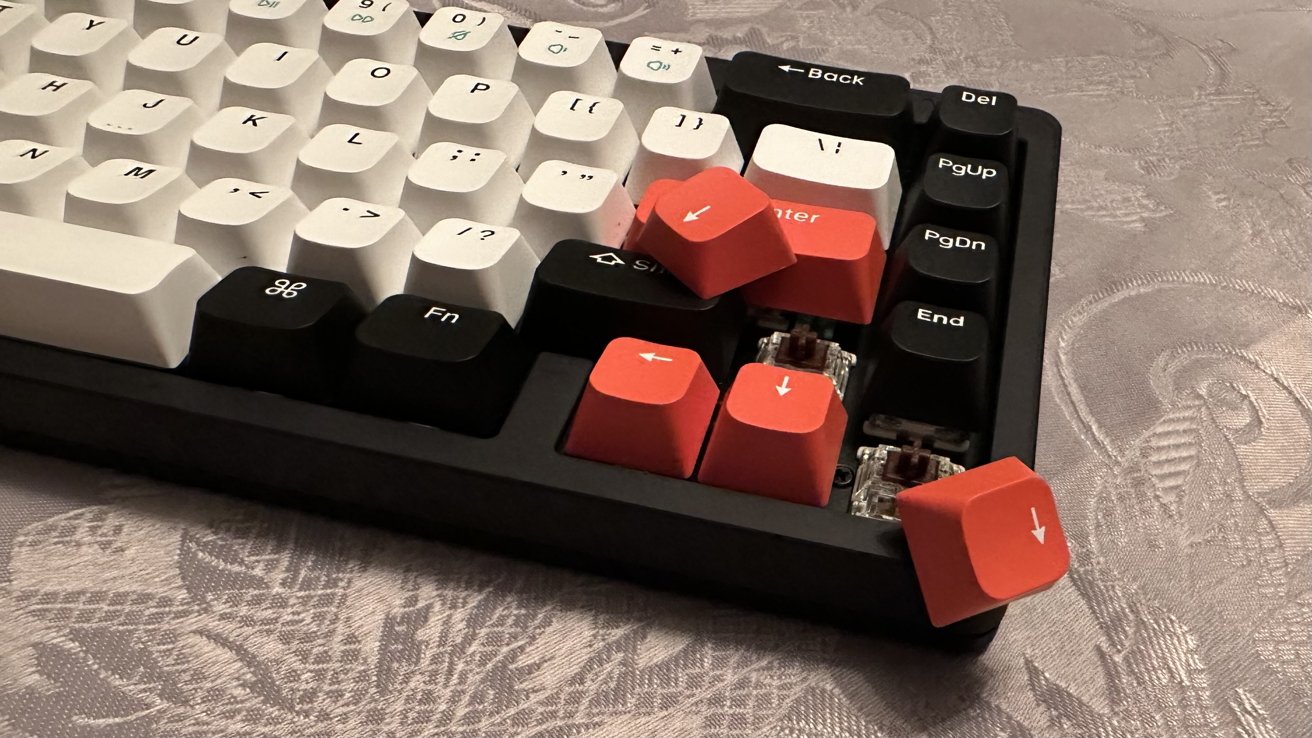 Installing a new key is easy too, as you just press it down, and it pops into place. Due to the keys being mechanical and raised, it may seem that the key is not positioned all the way, but usually, it is.
Nuphy offers additional keys to purchase on its website if you want more options to choose from.
Battery life
While there is a Wired mode for the keyboard, it is more intended to be used in Wireless mode. Due to this, battery life is an important aspect of the keyboard.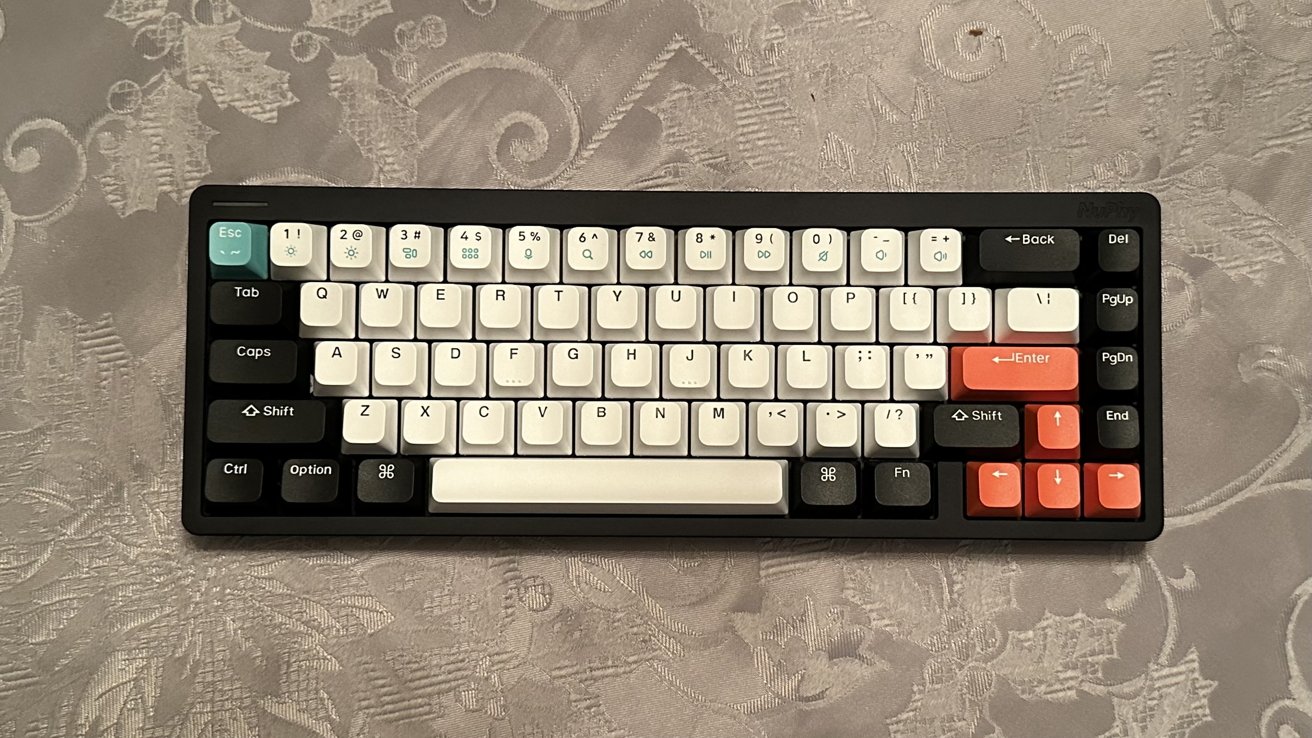 Nuphy advertises that you can get 240 hours of use out of the keyboard while in Wireless mode, and the keyboard seems to be on track with that. It houses a 4000 mAh battery inside of itself, and the battery holds up efficiently and strongly.
To see the battery percentage, the LED light strip on the upper left of the keyboard shines different colors when pressing down the "Fn + |" keys.
There are three colors, indicating different levels of remaining capacity:
Green = >80%
Purple = 20% to 80%
Red
The keyboard seems to conserve battery by turning off the backlit effect when it's not used for a short period of time. Though, once you start typing again, the effect comes back to life.
Wrist rest
Nuphy sells an optional wrist wrest to accompany the keyboard as well.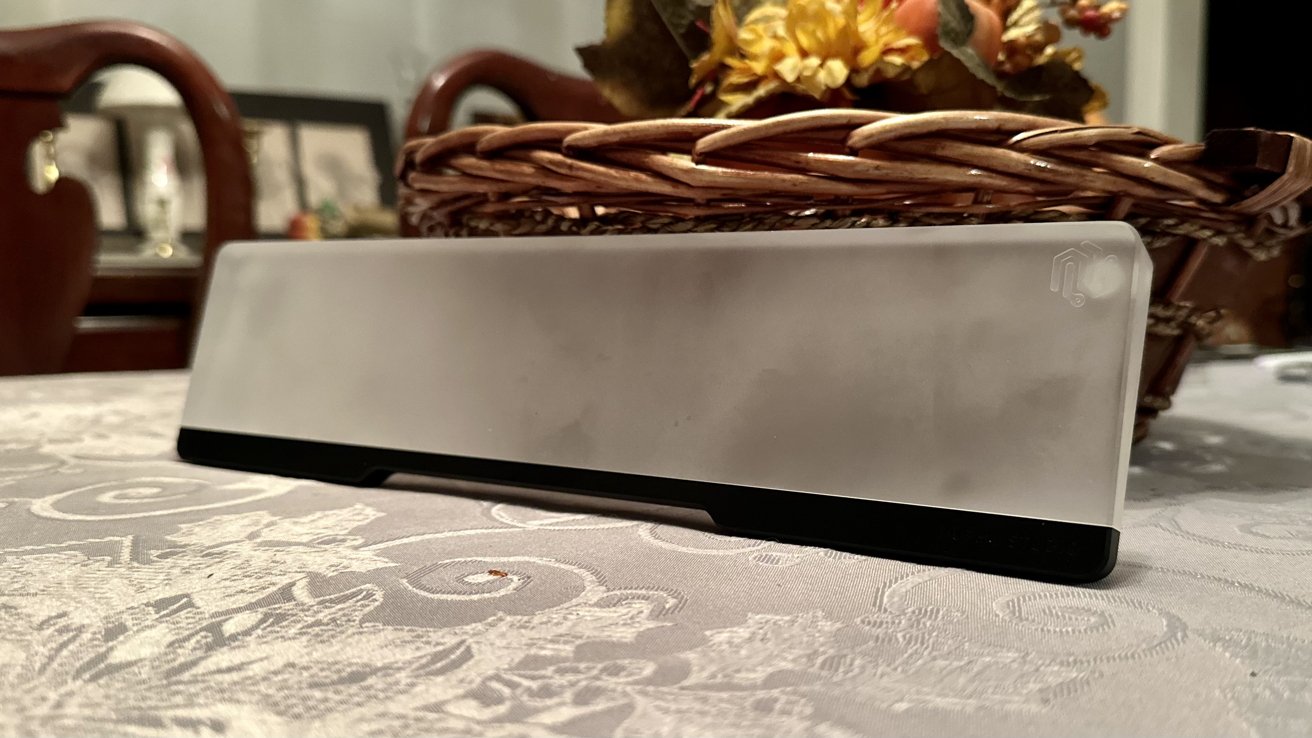 When first looking at the wrist rest, it may look uncomfortable, but when using it, you do not even notice it is there. With the height of the keyboard, it is a good addition to have when typing for a long period of time.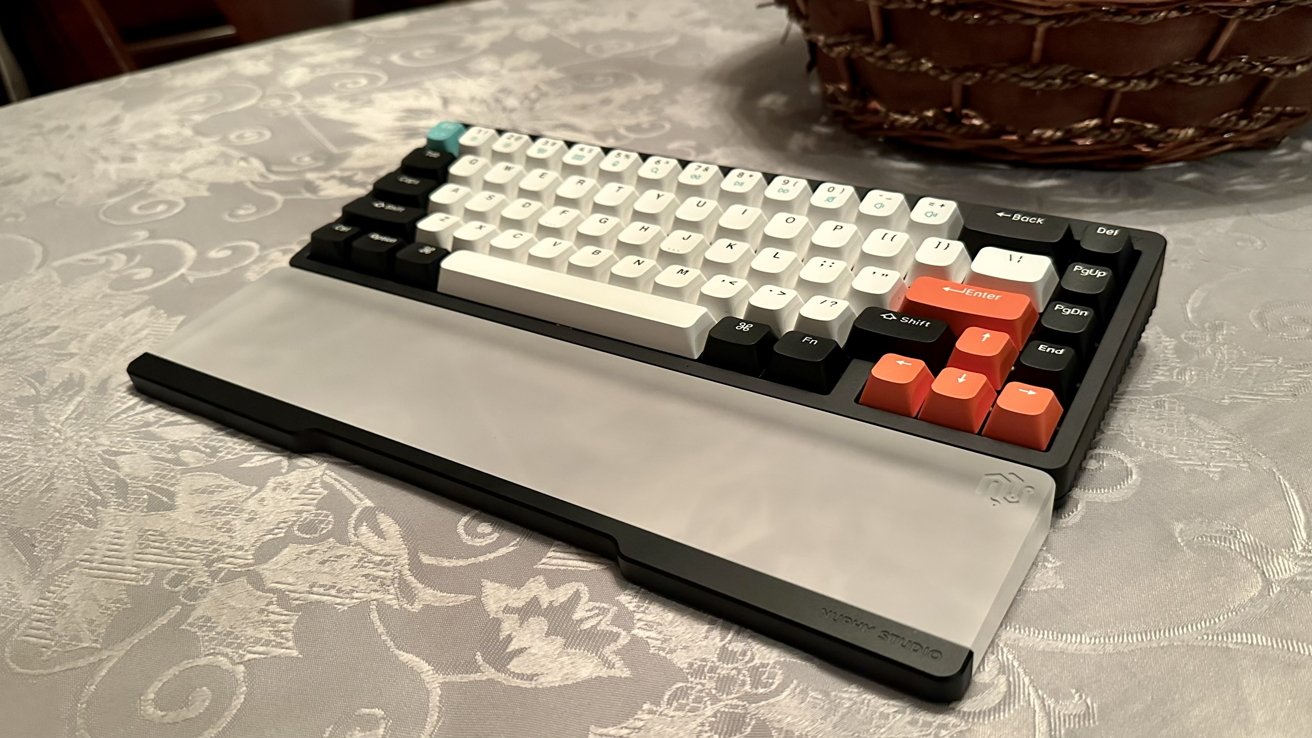 The wrist rest does not come standard with the keyboard, so if you decide not to purchase it, you still will have a pleasant typing experience with the Nuphy Halo65 Wireless Mechanical Keyboard. You just have to supply your own rest or get used to typing with your fingers angled higher up than with support.
The verdict
The Nuphy Halo65 Wireless Mechanical Keyboard will not be for everyone, but that should not take away the fact that it is a very good keyboard.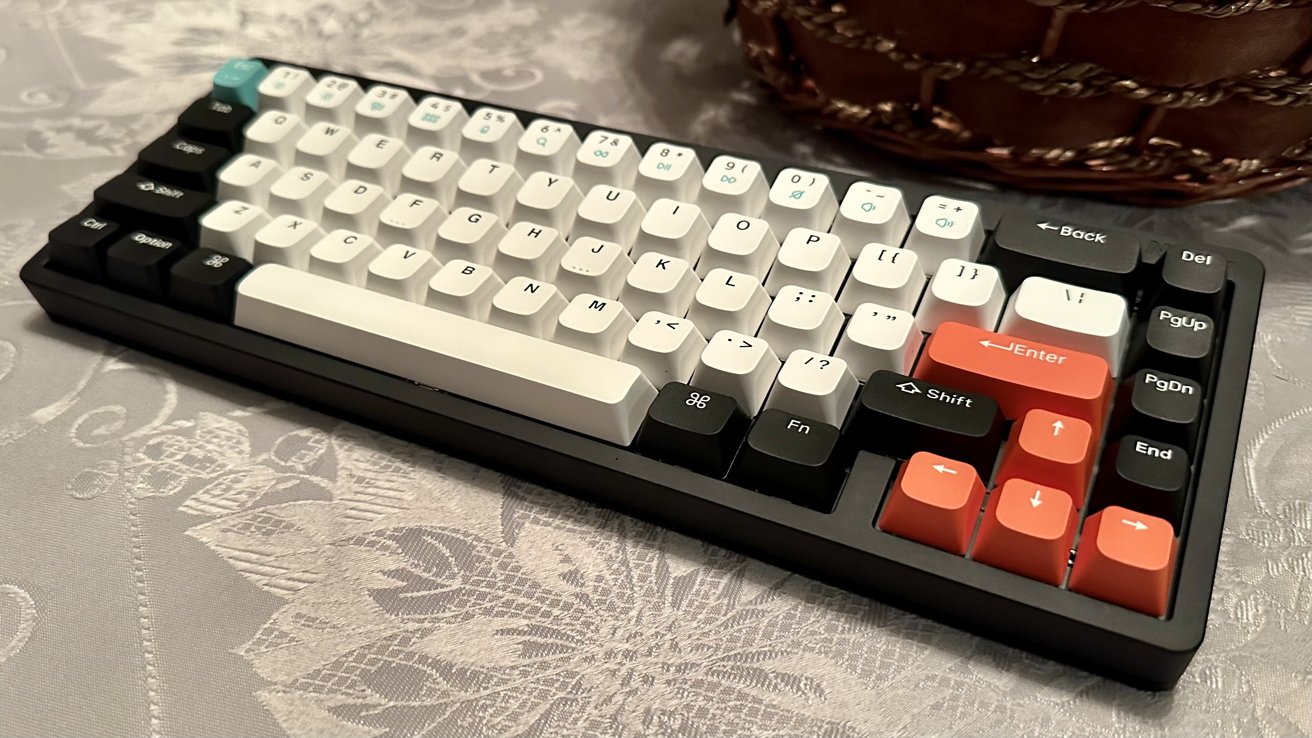 With the multiple ways of customization through backlit effects and the cap keys included, the keyboard can accompany to your personalized desire in many ways. These customization features are also easy to use as well, with everything you need already included.
The typing experience the keyboard offers is top-notch with each key bringing bounce and not sticking at any time. With the keyboard being on the smaller end, it may take a minute to adjust to typing on it, but once you do – it is smooth sailing.
The keyboard weighs in at 2.20 pounds, meaning that is on the heavier side for wireless keyboards, so it may not be intended for traveling uses, but as a stationed keyboard, it does the job very well.
With laptops and computers now are moving to solely USB-C, it was sad to see that the cable included for Wired mode is USB-C to USB-A, but Wireless mode works so well with no lag that it is not that big of an issue. Wireless mode over Bluetooth 5.0 also means this can be connected to your iPad if you choose to use it for that, but you can use with your Mac as well.
The price for the keyboard is $119.95, which is steep, and while the keyboard is good and offers a lot, that is still a lot to ask for it. $100 may feel a more comfortable price for the keyboard.
Overall, the keyboard is very well built, nice to type on, delivers a strong wireless connectivity with no lag, has deep customization options in nearly every area, and incorporates keyboard shortcuts from the number row on top.
If you are looking for a good keyboard with longevity to it, seriously consider taking a look at the Nuphy Halo65 Wireless Mechanical Keyboard – you will not be let down.
Nuphy Halo65 Pros
Stable keyboard
Good bounce to keys
Comfortable to use
Reliable Bluetooth connection with easy setup
Multiple customization options for backlit keys effect
Easy keycap customization
Long and stable battery
Multiple angles to adjust the keyboard at
Nuphy Halo65 Cons
Steep price
Heavy
The connected wire is USB-C to USB-A
Wrist rest not included standard for the price
Rating: 4.5 out of 5
Where to buy
You can purchase the Nuphy Halo65 Wireless Mechanical Keyboard on their website for $119.95. The keyboard comes in the color options of white or black.
You can purchase the additional wrist wrest for $29 on Nuphy's website as well. The wrist west comes in the color options of white or black too.
The post Nuphy Halo65 Wireless Mechanical Keyboard review: a small keyboard with a big price tag first appeared on appleinsider.com
In many places around the world, horse races are an attraction that a lot of people love to watch. With the fast-paced action and thrill that each game provides, it is no longer surprising to know that millions of fans have grown fond of it.
Cybersecurity threats have become vast and more sophisticated. The rate of malware attacks and malicious activity counts within seconds despite the size or sector the organization belongs to — no one is safe enough to expect that foe actors will bypass vital company resources.