From www.macrumors.com
Apple is considering bringing OLED displays to the iPad mini and iPad Air from 2026, according to a report from technology research firm Omdia.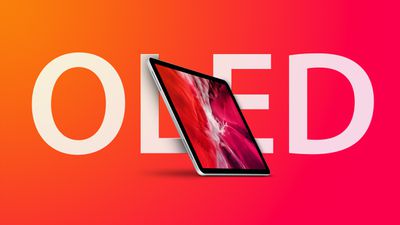 In a detailed report forecasting Apple's iPad panel purchasing plans published earlier today, Omdia explains that 2024 will mark the beginning of a transition to OLED in its tablet lineup. The potential transition to OLED on Apple's two mid-range tablets is apparently part of its OLED strategy from 2026 onwards.
Apple has ostensibly not yet committed to bringing the more advanced display technology to its mid-range tablets, and may be planning to review how the market responds to the first iPad Pro models that feature OLED displays, which are expected to launch next year, before locking in new display panels for the ‌iPad mini‌ and ‌iPad Air‌.
The report also corroborates details about the rumored iPad Pro models with OLED displays that are widely expected to launch next year, with the panels due to be supplied by LG and Samsung. Apple is said to currently be seeking more suppliers for OLED displays designed for the ‌iPad‌.
The next-generation ‌iPad Pro‌ is expected to launch in 2024 and be the first major update to the product since 2018, introducing "fundamental changes" that include larger OLED displays, the M3 chip, and support for a completely redesigned Magic Keyboard accessory.
Omdia added that after the 11th-generation ‌iPad‌ launches, Apple may "gradually migrate from 10.2-inch iPads to 10.9-inch iPads," suggesting that the ninth-generation model will be discontinued.
Related Forum: iPad
Popular Stories
After a few weeks of controversy over potential overheating in the new iPhone 15 Pro models, Apple this week released a software update to help address the issue, which the company says is not the result of the new titanium casing or other thermal design problems. Apple is also continuing work on the next round of more significant software updates led by iOS 17.1, and we're keeping tabs on…
Friday October 6, 2023 3:43 am PDT by Tim Hardwick
Apple sometimes releases new iPads in the fall, but a question mark remains over whether that will happen in 2023. We're now into October, and if Apple plans to release iPads before the holidays, this is the month it will most likely happen. Here's what we know so far. It's been almost a year since Apple released a new iPad, the last being the two refreshed iPad Pro models and the latest…
The current iPad Air was introduced in March last year, adding the M1 chip, Center Stage on the front-facing camera, a faster USB-C port, and several new color options, but it was still a fairly minor upgrade over the previous model from September 2020. As we near a year and a half since the fifth-generation iPad Air was introduced, what can users expect from the sixth-generation model and when…
Friday October 6, 2023 10:45 am PDT by Juli Clover
Repair site iFixit last week shared a video teardown of Apple's new iPhone 15 Pro Max, and now iFixit is back with a deeper look inside the standard iPhone 15. iFixit's iPhone 15 teardown includes an examination of many of the components with a microscope, giving us a view of the device we don't typically get. With the microscope, iFixit is able to provide a closer look at the iPhone's…
[ For more curated Apple news, check out the main news page here]
The post OLED iPad Mini and iPad Air Could Follow 2024's iPad Pro first appeared on www.macrumors.com