From www.macrumors.com
Apple has researched a MacBook keyboard that features a removable key designed to be used as a precision mouse, according to a newly granted patent application.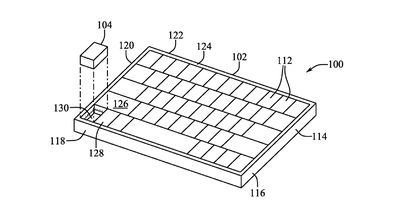 The patent, first spotted by AppleInsider, is titled "Deployable Key Mouse." Apple first applied for the patent in 2021 and it was today granted by the U.S. Patent and Trademark Office.
The patent envisages a seemingly conventional MacBook scissor-system keyboard that features a hidden removable key. This key would be designed to be used as a pointing device and contain a position sensor. Apple describes the system as providing a "comfortable, portable, and precise pointer input for a computer input system."
The filing argues that some precise tasks, such as graphic design, computer-assisted design and modeling, and editing large and complex documents, are better suited to a handheld mouse than a trackpad. Apple acknowledges that carrying a separate mouse with the computer can be burdensome and may be "redundant when the computer already has built-in pointing devices."
The removable key is a viable solution to this issue, according to Apple. In some embodiments, the key would be able to work as normal on the keyboard when it is not deployed and feature a small internal battery.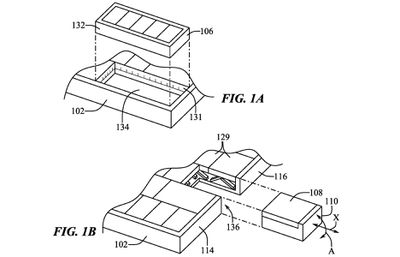 Apple outlines various mechanical systems to facilitate the removable key, including sliding a single or set of multiple keys out of the housing vertically, as well as sliding a key out from the side of the machine horizontally. The patent's illustrations show the deployable key located toward the edge of the keyboard so that it would not be a key that sees near constant use.
Patent filings cannot be taken as evidence of Apple's immediate plans, but they do indicate areas of interest for the company and what it is considering developing behind the scenes. While the prospect of a removable key may seem like an outlandish potential MacBook feature, Apple is clearly interested enough in the prospect as to patent the concept. It may be less obtrusive than other unusual features such as the Touch Bar and could appeal to certain pro-users who require maximum portability but could still benefit from occasional precise input.
Popular Stories
After a few weeks of controversy over potential overheating in the new iPhone 15 Pro models, Apple this week released a software update to help address the issue, which the company says is not the result of the new titanium casing or other thermal design problems. Apple is also continuing work on the next round of more significant software updates led by iOS 17.1, and we're keeping tabs on…
Monday October 9, 2023 4:12 am PDT by Tim Hardwick
Apple often releases new Macs in the fall, but whether that will happen this year is far from certain. It's the second week of October now, and if Apple plans to launch Macs before the holidays, recent history suggests it will happen this month. Here's what we know so far. It's been over 120 days since Apple released a new Mac, the last being M2 versions of the Mac Pro, Mac Studio, and…
Amazon has begun to discount a few Apple products ahead of its fall "Prime Big Deal Days" event, which officially begins tomorrow. One of the best deals you can already get is on the 15-inch M2 MacBook Air, which is $250 off and at all-time low prices right now. Note: MacRumors is an affiliate partner with some of these vendors. When you click a link and make a purchase, we may receive a small …
Friday October 6, 2023 10:45 am PDT by Juli Clover
Repair site iFixit last week shared a video teardown of Apple's new iPhone 15 Pro Max, and now iFixit is back with a deeper look inside the standard iPhone 15. iFixit's iPhone 15 teardown includes an examination of many of the components with a microscope, giving us a view of the device we don't typically get. With the microscope, iFixit is able to provide a closer look at the iPhone's…
Friday October 6, 2023 3:43 am PDT by Tim Hardwick
Apple sometimes releases new iPads in the fall, but a question mark remains over whether that will happen in 2023. We're now into October, and if Apple plans to release iPads before the holidays, this is the month it will most likely happen. Here's what we know so far. It's been almost a year since Apple released a new iPad, the last being the two refreshed iPad Pro models and the latest…
[ For more curated Apple news, check out the main news page here]
The post Removable Key That Works as a Mouse Could Come to Future MacBook first appeared on www.macrumors.com