From www.macrumors.com
Apple plans to bring OLED display technology to nine new devices by 2027, according to a new report from Taiwan's ET News.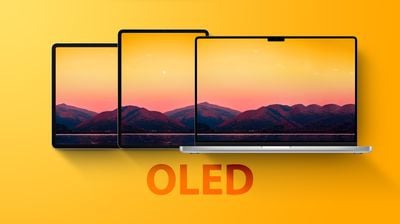 Following the introduction of OLED displays on both iPad Pro models next year, Apple reportedly plans to bring the technology to the iPad mini and iPad Air in 2026. While the ‌iPad Air‌ will retain a 10.9-inch display, the ‌iPad mini‌'s screen will grow from 8.3- to 8.7-inches in size. In 2027, Apple will bring OLED display technology to the rumored 12.9-inch iPad Air model, which is expected to debut with an LCD display early next year.
Apple apparently plans to use a low-temperature polycrystalline oxide (LTPO) OLED panel for the ‌iPad Pro‌ and a single-stack low-temperature polycrystalline silicon (LTPS) panel for the ‌iPad mini‌ and ‌iPad Air‌, meaning that ProMotion for refresh rates up to 120Hz will continue to be exclusive to the high-end models.
In 2027, Apple will upgrade the ‌iPad Pro‌'s OLED panels to a next-generation panel with improved light efficiency via Color Filter on Encapsulation (CoE), which is said to reduce power consumption by around 20%. Use of a color filter could also enable Apple to implement under-display camera technology on the iPad for the first time.
In 2025, Apple will purportedly bring OLED to the 16-inch MacBook Pro, followed by the 14-inch model in 2026. The 13- and 15-inch MacBook Air models will also transition from LCD to OLED in 2026.
Benefits of OLED include increased brightness, higher contrast ratio, greater color accuracy, and lower power consumption compared to existing models with LCD panels. Apple already uses OLED displays for the iPhone and Apple Watch models, with the exception of the iPhone SE. The report notes that OLED panels are also thinner and lighter than LCDs, which offer particular benefits to the ‌iPad‌.
Popular Stories
Tuesday November 14, 2023 12:12 pm PST by Juli Clover
Apple is continuing on with the beta testing of a new iOS 17.2 update, and the third beta includes new features and refinements for existing features. We are still early in the beta testing process, which means there are new discoveries to make. iOS 17.2 beta 3 is available to developers right now, but Apple should be making the update available to public beta testers later this week. Appl…
Wednesday November 8, 2023 4:39 pm PST by Joe Rossignol
Apple made the first beta of iOS 17.2 available to developers and public beta testers nearly two weeks ago, and the software update includes many new features and changes for iPhones. Below, we have highlighted 10 of these new features and changes. iOS 17.2 is expected to be released to the public in December. Journal App Apple's new Journal app allows iPhone users to reflect on their…
Thursday November 16, 2023 10:08 am PST by Juli Clover
After years of persuading from Google, Apple plans to adopt the Rich Communication Services (RCS) standard. An Apple spokesperson told TechRadar and 9to5Mac that support for RCS will be coming next year. Subscribe to the MacRumors YouTube channel for more videos. Later next year, we will be adding support for RCS Universal Profile, the standard as currently published by the GSM Association….
Anker's Black Friday Early Access sale is winding down this week, so we're again highlighting all of the best deals from the event before it ends on November 16. With this sale, when you buy two or more Anker products sitewide you can get 25 percent off your entire order. There are also a few "mystery boxes" that can include hundreds of dollars in savings, if you're willing to risk not knowing…
Monday November 13, 2023 1:41 pm PST by Juli Clover
Apple last week launched its new MacBook Pro models with M3, M3 Pro, and M3 Max chips. We already took a look at the M3 Pro MacBook Pro, but we also wanted to test out the top-of-the-line M3 Max chip to see how it measures up. Subscribe to the MacRumors YouTube channel for more videos. While the M3 Pro's performance was disappointing overall compared to the M2 Pro and even the M1 Pro, the…
Following our last in-depth report on the iPhone SE 4, MacRumors has received additional information which further confirms the claims made in our previous article. The iPhone SE 4, also known by the device identifier D59 and project codename Ghost, is a continuation of Apple's budget-oriented line of iPhones, and is expected to replace the current third-generation iPhone SE. With the…
[ For more curated Apple news, check out the main news page here]
The post Report: Apple Plans to Bring OLED to Nine New Devices By 2027 first appeared on www.macrumors.com