From www.imore.com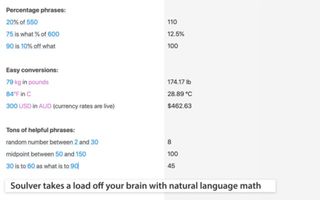 (Image credit: Apple)
Not all of us have a head for numbers, with many of us drawing a blank in front of a spreadsheet or even a calculator.
So, step forward Soulver 3 for iPadOS and MacOS ($34.95 / £34.95), a simple to use app that, amongst other features, lets you create complex calculations and conversions using just plain English.
Part notebook, part text editor and part calculator, you can work through ideas or problems line by line, using combinations of text and numbers together.
For example, this means you can get it to tot up percentage calculations using natural phrases like "15% off £250", or even more complex "what if" type sums for businesses like 'what would happen if we increase the price by 5% while discounting 10% of all sales by 5% for the next quarter?'
The app allows you to save your calculations as documents, acting as a central notepad which can be accessed and edited later, making it particularly handy for budgeting or financial planning.
Soulver 3 also has the ability to handle currency conversions, automatically converting between different currencies based on current exchange rates, including crypto currencies like Bitcoin. You can access historical rates for real-world currencies all the way back to 1999 as well as live and historical stock prices.
Unit conversions, working out proportions and even calendar and time-based maths like video timecode and time zone calculations can all also be handled.
Each calculation can be saved as a file in iCloud or Dropbox, so you can access it from multiple iOS devices or even on your best Mac, while a recent addition to the app's feature set gives you the ability to publishing Soulver sheets to the web, allowing you to share a link to notes and calculations that can be viewed by anyone directly in their web browser of choice.
Ideal for anyone that struggles with complex financial equations, Soulver 3 solve-as-you-say-it approach should get you the figures you need with far less head scratching.
---
The post Soulver 3 for iPad and Mac makes calculations and conversions simple by using plain English first appeared on www.imore.com
In many places around the world, horse races are an attraction that a lot of people love to watch. With the fast-paced action and thrill that each game provides, it is no longer surprising to know that millions of fans have grown fond of it.