From www.techradar.com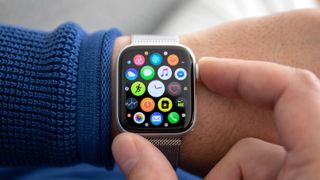 The Apple Watch 8 has the same CPU as the S7 and S6 – but the S9 could get an upgrade (Image credit: Shutterstock / DenPhotos)
Each generation of Apple Watch has a new chipset, just like each generation of iPhone generally does. But in reality these new chipsets have been little more than rebranded versions of old ones in the last few years; while the Apple Watch 8 has an S8 chipset, that uses the same CPU as the S7 and even the S6 back on the Apple Watch 6.
Even the Apple Watch Ultra is stuck with that dated CPU, so it's about time the Apple Watch line got a true chipset upgrade, and it looks like it might with the Apple Watch 9.
That's according to the rather reliable journalist and leaker Mark Gurman, who, speaking in the Discord channel (opens in new tab) for his Power On newsletter (spotted by Apple Insider (opens in new tab)), said the upcoming models are "due for the updated SoC."
Gurman then clarified that "I think it'll be a new processor, not just a re-brand of the previous generation," and when asked if he thinks this new chipset will be based on Apple's A15 Bionic smartphone chipset said "yes, I believe it is!"
Smartphone power in a smartwatch
The A15 Bionic is the chipset found in the iPhone 13 series, including the powerful iPhone 13 Pro Max. In fact, it's also found in the non-Pro iPhone 14 models, so it's currently only one generation behind Apple's best smartphone chipset, and is still being used in some of the latest iPhones.
The Apple Watch 9 probably won't land until September, likely alongside the iPhone 15 series, and by then the A15 will presumably be two generations behind. But that's for phones, which typically have far more powerful chipsets than smartwatches anyway.
Of course, it's unlikely that Apple will simply stick an A15 Bionic in an Apple Watch; it would likely be too big and would draw too much power. But even basing a new S chip on the A15 would almost certainly lead to a massive performance boost compared to the Apple Watch 8 and Apple Watch Ultra.
We wouldn't say those wearables feel lacking in power, which is why Apple has got away with using virtually the same chipset for so long, but this should still make for an appreciated upgrade. As with all leaks we'd take this with a pinch of salt, but it comes from a reputable source.
This might be the only hardware change that's worth getting excited about, though, with other reports suggesting that the Apple Watch 9 will be a lot like the Apple Watch 8, and will have the same screen size options.
However, we have heard that watchOS 10 could be the biggest software upgrade in years, so between that and a new chipset, Apple's next wearable could still feel quite fresh.
The post The Apple Watch 9 could be far more powerful than even the Apple Watch Ultra first appeared on www.techradar.com
In many places around the world, horse races are an attraction that a lot of people love to watch. With the fast-paced action and thrill that each game provides, it is no longer surprising to know that millions of fans have grown fond of it.