From appleinsider.com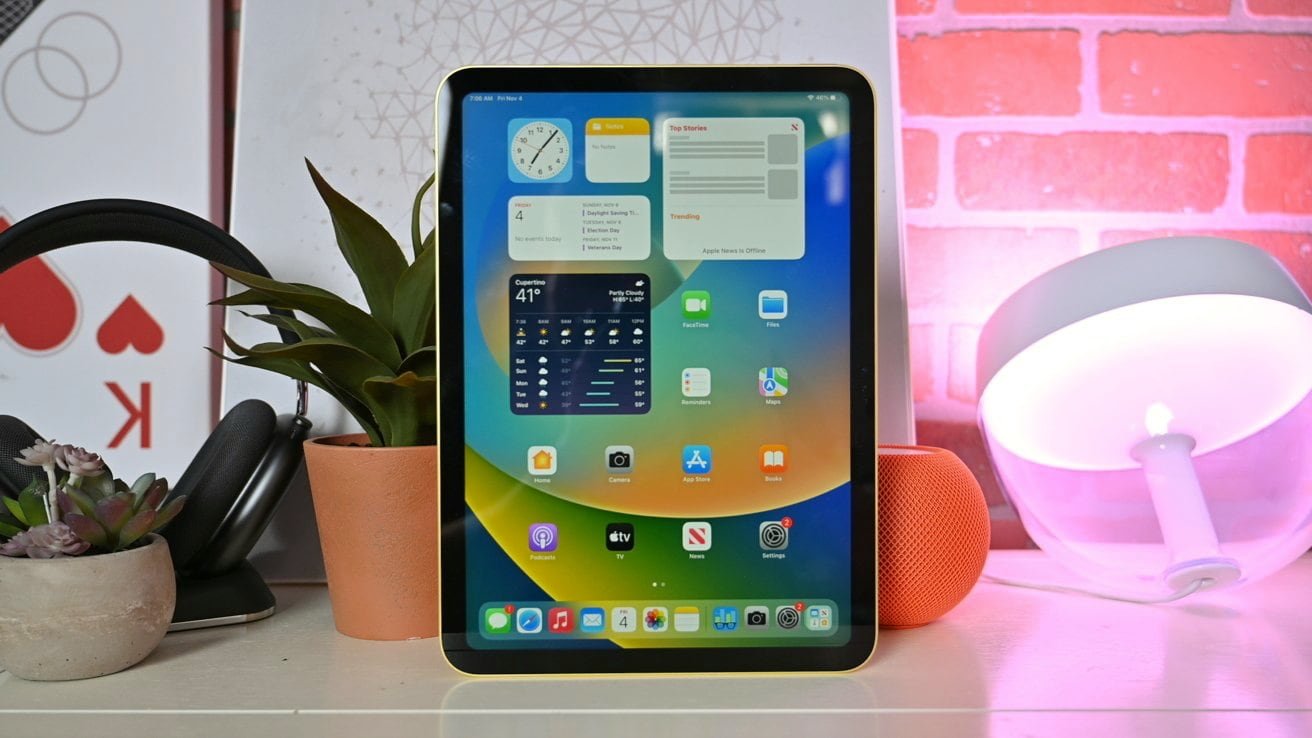 AppleInsider may earn an affiliate commission on purchases made through links on our site.
Apple's update to the iPad line introducing a tenth-generation model is, as usual, accompanied by a bunch of covers. Here are the models you should buy, if you want to protect your new tablet.
Apple upgraded its iPad to a new tenth generation on October 18, including new colors for the casing and a refined design reminiscent of the iPad Pro.
However, anyone considering upgrading from an older iPad model to the newest will find their existing iPad case won't fit the new model at all. A new case will have to be acquired if you want to carry around the iPad and keep it safe.
Here's our suggestions for cases for the latest iPad iteration that you should consider purchasing. While the list isn't exhaustive, with accessory vendors coming up with new designs all the time, it will serve as a good starting point in deciding what you actually want from your potential iPad case.
And if you haven't purchased an iPad yet, the tablets are already on sale in the AppleInsider iPad 10th Generation Price Guide, with the best markdowns highlighted in our iPad deals roundup.
U Dot Series iPad Case by UAG
Lightweight at 0.68 pounds, the U Dot Series iPad Case includes a soft impact-resistant core, with protective construction to combat falls and drops to MIL-STD-810G. It's also antimicrobial to protect against unseen dangers.
The case also includes a sleep-wake folio cover that doubles as a kickstand, while the Apple Pencil holder keeps the accessory at arm's reach whenever you need it.
Available in Deep Ocean, Clay, and Black color options, the U Dot Series iPad Case is priced at $54.95.
Metropolis with Hand Strap Case by UAG
Rugged in construction, the Metropolis Series offers a feather-light construction that includes a soft impact-resistant core that meets MIL-STD-810G. It has a rear window as well as dedicated storage for the Apple Pencil.
Key to this case is its features to keep it in your hands and not falling in the first place. There's a non-slip tactile grip exterior, as well as a 360-degree rotating hand strap with a hook and loop fastener system.
Sold in Black only, the Metropolis with Hand Strap case costs $59.95.
Kids EasyClean by Otterbox
Made for children, the Kids EasyClean is a bright and child-friendly case design that offers a bit more than protection from drops and raised edges to protect the camera. As the name suggests, it's a rare case that is marketed as dishwasher-safe for easy cleaning.
Along with a screen protector, the case also has a chunky handle, easy for kids to grab and carry, and one that can also be used as a stand.
Available in "Hearts & Crafts" and "Blued Together" color options, the Kids EasyClean costs $69.95, but is 10% off with promo code OTTER10.
Defender Series Pro by Otterbox
Made with a polycarbonate shell and a synthetic rubber slipcover, the Defender Series Pro offers multi-layer protection. Its rugged design includes port covers to protect your connections from dust and dirt, while it can also handle twice as many drops as MIL-STD-810G specifies in its standard.
The case also sports antimicrobial protection, a pair of lanyard attachment points, a four-position stand, and Apple Pencil storage.
Available in Black and Baja Beach, the Defender Series Pro is priced at $89.95. Coupon code OTTER10 knocks 10% off the case.
Liquid Air Folio by Spigen
The Liquid Air Folio by Spigen is a sleek and protective case made from polyurethane and thermpolastic polyurethane. A slim design, it has a built-in front cover, which can be used as a folding stand to prop the iPad up.
The case also maintains a position for the Apple Pencil to be stowed away and ready for action at a moment's notice. It also keeps all ports and buttons accessible at all times, and has a raised lip around the camera.
The Spigen Liquid Air Folio retails for $44.99, but is heavily discounted at Amazon.
Ultra Hybrid Pro by Spigen
Spigen's Ultra Hybrid Pro case has a black front cover and bumper, but a clear back, proudly displaying your selected finish of iPad. That bumper has Air Cushion Technology to defend from drops, with the case dual-layered for enhanced protection.
The cover doubles as a kickstand, while the Apple Pencil's functions are fully supported. Raised edges are used for the display and camera, keeping them away from scratchy surfaces.
The Spigen Ultra Hybrid Pro retails for $54.99, but is currently on sale at Amazon.
Combo Touch by Logitech
A detachable backlit keyboard case with trackpad, the Combo Touch takes advantage of the Smart Connector on the iPad to power and use its additional peripheral. The cover includes the keyboard and trackpad, complete with backlit keys and a full row of iPadOS shortcut keys.
The rear case has a built-in kickstand that offers 50 degrees of tilt, so you can lean the iPad as far back as you need to get work done. There's also room to store an Apple Pencil.
Available in Oxford Grey or Graphite, the Combo Touch is priced at $149.99 to $159.99.
Slim Folio by Logitech
The Logitech Slim Folio is a case and smart cover that has a full-size keyboard in the cover. Designed for optimal travel and perfect bounce, the keyboard offers a full row of iPadOS shortcut keys, and connects to the iPad over Bluetooth LE.
The cover can automatically wake the iPad when opened, and put it to sleep when closed. Two viewing angles are available, with a 58-degree type mode and a 10-degree almost-flat viewing mode provided. There's also a loop for the Apple Pencil or Logitech Crayon on the side.
Offered in Oxford Grey, Graphite, and Black, the Logitech Slim Folio is priced at $99.99.
Battersea by Gear4
This highly protective Gear4 Battersea case is protected by D3O, a material used to protect soldiers, enabling it to survive an 8-foot drop. The same material enables for the Battersea to remain slimline without the usual bulk of rugged cases.
Besides the shock absorption, the case also has an infinity angle stand, which can be set to lean at any angle the user chooses. It also supports Apple's Smart Keyboards and ships with a screen protector.
The Gear4 Battersea is sold in Black only, and costs $89.99.
Balance Folio by Speck
A slim tablet case, the Balance Folio has an outer shell that can deal with bumps and four-foot drops, while inside is a soft liner and a latch closure to keep everything in place. The cover also includes a magnetic camera shield to cover the lens, which can retract when you need to use it.
There are built-in magnets in the cover for wake and sleep features, an integrated Apple Pencil holder, and Microban antimicrobial treatments to reduce bacteria by up to 99%.
The Speck Balance Folio case is available in six color options, and is priced at $44.95.
The post The best cases for the 10th-generation iPad first appeared on appleinsider.com
In many places around the world, horse races are an attraction that a lot of people love to watch. With the fast-paced action and thrill that each game provides, it is no longer surprising to know that millions of fans have grown fond of it.
Cybersecurity threats have become vast and more sophisticated. The rate of malware attacks and malicious activity counts within seconds despite the size or sector the organization belongs to — no one is safe enough to expect that foe actors will bypass vital company resources.