From www.techradar.com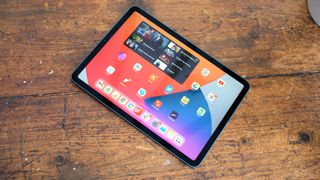 The iPad Air (2022) (Image credit: TechRadar)
We're now just a day away from the launch of the iPhone 15 line at Apple's September event (on September 12), and while we're not expecting to see any iPads there, we might not be waiting too long until one does show up, with the iPad Air 6 apparently set to land in October.
This is according to MacRumors, which cites a post on Chinese site Weibo from "an account with a proven track record for disclosing accurate information about Apple's plans." That said, they don't link to the post or mention the username, so we'll have to take their word for that.
Additionally, this Weibo user apparently says that "only the ‌iPad Air‌ series should be updated this year," then clarifies that there will be "no mini and Pro this year." So if you were hoping for a new iPad Pro, you'll probably have to wait until 2024, but that's in line with recent leaks.
An October launch for the iPad Air 6 also makes sense, as that would be around 18 months after the iPad Air (2022) landed, and that itself launched roughly 18 months after the iPad Air 4 (2020).
More support for October
Plus, in the latest edition of The MacRumors Show podcast, Mark Gurman – who has a great track record for Apple leaks – claimed that the iPad Air 6 was "coming soonish," with October being likely.
So all signs currently point to October for the iPad Air 6, and our only hesitation about that month is that we haven't heard much about this slate, and we'd think we would have done, if it was landing so soon. Still, with no conflicting reports, October is our best guess for now.
If it does land in October, then don't expect a major event for it. Instead, Apple will likely just put out a press release. Gurman predicts as much and that would make sense, since two big events in two months seems excessive, and while it's possible that other devices will be announced alongside it, we wouldn't expect anything as exciting as the iPhone 15 line, so a press release should probably have it covered.
As for what the iPad Air 6 might offer, well, we don't really know, though one early leak suggested it will be powered by an M2 chipset, much like the iPad Pro 12.9 (2022) is. So it could be very powerful, and will likely be a contender for our best iPads list.
You might also like
[ For more curated Apple news, check out the main news page here]
The post The iPad Air 6 could land shortly after the iPhone 15 first appeared on www.techradar.com