From www.imore.com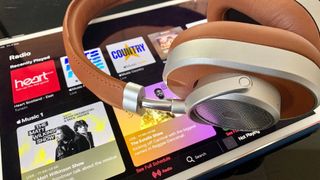 (Image credit: iMore)
Apple Music remains an excellent alternative to Spotify, but it looks like its numbers can't quite compete yet. The most streamed song on Apple Music, Ed Sheeran's Shape of You has accumulated 930 million streams, falling short of Spotify's record of the Weeknd's Blinding Lights, which has been streamed 3.573 billion.
Tucked away in Apple's press release about the new Apple Music live concerts with special performances (opens in new tab) from Ed Sheeran, the numbers surrounding its streaming platform became a little clearer. They were pointed out in a tweet from Pop Base (opens in new tab), which made the connection to the billion streams.
Apple Music – not there yet
Spotify breaking the one billion streaming mark with some of its most popular songs is no longer a new thing. It happened as early for the platform as early as 2008, and popular songs now frequently exceed the massive number. In fact, as noted by Phone Arena (opens in new tab), the most recent track to hit one billion streams was Miley Cyrus's Flowers, which has only been out for four months.
Does this mean that Apple is lagging behind? Not necessarily. Apple Music has fewer premium subscriptions than the Swedish streamer, which means fewer users to listen and stream different pieces. Apple Music is growing as well, while Spotify seems to be shrinking, after its weird UI debacle and continued slowness with Hi-res streaming.
Also contributing is that Spotify has a free tier of streaming, that's used by 295 million people (opens in new tab), as of this January. That's going to make a big difference to the numbers, given that the only free option Apple has is the one-month trial subscription. If Apple wants to reach the lofty heights of multiple billions of streams, perhaps this is the next port of call.
As for the track, it's no surprise that it's from one of the biggest artists in the world and one of his most popular songs.
The post This is the most popular Apple Music song, ever first appeared on www.imore.com
In many places around the world, horse races are an attraction that a lot of people love to watch. With the fast-paced action and thrill that each game provides, it is no longer surprising to know that millions of fans have grown fond of it.