From appleinsider.com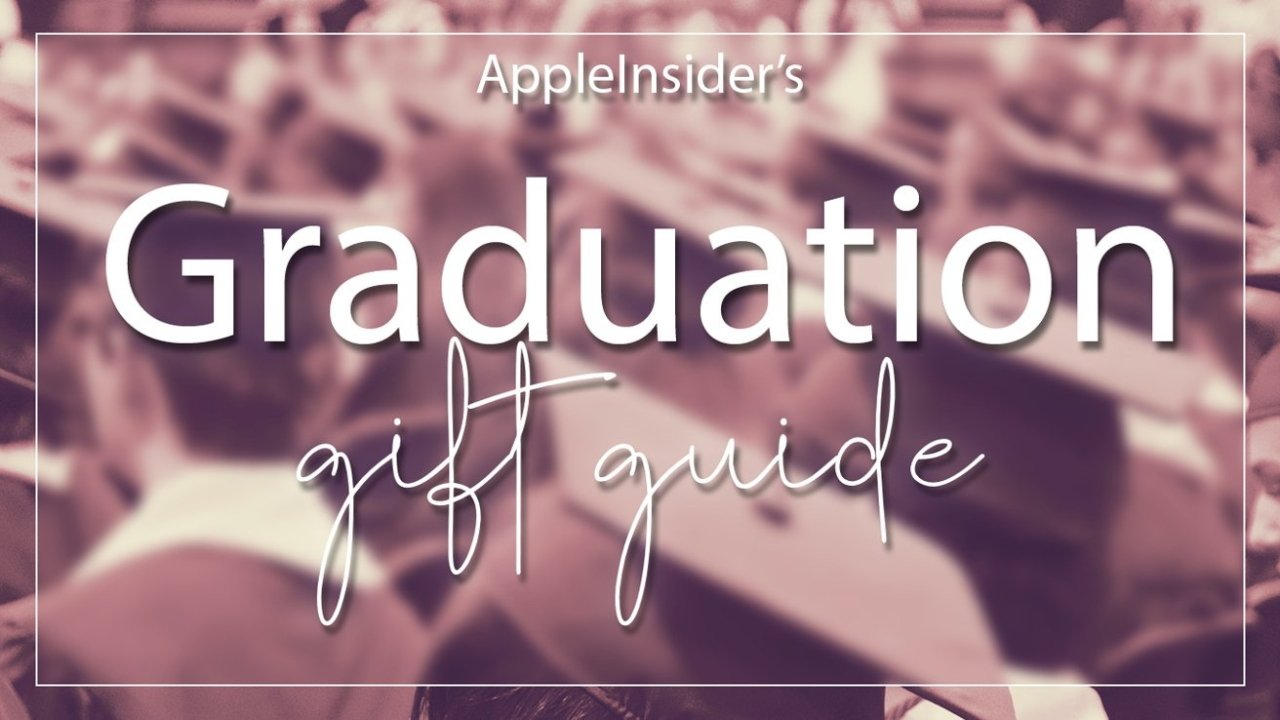 Graduation is a special occasion that deserves a memorable gift, and you can celebrate with these practical gadgets in our roundup of the best graduation gifts.
Nothing says congratulations like helpful tech that graduates can use for years. Whether they love music, fitness, or traveling, you can make your Apple-loving graduate smile with a gift that matches their passion and personality.
Here are some gift ideas to support your favorite graduate's future endeavors.
AirPods
AirPods are a great gift for graduates who love music. Both AirPods Pro 2 and the AirPods 3 offer high-quality audio and smart features, but they differ in a few ways.
Besides the price tag, the main difference between AirPods Pro 2 and AirPods 3 is the noise cancellation feature.
With AirPods Pro 2, you can switch between blocking out or letting in outside noise with Active Noise Cancellation (ANC) and Adaptive Transparency modes. AirPods 3 do not have ANC, but both models share Personalized Spatial Audio and Adaptive EQ, which enhance the sound quality and adapt it to your movements and surroundings.
Another difference between the AirPods Pro 2 and the AirPods 3 is the touch control functions. Both wireless earbuds let you play, pause, or answer a call with a squeeze. In addition, AirPods Pro 2 allow you to swipe up or down to adjust the volume.
Both AirPods have a long battery life, up to 6 hours of listening time and up to 30 hours of listening time for the AirPods Pro when used with the charging case. Plus, both models are sweat and water resistance (IPX4).
No matter which AirPods you choose, both offer superb sound quality and wireless convenience to make the graduate's listening experience more enjoyable and immersive.
You can buy the Apple AirPods 3 from Amazon, now on sale for $149.99. AirPods Pro 2 are also on sale now at Apple retailers, and you can get them for $199.99, a discount of $50 off MSRP.
Apple iPad 10th Generation
An iPad is an excellent gift for a graduate who needs a portable and powerful device for various tasks, from taking notes and creating presentations to streaming shows and playing games.
The 10th Generation iPad has a 10.9-inch Liquid Retina display and landscape stereo speakers, making it versatile for work or entertainment. It also supports the first-generation Apple Pencil (on sale for $79) for drawing and writing.
For work, an iPad can help you take notes, create presentations, and manage documents. With the addition of a keyboard and stylus, it can even serve as a lightweight and portable alternative to a laptop.
Its long battery life and fast processing speed make it an ideal device for working on the go.
For entertainment, you can watch movies and store media files with an iPad 10. It can also record 4K video at up to 60 fps and supports FaceTime video and audio calls with the Center Stage feature.
The iPad 10 gives you two storage options — 64GB and 256GB. If you gift an iPad with a larger storage capacity, it will allow the graduate to store a larger collection of music, photos, and videos.
Casetify iPad case
Besides giving your graduate an iPad, you can include another gift to protect and personalize their device.
The Casetify Ultra Impact iPad Folio Case can be a fun gift for graduates who want to keep their iPad safe and stylish. It is not only a protective case but a creative accessory to showcase their personality and interests.
The best part of Casetify iPad cases is the variety of designs you can choose from. You can pick a style that suits the graduate's taste and mood, from art and pop culture themes to custom photos and monograms.
The print quality of their cases is excellent, with sharp and vivid colors that bring the artwork to life.
In addition to eye-catching designs, the Casetify Ultra Impact iPad Folio Case offers military-grade impact protection. Each case has reinforced corners that cushion the device from drops and bumps.
The case also has a slim design that does not compromise the portability of the iPad. It has a magnetic closure to keep the screen secure and a foldable cover that doubles as a stand.
Casetify offers plenty of designs, but you can get the Tropical Lux iPad Ultra Impact Case, shown here, for $82.
Anker PowerCore Essential 20K
If your graduate is always on the go, they will need a reliable power bank to keep their devices charged and ready.
The Anker PowerCore Essential 20K is a powerful portable battery pack that can deliver fast and safe charging for Apple devices. It has a 20,000mAh capacity to provide multiple charges for iPhones and iPads.
According to Anker, it can charge an iPhone XS more than five times, an iPhone 11 more than four times, and an iPad mini 5 more than two times. It can also charge other devices such as AirPods and Apple Watch.
The PowerCore Essential 20K is compact and lightweight, weighing about 12 ounces and measuring 6.2 x 2.9 x 0.8 inches.
This power bank can easily fit in a bag or backpack without taking up much space. It has a USB-C input and a Micro USB input for recharging the battery pack with a wall charger (not included).
This portable battery pack has two USB-A outputs that simultaneously charge two devices at up to 15W each. It also features a trickle-charging mode that can detect and charge low-power accessories, such as AirPods or an Apple Watch, without overloading them.
You can buy the Anker 325 PowerCore Essential 20K for $52.99 from Anker. It is on sale now for $49.97 on Amazon.
HidrateSpark TAP Smart Water Bottle
If your graduate is into sports or fitness, the HidrateSpark TAP Smart Water Bottle can be a handy gift.
This water bottle is more than just a container for liquids. It is a smart device that provides gentle reminders to hydrate with a light that glows, so the user won't forget to drink water even when they have a hectic schedule.
The bottle connects to the HidrateSpark App, which calculates a personalized hydration goal based on the user's age, weight, height, and activity level. It also syncs with Apple Health and other fitness apps to adjust the hydration goal according to the user's exercise and health data.
The bottle comes in three sizes and multiple colors to fit different styles and needs, is dishwasher-safe, and is easy to use.
The HidrateSpark TAP Smart Water Bottle is a helpful gift for active graduates who want to stay healthy and hydrated. It is not just a water bottle but also a smart companion that helps them achieve their hydration goals and improve their wellness.
The HidrateSpark TAP smart water bottle is available on Amazon, with prices starting at $19.99.
Nomatic Navigator Sling 10L bag
The Nomatic Sling 10L bag is stylish and practical and can hold a laptop and other essentials to help make your graduate's life easier and more organized.
Depending on the user's preference, this can be worn as a sling bag or a backpack. Its thoughtful storage and cord management allow the user to keep everything organized and easily accessible.
This Nomatic Sling is slim and durable and can fit up to a 13-inch laptop or tablet in its laptop sleeve. It also has five pockets in the main compartment, including a mesh pocket, a zipper pocket, an RFID-safe pocket, and a cord management system.
In addition to its practical features, the bag has a sleek and modern design that can make it a fitting accessory for any outfit.
The Nomatic Sling bag is functional for everyday commuting, with water-resistant materials, tamper-proof zippers, and reflective bars for protection and visibility. It also has a water bottle pocket and a card slot on the strap for quick access to transit or swipe cards.
This can be the ideal laptop bag for graduates who want to carry their laptops and other essentials in a stylish and organized way.
The Nomatic Navigator Sling 10L is available from Nomatic for $159.99 for the black color, but you can also get the Tiger Stripe color on sale now for $127.99. If you prefer to shop on Amazon, it is available for $159.99.
The post Top 6 Apple-friendly graduation gifts for 2023: celebrate success in style first appeared on appleinsider.com
In many places around the world, horse races are an attraction that a lot of people love to watch. With the fast-paced action and thrill that each game provides, it is no longer surprising to know that millions of fans have grown fond of it.