From appleinsider.com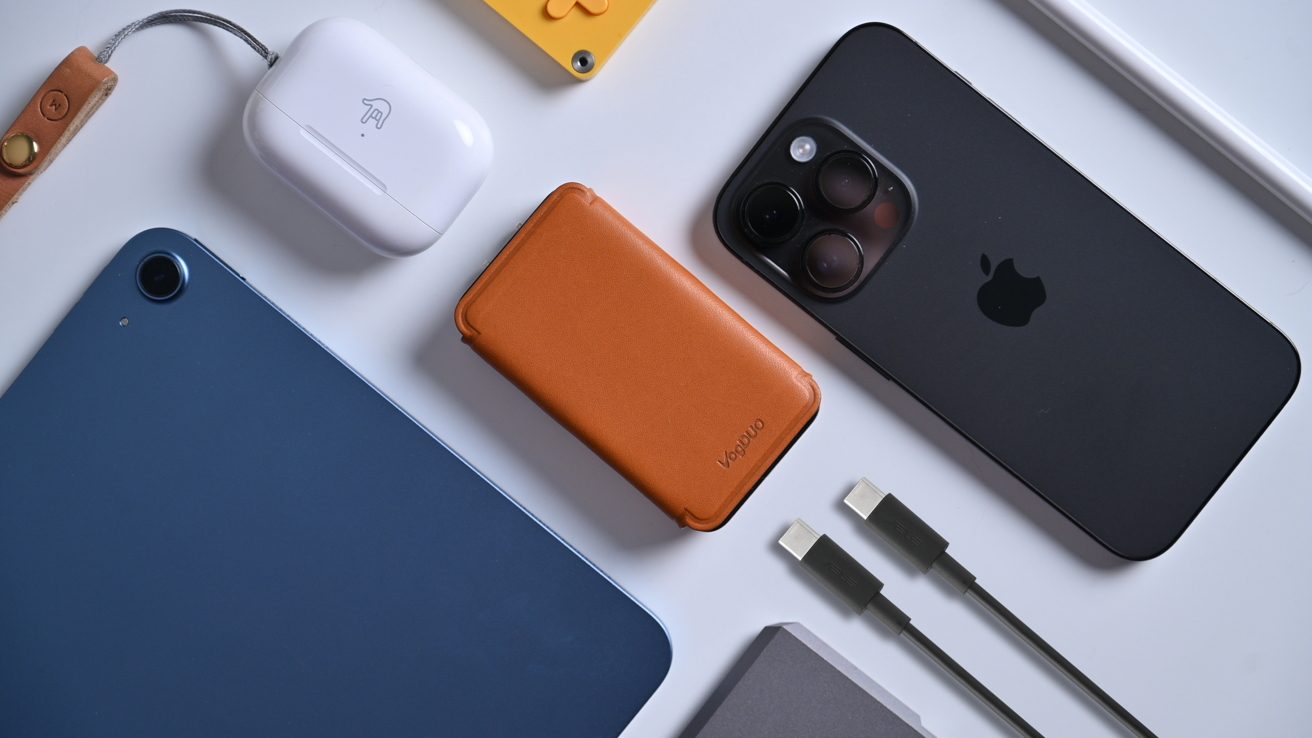 AppleInsider may earn an affiliate commission on purchases made through links on our site.
VogDUO's 65W Slim GaN Charger is an impossibly thin way to power your devices, one that's also housed in an elegant Italian leather design.
Taking the lead from the its 30W Wall Charger, the new VogDUO 65W Slim GaN Charger takes advantage of gallium nitride to offer a design that pushes the envelope. Compact with a 0.74-inch profile, it offers smart features like a foldable plug to maintain its minimalist form.
At its core, it is a 65W GaN charger, which can charge devices that utilize Power Delivery to recharge, such as a MacBook Air. It does so while staying stylish and keeping your bags in shape.
Featuring two USB-C ports, each connection can provide the full 65W, while using both ports splits the power to 45W and 18W. There's also no need to choose or remember which port can output what, with the user-friendly design and the built-in smart IC handling switching of power-sharing modes for you.
The VogDUO 65W Slim GaN Charger also offers the widest compatibilities of all USB-C smartphones, tablets, notebooks, and more. This includes the 14-inch MacBook Pro, iPhones, iPads, Apple Watch, and even the HomePod mini.
For your protection, there's a multi-safety guard covering temperatures, over-currents, and overvoltages. There's even an LED indicator that lights in a gentle blue when power is drawn.
The luxurious outside is coated in a genuine vegetable-tanned Italian leather designed by the VogDUO artisan team, and sourced from one of Europe's oldest tanneries. The use of genuine European leather will help protect users from high temperatures after usage, while staying tasteful to look at.
The VoGDUO 65W Slim GaN Charger is available in Tan Brown and Black, and is priced at $69.99 at the VogDUO online store. If you use coupon code AI-10 at checkout, you'll get $10 off your order.
The post VogDUO's new 65W GaN Charger is leather bound & unbelievably slim first appeared on appleinsider.com
In many places around the world, horse races are an attraction that a lot of people love to watch. With the fast-paced action and thrill that each game provides, it is no longer surprising to know that millions of fans have grown fond of it.
Cybersecurity threats have become vast and more sophisticated. The rate of malware attacks and malicious activity counts within seconds despite the size or sector the organization belongs to — no one is safe enough to expect that foe actors will bypass vital company resources.