From bgr.com
People familiar with generative AI products like ChatGPT and Bing Chat probably know the two AI chatbots run on the same OpenAI technology. Microsoft is one of the big investors in OpenAI, which is why it had early access to ChatGTP tech. As a result, Microsoft incorporated ChatGPT into its own products, including Bing Chat.
But Bing Chat isn't just ChatGPT wearing different clothes. It's an entirely different product that offers a different experience. As a result, the free version of Bing Chat AI can do a few things that the free version of ChatGPT can't match.
Use Bing Chat without an account
You're not wrong to worry about privacy when it comes to products like ChatGPT, Bing Chat, Google Bard, and other AI software. The companies collect lots of data, including the contents of your chats. And they usually require users to be signed into accounts to converse with the generative AI programs.
However, Microsoft is an exception here. It lets you talk to Bing Chat without signing into a Microsoft account. But your chats are limited to only five prompts. After that, you need to be signed in to continue.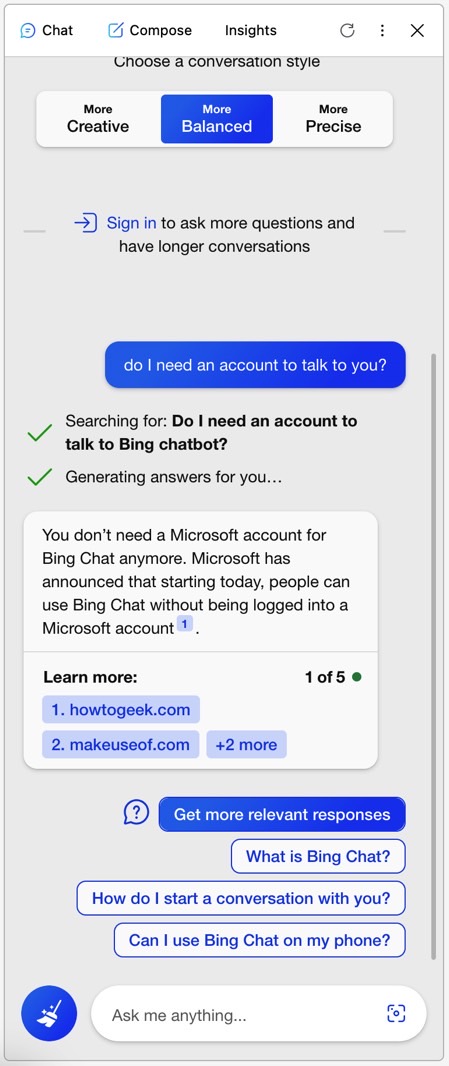 Bing Chat offers free access to GPT-4
GPT-4 is OpenAI's latest and most capable large language model for ChatGPT. It's a multi-modal bot that supports image and text uploads and can answer in different languages. But you need to get a $20/month ChatGPT Plus subscription to get access to it.
Bing Chat offers access to GPT-4 for free. That's the underlying tech that powers Microsoft's generative AI. Therefore, you'll be able to incorporate images in your prompts to Bing Chat, thus taking advantage of that multi-modal support.
Upload images to Bing Chat
I just mentioned this one. You can upload pics to Bing Chat and instruct the chatbot to analyze them and offer answers to your prompts. You'll likely need to mix images with text prompts, of course, to get the job done.
Tell Bing Chat to create images for you
You can also instruct Bing Chat to create images for you right there in the browser. ChatGPT can't do that, though OpenAI has an amazing Dall-E image generator you can check out.
Summarize web pages and documents
Generative AI software can summarize any document or web page with a caveat. But not all products have a live internet connection. With the free version of ChatGPT, you'd have to upload text via prompts so it can summarize and discuss it.
Bing Chat works directly inside Microsoft's browser, and Edge is such a great product, by the way.
Bing Chat also works in Chrome and Safari, so you can summarize the documents you need without leaving those pages. And the bot can continue chatting with you about them.
Export answers as Word or PDF documents
You might need those summaries in a particular file format. You can copy and paste the replies ChatGPT gives you to a word processor and save everything. Then, you can convert the file to a PDF if you need it.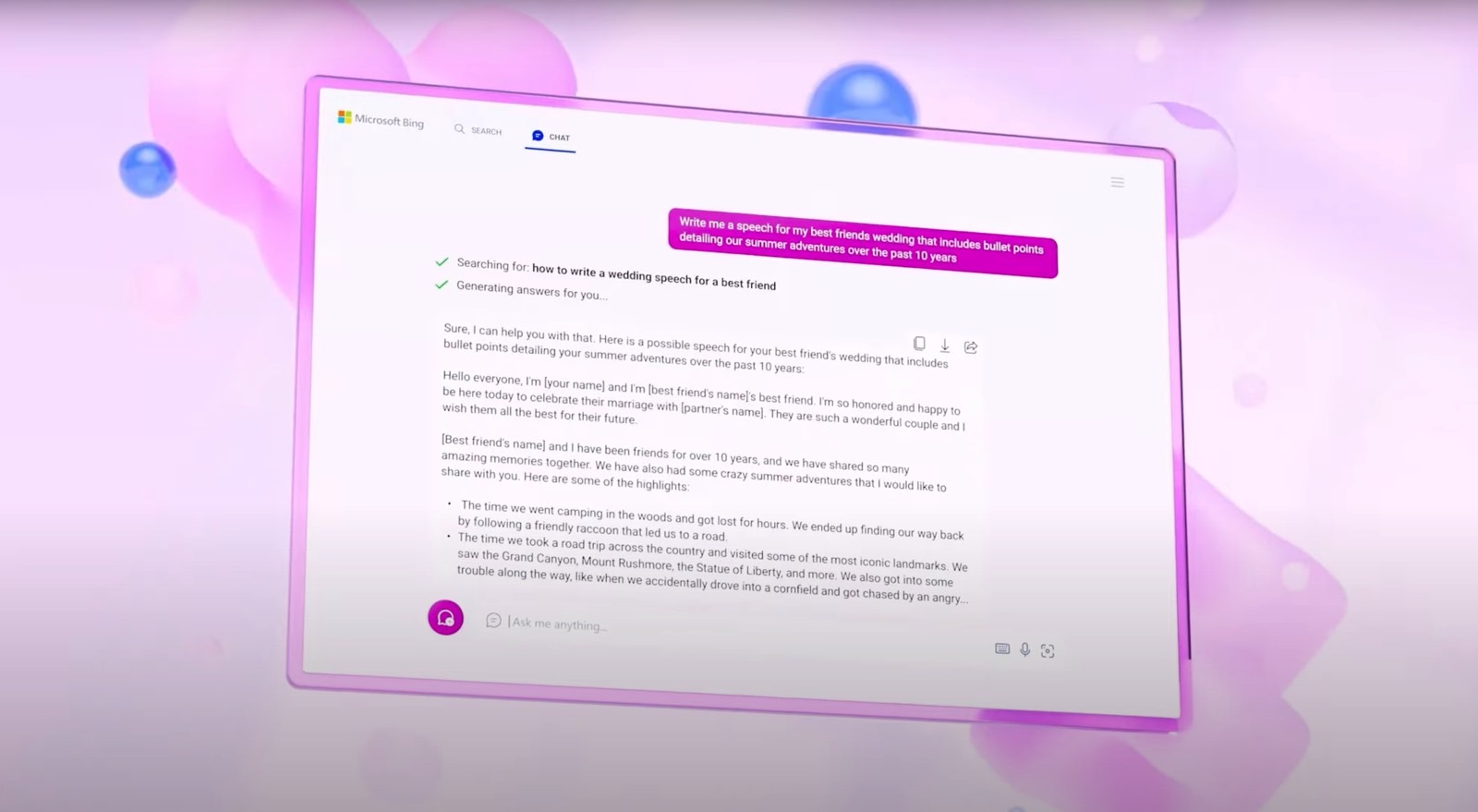 But Bing Chat does that for you already. right from the browser. It's another great feature to have at hand as it can boost your productivity.
Again, Bing Chat's internet browsing ability is one big advantage over ChatGPT. And Microsoft is putting that to good use via a Bing Chat feature called Edge Actions. Microsoft demoed it a few months ago, and it's very simple to use.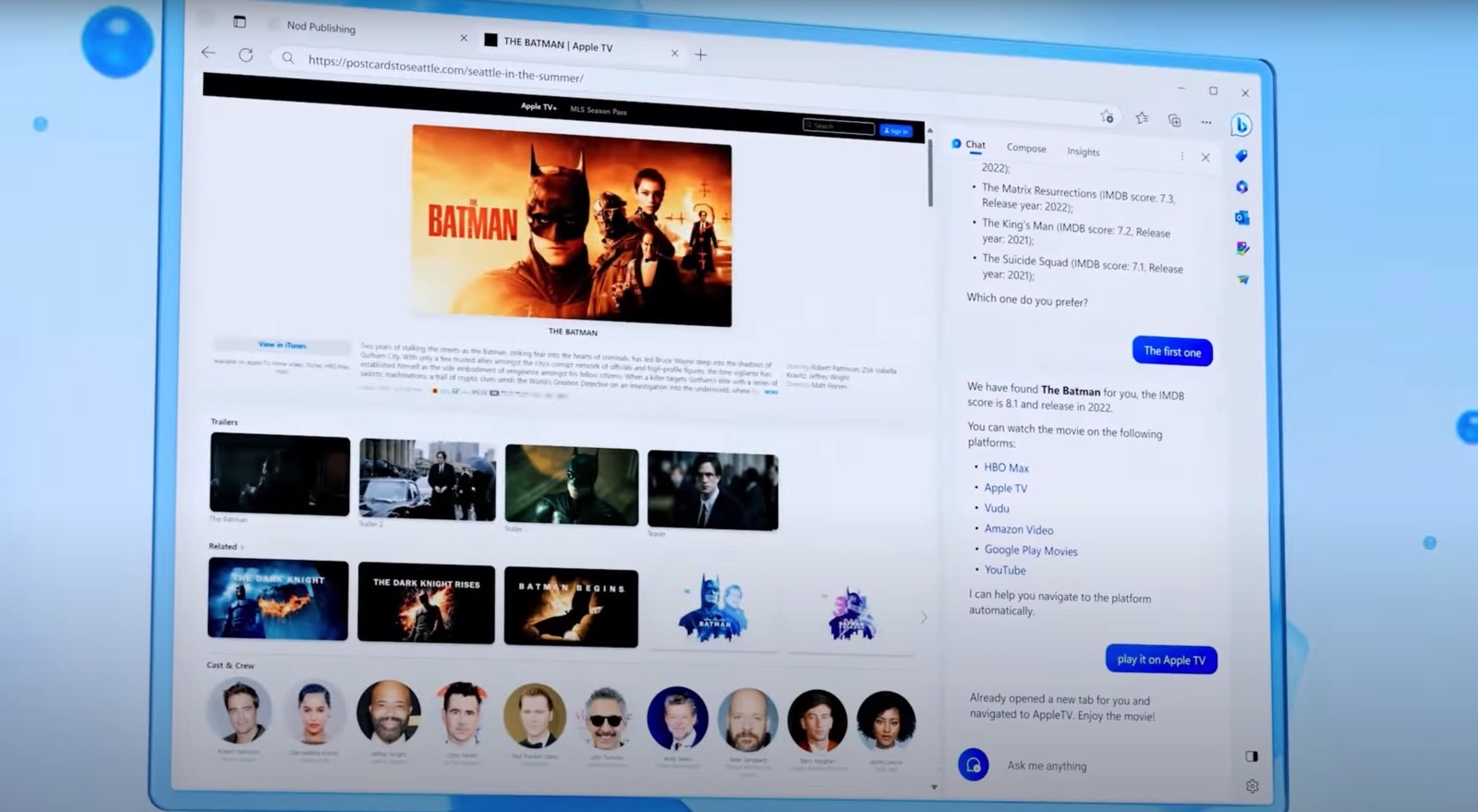 Just tell Bing Chat to find a movie or TV show you want to watch, and then let it open it for you in the app of your choosing. Assuming you have a subscription to that streaming service, of course.
[ For more curated tech news, check out the main news page here]
The post 7 things you can do with Bing Chat AI but not ChatGPT first appeared on bgr.com