From www.imore.com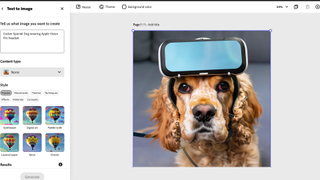 (Image credit: iMore / Adobe)
Adobe has today announced that its Adobe Express with Firefly web app is now available for all.
Adobe Express was originally called Adobe Spark of course, and the web version was already available to Creative Cloud subscribers who wanted to take it for a spin. It added Adobe Firefly support which brought AI-based creation and editing tools to the fore.
Now, Adobe has announced that Adobe Express is available to creators worldwide.
AI-based creation for all
In a press release shared with iMore, Adobe said that "the latest version of the AI-first, all-in-one content creation app with Firefly beta generative AI capabilities is revolutionizing creative expression, making it fast, easy, and fun for users of all skill levels to design and share standout content."
The press release goes on to say that Express is already being used by millions of people to create anything from logos to flyers to PDFs and more.
"Available globally and with Firefly generative AI now supporting prompts in 100+ languages, it's even easier for Express users to generate high-quality images, create stunning text effects, streamline workflows and improve productivity in their language of choice, all within Express," Adobe says. "These new AI-driven features are available now on desktop web, with plans to bring the latest version of Express to mobile soon."
Adobe says that Express Premium is included in most Creative Cloud plans, allowing subscribers to "access, edit, and work with creative assets from Photoshop and Illustrator directly, or add linked files into Express that always stay in sync across apps."
New features recently added to Adobe Express include an all-in-one editor for working on different design elements in one place as well as PDF support and improved AI-powered features.
Those looking to learn more about Adobe Express can check out the web app online right now.
[ For more curated Computing news, check out the main news page here]
The post Adobe Express goes global, bringing AI-based image editing to the masses first appeared on www.imore.com