From www.tomshardware.com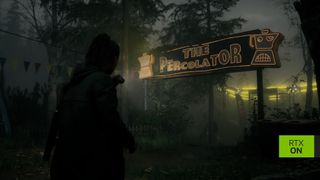 (Image credit: Nvidia)
Nvidia released a blog post covering all of the new ray tracing graphical features that will be coming to Remedy's Alan Wake 2 arriving on October 26th, including integration of DLSS 3.5 with Ray Reconstruction. In the post, Nvidia also shared benchmarks of the game running on its RTX 40 series GPUs at 4K, 1440p, and 1080p, with the RTX 4090 hitting well into triple digit frames at 4K maximum settings.
At 4K at maximum settings with the Full Ray Tracing Preset, Nvidia showed benchmarks of the RTX 4090, 4080, and 4070 Ti with DLSS 3.5 enabled and disabled (note the 3.5 designation). The RTX 4090 with DLSS 3.5 was able to achieve 134.4 frames per second, 4080 103.9 fps, and the RTX 4070 Ti 82.2 fps. With DLSS disabled, Nvidia's benchmarks reveal that frame rates plummet to just 32.8 fps on the RTX 4090, 22.2 fps on the RTX 4080, and 17.4 fps on the 4070 Ti.
At 1440p with the same graphical settings, the RTX 4090 was able to pump out 170.1 fps, 4080 133.1 fps, 4070 Ti 108.3 fps, and 4070 91.9 fps with DLSS 3.5 enabled. Without Nvidia's performance-enhancing tech enabled, frame rates plummeted to 62.7 fps on the RTX 4090, 44.6 fps on the 4080, 35.3 fps on the 4070 Ti, and 28 fps on the 4070.
The 1080p results were very similar to the 1440p results in that the RTX 4090 all the way down to the RTX 4060 yielded substantially greater frames with DLSS 3.5 enabled. For the full rundown of frame rates, be sure to check out Nvidia's blog post for more details.
Sadly, Nvidia did not provide any performance benchmarks without ray tracing, but they do give us a good idea of how the game will run, at least on Nvidia's latest GPUs. The biggest takeaway is that DLSS 3.5 is offering massive improvements to frame rate (of up to 4.1x), noticeably more than previous games, and there's a reason for that. Nvidia revealed that not only is DLSS Frame Generation improving performance, but DLSS Ray Reconstruction is also providing surprisingly good performance improvements too, enabling a 14% performance improvement all by itself. (As a reminder DLSS 3.5 incorporates DLSS upscaling, frame generation, and Ray Reconstruction all together as one package.)
Ray Tracing
Nvidia also highlighted the key graphical features coming to Alan Wake 2, particularly in the Ray Tracing department. Ray-traced lighting (including ambient occlusion), reflections, and shadows will all be featured in the game, including the usage of path tracing with most "ray tracing effects" to optimize the game's performance.
According to Nvidia, Alan Wake 2 will be one of the most realistic-looking ray-tracing games available as it will feature a full-blown ray tracing/path tracing quality mode that will render all lights with light simulation, similar to Cyberpunk 2077's RT Overdrive mode (and Portal/Portal Prelude RTX).
There will be three Ray Tracing presets to choose from, including low, medium, and high settings. each of these settings will affect the number of light bounces the game will render, the quality of indirect path-traced lighting, the quality of ray-traced direct lighting, and the quality of ray-traced transparent materials. On top of this, the three quality presets also affect direct and indirect lighting denoising quality for gamers who can't take advantage of Ray Reconstruction (i.e. AMD and Intel GPU users.).
Alan Wake 2 drops in just two days on October 26th. Nvidia has confirmed it will be launching a Game Ready Driver for the game on the day it launches, after 6 a.m. PT. For Intel gamers, Intel has already released a new driver update with support for Alan Wake 2 as well, leaving AMD as the only GPU manufacturer of the three without an Alan Wake 2 driver, at least for now.
[ For more curated Computing news, check out the main news page here]
The post 'Alan Wake 2' Benchmarks Show RTX 4090 Hitting 130+ FPS at 4K With Maxed Out Ray Tracing first appeared on www.tomshardware.com