From www.tomshardware.com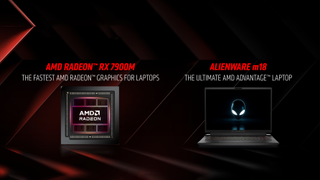 (Image credit: Alienware, AMD)
AMD is launching the first laptop GPU based on a chiplet design. The Radeon RX 7900M will debut exclusively in the Alienware m18, which will be available in conjunction with AMD's Ryzen 7000 series laptops as an AMD Advantage design.
The Radeon 7900M has 72 AMD RDNA 3 compute units and 16GB of GDDR6 VRAM, second-generation ray tracing accelerators, and two dedicated AI accelerators per CU. It also supports AV1 encode and decode. AV1 encode support is enabled in OBS for streamers. The media engine uses machine learning from Xilinx to create high quality text in lower resolution or low-bitrate streams.
Swipe to scroll horizontally
| Header Cell – Column 0 | AMD Radeon RX 7900M |
| --- | --- |
| Compute Units | 72 (Unified AMD RDNA 3) |
| RT Accelerators | 72 (Second gen) |
| AI Accelerators | 144 |
| Game Clock | 1,825 MHz |
| Boost Clock | Up to 2,090 MHz |
| GDDR6 Memory | 16GB |
| Memory Interface | 256 Bit |
| Memory Speed | 18 Gbps |
| AMD Infinity Cache | 64MB (second gen) |
| AV1 Support | Hardware Encode/Decode |
| Total Graphics Power | Up to 180W |
AMD is positioning the RX 7900M as a laptop GPU for fast gaming at 1440p, and is suggesting it's an alternative to the Nvidia GeForce RTX 4080 Laptop GPU. Based on its selection of games, AMD claims the 7900M is 7% faster than the RTX 4080, and AMD claims its GPU gets even faster when you factor in AMD Hypr-RX and FSR 3.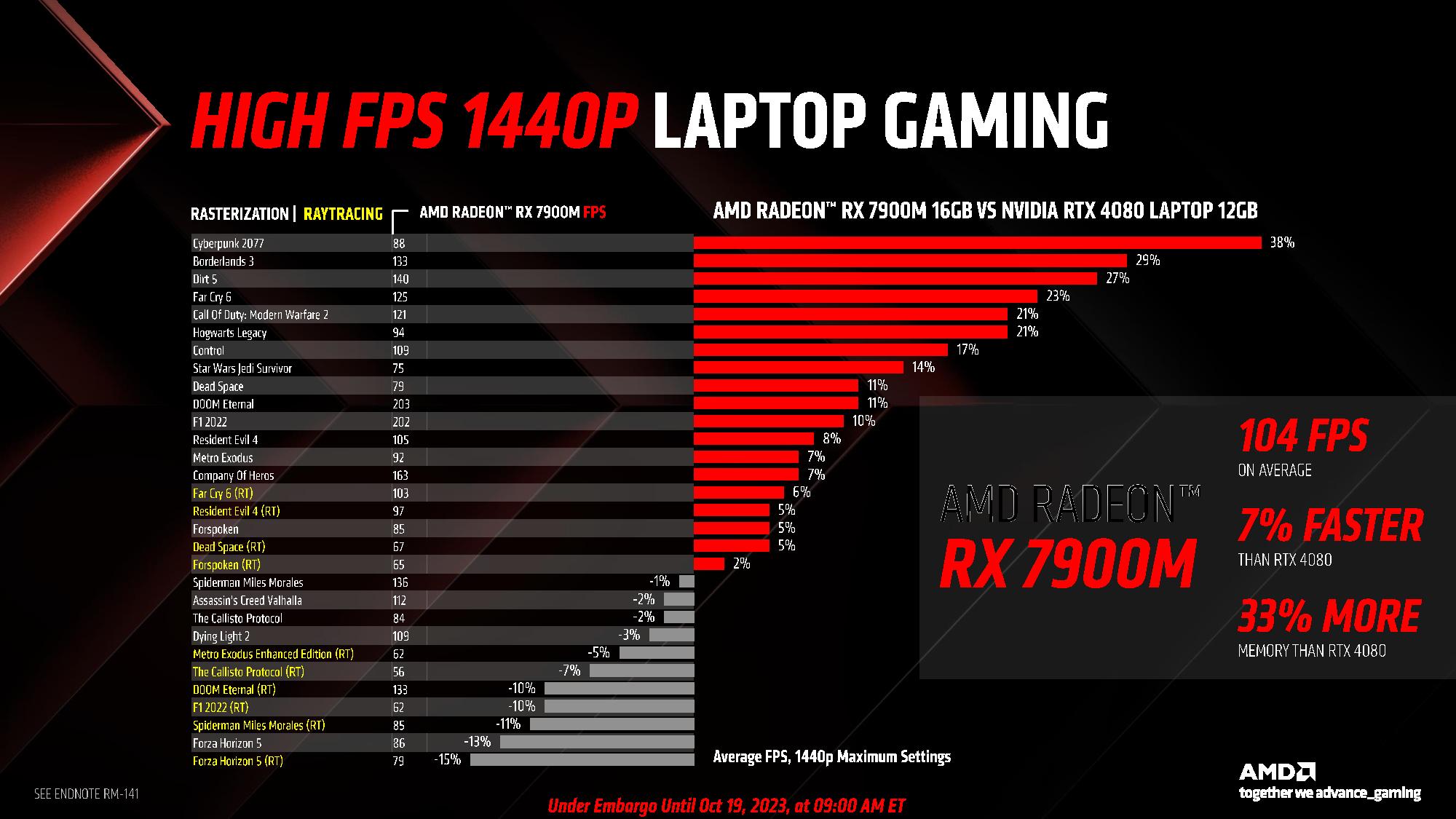 The GPU will use a lot of power, though, with AMD claiming it goes up to 180W of TGP. In its materials, Alienware suggests the graphics card can range from 160W to 200W with SmartShift Max. I've seen Nvidia's RTX 4090 Laptop GPUs use 175W, providing more performance for less power.
The AMD Advantage Alienware m18 launches today, starting at $2,799 with be a Ryzen 9 7945HX, Radeon 7900M, 32GB of RAM, 1TB of storage, and the 480 Hz, 1920 x 1200 display. (That 1920 x 1200 display despite AMD's claims of its GPU being a 1440p powerhouse.) Other configuration options will include going up to 64GB of RAM, bumping up to anywhere between 2TB and 8.5TB of storage, and either a standard Alienware or CherryMX keyboard.
Existing configurations, including both Intel and AMD CPUs and Nvidia GPUs, will also remain on the market. The laptop will be available on Dell's website, followed by certain Best Buy stores and Best Buy's website later on.
This Alienware m18 is in the same chassis as the one we reviewed earlier this year — it's not an entirely new system, just a new configuration. That means you still get a heavy, 18-inch laptop, and get many of the same options for displays in varying configurations (165 Hz, 2560 x 1600 or 480 Hz, 1920 x 1200), memory (up to 64GB), and storage (including up to 8.5TB with three SSDs).
Swipe to scroll horizontally
| Header Cell – Column 0 | Alienware m18 |
| --- | --- |
| CPU | Up to AMD Ryzen 9 7945HX |
| GPU | Up to AMD Radeon RX 7900M (16GB GDDR6), Up to Nvidia GeForce RTX 4090 (16GB GDDR6) |
| RAM | Up to 64GB DDR5 |
| Storage | Up to 8.5TB (2x 4TB + 512GB) PCIe NVMe M.2 SSD |
| Display | 18-inch, 16:10, 2560 x 1600, 165 Hz or 1920 x 1200, 480 Hz, AMD FreeSync and Nvidia G-Sync |
| Battery | 97 WHr |
| Power Adapter | 330W |
| Networking | MediaTek Wi-Fi MT7922 (Radeon RX 7900M only), Qualcomm Wi-Fi 6E WCN6856-DBS (other models), Bluetooth 5.2 |
As with other AMD Advantage laptops, the combination of the company's CPUs and GPUs allow for the use of AMD Smart Technologies. Those include AMD SmartShift Max, which moves power between the CPU and GPU to based on your workload; SmartAccess Graphics to automatically switch to the discrete GPU for gaming; Smart Access Memory, granting access to to Ryzen processors to the Radeon's graphics memory; and AMD SmartAccess Video, which separates the encoding and decoding workloads between the CPU and GPU.
[ For more curated Computing news, check out the main news page here]
The post AMD Radeon RX 7900M Arrives in Alienware m18 Gaming Laptop | Tom's Hardware first appeared on www.tomshardware.com