From seekingalpha.com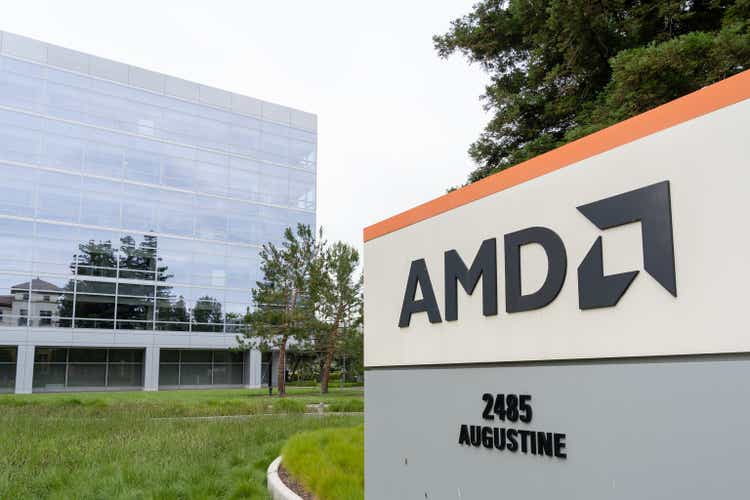 AMD (NASDAQ:AMD) shares rose nearly 2% on Thursday as the semiconductor company unveiled new GPUs and CPUs, including the "fastest" ever Radeon GPU.
In a statement, AMD (AMD) said the Radeon RX 7900 is the fastest ever Radeon GPU for laptops and uses the company's RDNA architecture, allowing for it to perform on average, 7% better than the leading competitive offering, Nvidia's (NVDA) GeForce RTX 4080.
The AMD Radeon RX 7900M GPU also has new artificial intelligence and second-generation raytracing accelerators, along with 16GB of VRM, AV1 encoding and more.
Separately, Alienware said it would offer the new Radeon GPUs inside of its Alienware m18 laptop family, starting at $2,800 in the US and $3,800 in Canada.
Additionally, AMD (AMD) unveiled new Ryzen 7000 series CPUs, including the new Ryzen Threadripper PRO 7000 WX-Series processors.
The new Ryzen Threadripper PRO 7000 WX-Series processors will be available in desktops from Dell, HP and Lenovo.
Three new CPUs were unveiled as part of the Threadripper line, the AMD Ryzen Threadripper 7960X, AMD Ryzen Threadripper 7970X and the AMD Ryzen Threadripper 79780X. The 7960X will set consumers back $1,499, while the 7970X and 7980X cost $2,499 and $4,999, respectively.
[ For more curated Computing news, check out the main news page here]
The post AMD rises as it unveils 'fastest' ever Radeon GPU, new Ryzen CPUs (AMD) first appeared on seekingalpha.com