From www.tomshardware.com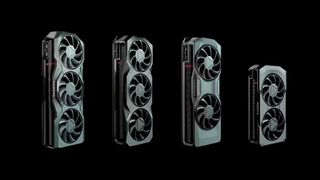 (Image credit: AMD)
A new EEC listing from PowerColor features the RX 7600 XT model name, including versions with both 10GB and 12GB memory capacities. (Hat tip to @harukaze5719 on X.) The Eurasian Economic Commission listing also includes an assortment of RX 7800 XT and RX 7700 XT models, with the former now ranking among the best graphics cards.
PowerColor unveiled four RX 7600 XT models in total, with two featuring 10GB capacities and the other two featuring 12GB. The model names are RX7600XT 12G-L/OC, RX7600XT 12G-F, RX7600XT 10G-L/OC, and RX7600XT 10G-F. Assuming these models are actually legitimate, it means AMD is working on an RX 7600 XT that will have more VRAM than the RX 7600, and possibly the same memory capacity as the RX 7700 XT (12GB).
Do note that EEC listings are often more placeholders than actual specs, however, so it's entirely possible the RX 7600 XT won't even materialize. From what we've seen of previous filings, it appears manufacturers can publish any name they want to the EEU/EEC, even if it's a made-up name based on educated guesses. This allows names of future graphics card models to be processed earlier if the manufacturer guesses correctly. Plus, there are good reasons for AMD to have such a card, like the $200 price gap between the RX 7600 and the RX 7700 XT.
RX 7600 XT 12GBRX 7600 XT 10GBhttps://t.co/MttLluUbuW pic.twitter.com/XiS4Mg8gLDSeptember 12, 2023
See more
AMD has not yet announced an RX 7600 XT, and recently SVP Scott Herkelman even said that the RDNA 3 lineup was "now complete." But there's always room for another intermediate GPU, if yields and market conditions allow for it, and in that same article Scott noted that it was possible AMD might develop more graphics cards based on its current Navi 31, 32, and 33 graphics dies — beyond the RX 7800 XT and 7700 XT. We're not sure if he was talking specifically about the RX 7600 XT, but it's as good of a hint as any.
If AMD goes through with an RX 7600 XT, a 12GB seems far more likely than a 10GB variant. The problem with a 10GB capacity is that it doesn't divide well into an RDNA 3 GPU featuring a Navi 32 die. A Navi 32 GPU features up to eight GDDR6 chips split up between four MCDs (Memory Cache Dies), with each MCD controlling two GDDR6 ICs. To get to 10GB, that would mean disabling one full MCD and half of a second MCD, which could create idiosyncrasies due to the non-uniform L3 cache sizes. 12GB spread across three fully utilized MCDs would make far more sense for a potential RX 7600 XT.
That means a hypothetical RX 7600 XT would look very similar to a RX 7700 XT, featuring the same memory capacity and bus width but packing fewer RDNA 3 Compute Units. There's a big gap between the RX 7600's 32 CUs and the RX 7700 XT's 54 CUs, leaving plenty of room for a potential RX 7600 XT with somewhere around 42–46 CUs. Navi 32 is also the only sensible option, since the vanilla RX 7600 already comes with a fully enabled Navi 33 die.
While we don't have any rumored specs, AMD has plenty of options for how to configure and price an intermediate RX 7600 XT. Price it around the $350 mark, give it 12GB of VRAM, maybe even clock the VRAM a bit lower than the RX 7700 XT if that would reduce pricing. Then use 42 CUs, give or take, with a more modest clock than the 7700 XT, and we could potentially have an RX 6750 XT replacement with better efficiency and performance. Will we actually get such a card? Only time will tell.
[ For more curated Computing news, check out the main news page here]
The post AMD RX 7600 XT Rumored With Navi 32 and 12GB or 10GB VRAM | Tom's Hardware first appeared on www.tomshardware.com