From www.tomshardware.com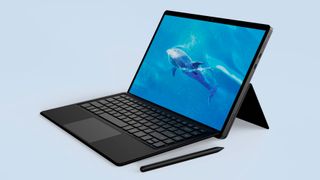 Minisforum V3 (Image credit: Minisforum)
Compact PC manufacturer Minisforum has expanded the company's product portfolio to tablets. The brand has unveiled the Minisforum V3, an upcoming 2-in-1 Windows tablet powered by one of AMD's Ryzen 8000 (Hawk Point) processors.
AMD hasn't shown any roadmaps with Hawk Point on it. The current rumor on the street is that Hawk Point is a 4nm mobile APU with Zen 4 cores and RDNA 3.5 graphics. If you're unfamiliar with AMD's existing Ryzen offerings, AMD utilizes a similar recipe for its current Ryzen 7040 (Phoenix) processors. This suggests that Hawk Point could be a simple refresh of Phoenix but with improved graphics. Phoenix leverages RDNA 3 cores, while Hawk Point reportedly has RDNA 3.5 cores. Therefore, Hawk Point's core specifications should be similar to Phoenix's. We expect a monolithic design that maxes out at eight Zen 4 cores and up to 12 RDNA 3.5 cores.
The Minisforum V3 press release lends some credence to the Hawk Point rumors. According to the vendor, Hawk Point is a 22W to 28W chip that belongs in AMD's U-series category. Although Minisforum was careful not to leak any details, the Minisforum V3 potentially uses a Ryzen 8040U series, which would be the successor to the Ryzen 7040U series. Phoenix's Ryzen AI engine will transition to Hawk Point, allowing the Minisforum V3 to exploit the AI features baked into the Windows operating system.
Minisforum V3 Specifications
Swipe to scroll horizontally
| Component | Specification |
| --- | --- |
| Processor | AMD Hawk Point 22-28W |
| Memory | LPDDR5-6400 |
| Ports | 2 x USB 4, 1 x 3.5mm Audio Jack, 1 x SD UHS-II, 1 x Type-C DP-in Only |
| Connectivity | Wi-Fi 6E, Bluetooth 5.2 |
| Fingerprint | Power button integration |
| Display | 14-inch, QHD+, 165 Hz |
| Speaker | 2 x high speakers, 2 x low speakers |
| Camera | 2M Front, Windows Hello, 5M Rear |
| Battery | ≥ 50Wh |
| Security | Fingerprint, Windows Hello |
| Stylus | MPP2.0, 4,096 Pressure Level |
Minisforum revealed the preliminary specifications and renders for the Minisforum V3, which should only be used for reference — the final specifications and design could vary a bit. Although the manufacturer didn't specify the quantity, the Minisforum V3's Ryzen 8000 APU will be accompanied by LPDDR5-6400 memory. Minisforum didn't specify the storage capabilities of the tablet.
The Minisforum V3 is a 14-inch touchscreen with a QHD+ resolution, meaning 2,960 x 1,440 pixels. It flaunts a high refresh rate of 165 Hz for a buttery smooth viewing and gaming experience. Minisforum armed the tablet with four low and two high speakers for a captivating audio experience.
There are two high-resolution cameras onboard. A two-megapixel camera serves as the webcam with Windows Hello support, while the five-megapixel snapper is at the rear. The power button also functions as a fingerprint reader.
The Minisforum supports a detachable keyboard and MPP2.0 Stylus pen with 4,096 pressure levels.
The device's lengthy list of ports includes two USB 4 ports, one 3.5mm audio jack, a super-fast SD UHS-II card reader, and one USB Type-C port with DP-in support only. Wireless connectivity comes in the shape of Wi-Fi 6E and Bluetooth 5.2. Minisforum plans to equip the tablet with a battery capacity of 50Wh or higher, so the device should be able to get you through the day, depending on how power-efficient Hawk Point is.
Minisforum didn't reveal the pricing or availability for the Minisforum V3. Since the vendor is highlighting the usage of AMD's Ryzen 8000 Hawk Point chip, it's reasonable to expect the Minisforum V3 will launch around the same time as the Ryzen mobile APUs.
[ For more curated Computing news, check out the main news page here]
The post AMD Ryzen 8000 Hawk Point APU Powers New Windows AI Tablet | Tom's Hardware first appeared on www.tomshardware.com