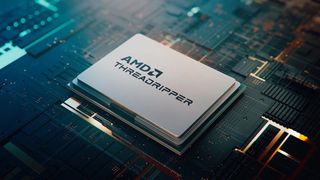 The Threadripper Pro 7895WX scores some amazing results in GeekBench 6 (Image credit: AMD)
What you need to know
AMD's new Threadripper (Storm Peak) and Threadripper Pro will release on November 21.
A sample Geekbench 6 score was discovered for the Threadripper Pro 7895WX.
The Threadripper Pro 7895WX scored 20% higher than the 599WX and 41.4% higher than the Xeon Platinum 8490H.
---
AMD recently announced they are bringing the Threadripper back. These 7000 series CPUs are running on Zen 4 and based on this Geekbench 6 sample, they are offering a substantial, generational leap over the Threadripper Pro 5995WX Zen 3 CPU. It's also good to look at a comparison of Geekbench 6 between the new Threadripper Pro 7895WX and Intel's flagship Xeon Sapphire Rapids option, the Xeon Platinum 8490H.
In the announcement video on AMD's YouTube channel, they focus on the core audience of the Threadripper line such as architects, designers, data scientists, and engineers, promising the ability to rip through complex design, simulation, and rendering tasks even faster than before.
How powerful is the Threadripper Pro 7895WX?
As reviews and comparisons for the 14th generation Intel CPU vs the 13th Generation Intel CPU show a lackluster upgrade and a non-defining gap in the generations, it looks like the Zen 4 offering from AMD is actually giving a substantial boost for those wanting to upgrade. We have reported on everything you need to know about the AMD 7000 series and Zen 4 if you would like to read more.
There are 3 Geekbench 6 samples to compare that show the impressive power of the new Threadripper Pro 7895WX. The first sample shows the 7895WX numbers. It scored a 2,599 single-core score and a 24,780 multicore score. In comparison, the sample for the Threadripper Pro 5995WX scored a 2,033 single-core score and a 20,105 multicore score. This is roughly a 20% advantage for the all-new Zen 4 Threatripper Pro 7895WX.
In last place is Intel's Xeon Platinum 8490H sample which is Intel's current flagship. It scored 1,842 single-core and 16,308 multicore on a similar Geekbench 6.0 benchmark. This is 41.1% slower than AMD's new 7895WX.
More Threadripper Pro 7895WX benchmarks
PC Magazine was able to run some benchmarks for the Threadripper Pro 7995WX. While these aren't perfect tests because PC Magazine only had remote access to the Precision 7875 workstation, but they should still be good indicators. One of the most drastic tests was the benchmark running Cinebench R23, where the Threadripper Pro 7895WX scored 100,291, a Ryzen Threadripper Pro 5995WX scored 55,309, and a Xeon w9-3495X scored 64,405.
There were several other benchmarks thrown at the new AMD powerhouse, most of which it passed with flying colors, but wasn't able to beat the Threadripper Pro 5995WX in crossmark. Ultimately, the full picture will need to be seen on release day when these actually make it to proven test benches and are put to real-life tasks to see how they perform.
There are so many new Threadripper 7000 series options, that it seemed necessary to lay them all out with their cores, threads, TDP, and clock speeds.
Swipe to scroll horizontally
Ryzen Threadripper Pro 7000 Series

| Model | TDP | Cores | Threads | Base / Boost Clock |
| --- | --- | --- | --- | --- |
| Threadripper Pro 7995WX | 350W | 96 | 192 | 2.5GHz / 5.1GHz |
| Threadripper Pro 7985WX | 350W | 64 | 128 | 3.2GHz / 5.1GHz |
| Threadripper Pro 7975WX | 350W | 32 | 64 | 4.0GHz / 5.3GHz |
| Threadripper Pro 7965WX | 350W | 24 | 48 | 4.2GHz / 5.3GHz |
| Threadripper Pro 7955WX | 350W | 16 | 32 | 4.5GHz / 5.3GHz |
| Threadripper Pro 7945WX | 350W | 12 | 24 | 4.7GHz / 5.3GHz |
| Threadripper 7980X – $4,999 | 350W | 64 | 128 | 3.2GHz / 5.1GHz |
| Threadripper 7970X – $2,499 | 350W | 32 | 64 | 4.0GHz / 5.3GHz |
| Threadripper 7960X – $1,499 | 350W | 24 | 48 | 4.2GHz / 5.3GHz |
Enthusiasts rejoice, AMD Threadripper for HEDT is back
As you can see in the chart above, Threadripper has announced support for High-end desktops as well as enterprise-level CPUs. There are 3 offerings, the 24-core 7960X at $1,499, the 32-core 7970X at $2,499, and the 64-core 7980X at $4,999. This is an exciting time for AMD and enthusiasts, as the chance to push desktops to their limit will entice a lot to pick up one of these behemoth CPUs.
We all wait with bated breath for the release of the new 7000 series line of Threadrippers to see how they can streamline our world. As corporations upgrade to become more efficient, these types of performance increases should prove to have an impact on all of us, whether it's servers running faster, AI generating images quicker, or allowing our favorite content creators to get their videos edited and uploaded that much faster. Innovation and performative new generations can only help consumers in the long run.
AMD is here to compete
For more information on any of the new Threadripper line of CPUs, they can be seen on AMD's website. The most important thing we learned from this Geekbench 6 benchmark, though, is that AMD is here to compete and push the industry forward. It should be noted that no single benchmark can capture the entire picture, and full reviews and performance metrics will be available at launch.
AMD bringing back their fan-favorite Threadripper line, just in time for the Qualcomm Snapdragon X Elite platform announcement to compete with consumer chips like the Mac M2 and Intel i9, seems to harken to a new age of competition, innovation, and consumer choice.
Do you use Threadrippers in your personal life or career? What do you think about the first benchmarks of the Threadripper Pro 7895WX? Let us know in the comments.
[ For more curated Computing news, check out the main news page here]
The post AMD Threadripper Pro 7895WX scores a 20% win over 5995WX in GeekBench 6 first appeared on www.windowscentral.com