From www.tomshardware.com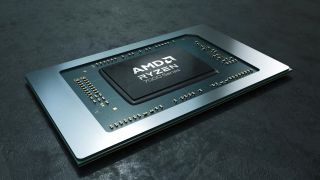 (Image credit: AMD)
AMD's Phoenix APUs are coming to desktops, judging by recent Asus BIOS updates for X670 and X670E motherboards. This indicates the formerly laptop-exclusive chip are coming to desktops soon, as spotted by Andreas Schilling of Hardwareluxx. Asus's latest BIOS added AGESA 1.1.0.0 to the company's motherboards, but also included support for what will likely become the Ryzen 7000G series.
The launch of a new processor family is often preceded by BIOS updates that add support for the upcoming chips. Usually, these BIOS updates come out at least two months before the chip in question launches, such as when Intel 600-series motherboards got 13th Gen Raptor Lake support three months before launch. In this case, the addition of Phoenix APU support was kept secret a bit longer, since AMD hasn't announced the Ryzen 7000G series yet.
Currently, Phoenix processors are only available in the form of the Ryzen 7040 series, which are exclusive to laptops. They come with up to eight cores instead of the 16 that Raphael-based CPUs (the normal Ryzen 7000-series desktop chips) come with, but feature 12 RDNA 3 Compute Units versus the four RDNA 2 CUs on Raphael. Needless to say, that's a potentially big jump in integrated graphics performance for desktops that use the new processors.
There's also the Phoenix 2 APU, which has up to six cores (four of which are Zen 4c) and just four RDNA 3 CUs. Although it's all but certain that the original Phoenix APU is going to be part of the Ryzen 7000G series, it's not clear whether Phoenix 2 will also make it to the desktop. A leak revealing some lower-end Ryzen 7000G desktop chips implies Phoenix 2 could be used for Ryzen 3 and Ryzen 5 7000G APUs.
Given what we already know about Phoenix performance from laptops, it's unlikely we'll be surprised by its desktop performance. The Phoenix-powered Ryzen 7000G APUs will likely have good power efficiency and greatly improved integrated graphics performance, but peak CPU performance will likely lag behind Raphael-based desktop chips due to presumably lower boost clock speeds and less cache, and even a 12 CU graphics chip will pale in comparison to dedicated GPUs — the Radeon RX 7600 as an example features 32 RDNA 3 CUs, so these would be perhaps one third as fast.
There's no official launch date for the Phoenix desktop APUs, but we could see products ship before the end of 2023. If AMD doesn't announce the products before the end of the year, we'll almost surely see them at CES 2024 in January.
[ For more curated Computing news, check out the main news page here]
The post AMD Zen 4 APUs Are Coming, Ryzen 7000G BIOS Updates Arrive first appeared on www.tomshardware.com