From www.tomshardware.com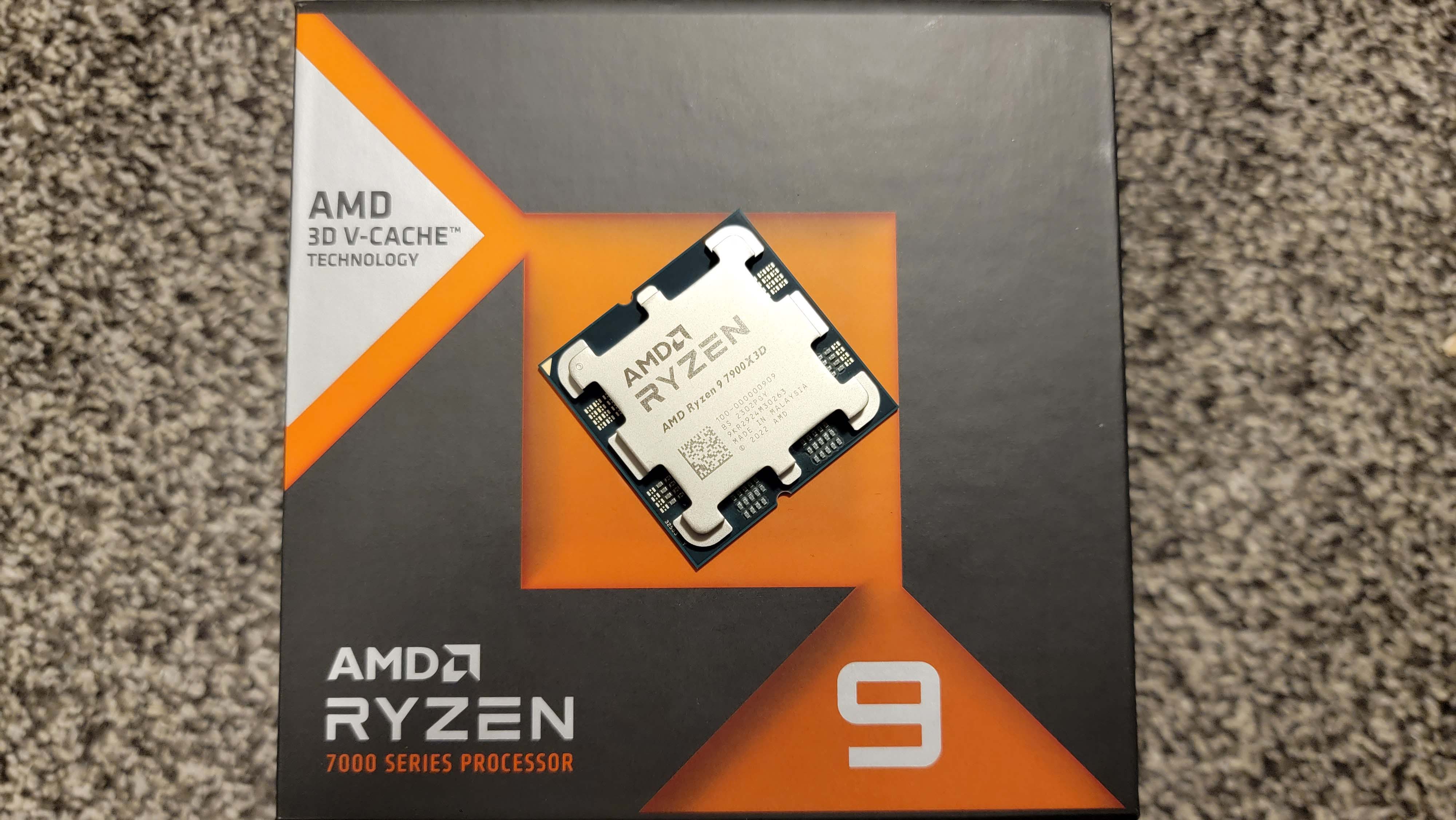 AMD has finally shared its own official gaming benchmarks of the hotly-anticipated $449 Ryzen 7 7800X3D going toe-to-toe with Intel's flagship $589 Core i9-13900K and winning by an average of 20%, and up to 24% in one title – but for $150 less. The new benchmarks also give us a limited comparison of the Ryzen 7 7800X3D with the Ryzen 9 7950X3D, too, implying that the less expensive chip offers nearly the same level of gaming performance as the pricey flagship – but for $250 less.
AMD has already released its flagship 3D V-Cache-powered $699 Ryzen 9 7950X3D to critical acclaim, with the new chip taking the crown as the best CPU for gaming while maintaining a commanding presence on our CPU benchmark hierarchy. The company also low-key launched the $599 Ryzen 9 7900X3D without sampling press (you can see our review at the link).
However, AMD has held back launching its $449 eight-core Ryzen 7 7800X3D chips until April and has been stingy with the benchmarks, having only compared it to the previous-gen Ryzen 7 5800X3D in gaming and not the entirely more relevant Core i9-13900K and Ryzen 9 7950X3D.
That might be because the 7800X3D is too good for its own good: the eight-core, 16-thread Ryzen 7 7800X3D stands out as the go-to model for gamers with this generation, so it'll be the big volume seller. AMD's reps tell us the 78000X3D will offer the lion's share of 3D V-Cache's gaming performance, but at a much more affordable price point than the other X3D models. So naturally, if the 7800X3D offers nearly the same level of gaming performance for $250 less than the flagship, that won't leave much reason to buy the pricier models once the 7800X3D arrives.
We'll have to see things pan out in our own benchmark testing, but it looks like the Ryzen 7 7800X3D will take the lead over Intel's Raptor Lake when it arrives next month. AMD's new benchmarks below certainly paint that picture, too.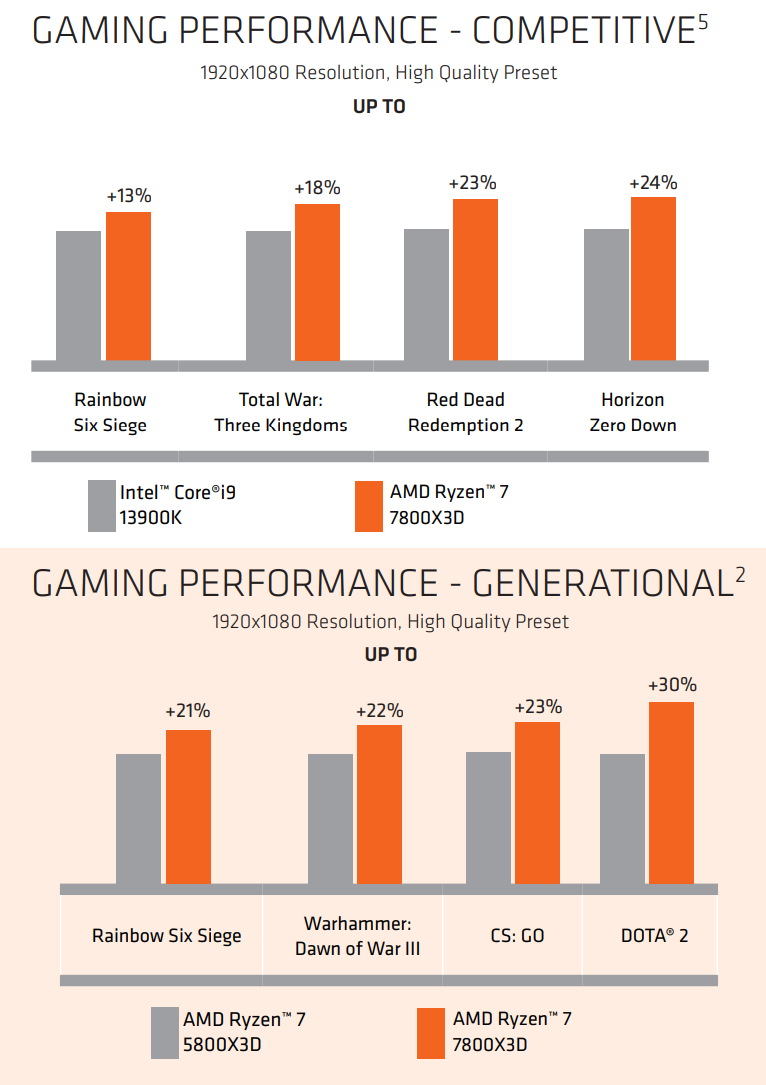 As with all vendor-provided benchmarks, take these with a grain of salt. (We've included the test notes below with the test setup particulars, but the '5' footnote doesn't list the 13900K details; those are in the '2' footnote).
We've seen the bottom half of the chart before — it compares the Ryzen 7 7800X3D to the Ryzen 7 5800X3D. But the top half is new with four gaming benchmarks versus the Core i9-13900K.
AMD claims the Ryzen 7 7800X3D is 20% faster, on average, in gaming than the Core i9-13900K across these gaming benchmarks. The Ryzen 7 7800X3D carves out a 24% win in Horizon Zero Dawn, a 23% win in Red Dead Redemption 2, an 18% win in Total War: Three Kingdoms, and a 13% win in Rainbow Six Siege.
This is a limited selection of games, and they tend to be the types of titles that benefit from the gaming benefits of the 3D V-Cache, whereas some games don't benefit quite as much. Conversely, some other games benefit from the tech far more, so this list isn't entirely skewed.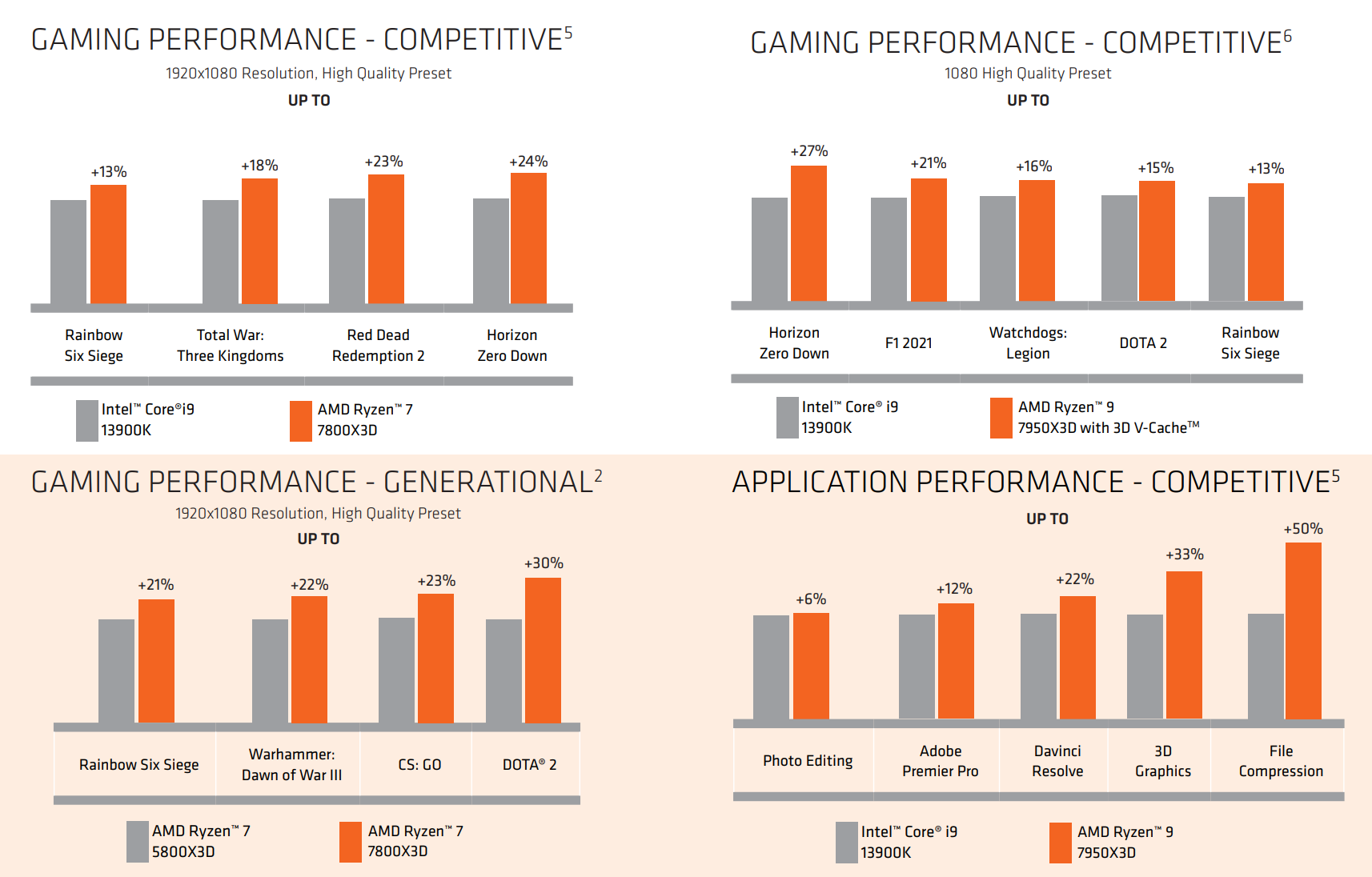 The zoomed-out version includes the Ryzen 9 7950X3D vs Core i9-13900K comparison. Here we see that AMD tested two of the same games against the Core i9-13900K with both the 7950X3D and the 7800X3D, which helps us make at least a small comparison between the two AMD chips.
In Horizon Zero Dawn (not "down," as listed in the slide), we can see that the 7800X3D is a mere 3% slower than the 7950X3D, whereas the two chips tie in Rainbow Six Seige.
Yes, two benchmarks don't give us much to work with, but it certainly implies that the 7800X3D will do just what we've suspected — provide within 5% of the performance of the 7950X3D, but for $250 less. We'll have to see how that pans out across a larger gamut of gaming benchmarks in our review, of course.
Thoughts
Swipe to scroll horizontally
| | Price | Cores / Threads (P+E) | P-Core Base / Boost Clock (GHz) | Cache (L2/L3) | TDP / PBP / MTP |
| --- | --- | --- | --- | --- | --- |
| Ryzen 9 7950X3D | $699 | 16 / 32 | 4.2 / 5.7 | 144MB (16+128) | 120W / 162W |
| Ryzen 9 7900X3D | $599 | 12 / 24 | 4.4 / 5.6 | 140MB (12+128) | 120W / 162W |
| Ryzen 7 7800X3D | $449 | 8 /16 | 4.2 / 5.0 | 104MB (8+96) | 120W / 162W |
| Ryzen 7 5800X3D | $348 | 8 /16 | 3.4 / 4.5 | 104MB (8+96) | 105W |
AMD's Ryzen 7 7800X3D has plenty of promise, and we're sure that it will be this generation's Ryzen 7 5800X3D — the overwhelming choice for gamers that are solely interested in gaming.
The 12-core and 16-core Ryzen 7000X3D bring 3D V-Cache tech to AMD's multi-compute-chiplet processors for the first time (deep dive here), but they require special handling via AMD's drivers to ensure the highest performance, while the Ryzen 7 7800X3D has a single chiplet and will operate more like a traditional CPU. AMD's special driver sauce does a great job of delivering exceptional gaming performance for multi-chiplet designs without user intervention, but the 7800X3D will have a simpler plug-and-play implementation.
AMD was also uncharacteristically silent about the 12-core Ryzen 9 7900X3D, but for different reasons. AMD shared zero official benchmarks for the 7900X3D and didn't sample it to the press. We can see why; in our Ryzen 9 7900X3D review, we saw that the price-to-performance ratio was less than inspiring. If you're buying on the high end, there's no reason not to plunk down the comparatively small extra amount to get the flagship Ryzen 9 7950X3D.
In contrast, it appears that the Ryzen 7 7800X3D will be the complete opposite; this chip could severely cannibalize the sales of AMD's own higher-end models. We'll see soon enough, the Ryzen 7 7800X3D comes to market on April 6, 2023, and you can be sure that we'll have our review published in the same time frame.

The post AMD's First Official Ryzen 7 7800X3D Gaming Benchmarks vs Core i9-13900K, Up To 24% Faster | Tom's Hardware first appeared on www.tomshardware.com
In many places around the world, horse races are an attraction that a lot of people love to watch. With the fast-paced action and thrill that each game provides, it is no longer surprising to know that millions of fans have grown fond of it.
Cybersecurity threats have become vast and more sophisticated. The rate of malware attacks and malicious activity counts within seconds despite the size or sector the organization belongs to — no one is safe enough to expect that foe actors will bypass vital company resources.