From www.tomshardware.com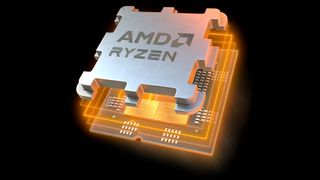 (Image credit: AMD)
According to a report by HardwareLuxx, AMD's latest AM5 AGESA microcode update 1.0.0.7 — intended to fix Ryzen 7000's burnout issues — is plagued with bugs. Even worse, 1.0.0.7 doesn't appear to have all the latest fixes and only features safer SoC voltage limitations. On the bright side, AMD is reportedly testing a new 1.0.9.0 update internally that is rumored to have all of these fixes intact, but this still means Ryzen 7000 users could be left waiting months for a complete fix.
If you're unfamiliar with the recent Ryzen burnout catastrophe, check out our previous coverage here. In short, user reports have cropped up revealing dead Ryzen 7000 CPUs that melted in their sockets due to SoC voltages operating at unsafe voltages (which is specified as anything over 1.3v right now), and bugs surrounding AMD's CPU temperature control system, which can cause Ryzen 7000 CPUs to go a beyond its safe thermal specifications.
But sadly, Ryzen 7000 users will have to wait several more months before receiving the full list of fixes unless motherboard vendors implement a workaround. Apparently, AGESA 1.0.0.7 does not feature any bug fixes for the CPU thermal control system and only incorporates the new AMD-regulated SoC voltage limitation of 1.3v. However, HardwareLuxx says it doesn't know if the fix is already implemented into the patch. The tech outlet has asked AMD about the issue but has not received a response yet.
All we know is that other reports indicate AGESA 1.0.0.7 doesn't have these fixes in place, including a recent Reddit post showing a Ryzen 9 7950X running at over 110 degrees Celcius with a beta BIOS featuring the new microcode update. So it does not seem like the thermal bug fixes are in place. However, we can't confirm if the thermal issues are BIOS related or related to the AGESA microcode update, so take these reports with a grain of salt until we get official confirmation from AMD.
Nonetheless, AGESA 1.0.0.7 reportedly has other bugs, in the form of memory compatibility issues surrounding the new 48GB DIMMS where transfer speeds are limited to just 4400MHz when all four slots on an AM5 motherboard are used. But thankfully the issue only surrounds 192GB capacities as far as we know, and HardwareLuxx reports that it tested AGESA 1.0.0.7 itself with dual channels 16GB, 32GB, and quad channel 64GB kits and had no issues.
Overall, the situation regarding AGESA 1.0.0.7 is a bit messy, since we don't have official confirmation from AMD regarding the fixes or bugs surrounding the update. However, based on the report from HardwareLuxx as well as other user reports, it seems like this microcode update is a mess and not stable. Thankfully as we mentioned earlier, AMD is reportedly developing a new microcode update, AGESA 1.0.9.0, which will hopefully fix all these issues in the future.
The post AMD's 'Ryzen Burnout' Fixes Reportedly Plagued With Bugs first appeared on www.tomshardware.com
In many places around the world, horse races are an attraction that a lot of people love to watch. With the fast-paced action and thrill that each game provides, it is no longer surprising to know that millions of fans have grown fond of it.
Cybersecurity threats have become vast and more sophisticated. The rate of malware attacks and malicious activity counts within seconds despite the size or sector the organization belongs to — no one is safe enough to expect that foe actors will bypass vital company resources.