From www.tomshardware.com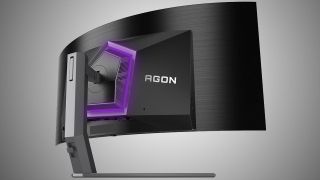 (Image credit: AOC)
AOC is preparing a stunning new 44.5-inch OLED gaming monitor for launch. Earlier today the website Display Specifications caught a whiff of the AOC Agon AG456UCZD and its specs, with highlights such as a 240 Hz refresh rate, a wide color gamut, an immersive 800R curve, and a 0.03 ms response time – in addition to the usual OLED goodness.
It is unusual to see such a large and wide monitor with a tight curvature like this. AOC's Agon AG456UCZD offers a 44.5-inch diagonal and if you sit quite close, like a typical desktop PC user with a chair and desk, its 800R curve will comfortably fill your field of vision. If you kick back a little, you might also appreciate the Agon's rear spilling out ambient lighting via a LightFX module which supports "up to 100,000 colors and 14 light shows," according to the source.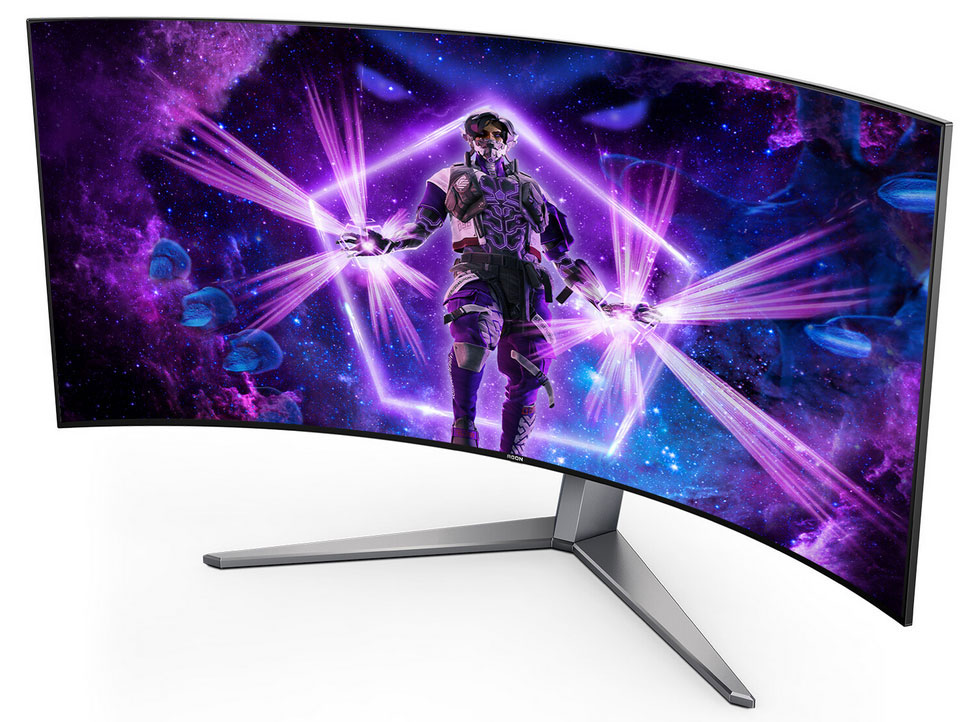 For those who like what they hear so far, there are plenty more goodies. The OLED panel, for example, offers 10-bit color with 98.5% DCI-P3 gamut coverage and a Delta E
Performance looks top-notch too. Evidence of great gaming credentials comes via the aforementioned 240 Hz refresh rate and 0.03 ms response time. That won't be all though, we expect a full complement of Agon gaming features built into this monitor too, like FreeSync Premium, low input lag, motion blur reduction, shadow control, hardware crosshair, frame counter, gaming genre presets, and configuration / customization via AOC's G-Menu.
Pixel Density Doesn't Impress
One weakness of this new AOC monitor might be its pixel density. Across its expansive 44.5-inches it only offers 3440 x 1440 pixels. According to our calculations that is 83.80 PPI. For some perspective, that is only a little better than a 27-inch FHD monitor (81.59 PPI).
We think this monitor might be using the same panel as the LG UltraGear 45GR95QE and the Acer Predator X45 OLED due to all of the specs they have in common.
Connectivity Aplenty
Beyond the display panel, the supporting specs of the AOC Agon AG456UCZD look solid. This model sports a KVM Switch (for multi-system users) which includes a uniform brightness feature. Picture-in-Picture (PiP) and Picture-by-Picture (PiP) modes are supported for busy multitaskers.
Because this monitor has a KVM, you won't be surprised by the plethora of connectivity options. Users have access to two HDMI 2.0 ports, a DP 1.4 port, a USB Type-C port that supports 90W power delivery and DP-Alt, four USB 3.2 Gen 1 Type-A ports, one USB 3.2 Gen 1 Type-B port, and a headphone jack. On the topic of audio, this Agon also has built-in stereo 8W speakers.
AOC has fitted a fully adjustable stand to the Agon AG456UCZD. It affords adjustments to three parameters: +/-15 degrees of swivel, -5 to 15 degrees tilt, and up to 100 mm of height adjustment. If you don't like it, rest assured the AG456UCZD can be fitted to a 100 x 100 VESA mount of your choice.
At the time of writing, we don't have information about the availability or pricing of the new Agon AG456UCZD. AOC should send out an official news release about this gaming monitor shortly. A reasonable price would be around the $1,600 mark, like the Acer on offer a few weeks ago. An official Agon AG456UCZD product page isn't yet available on AOC's website.
[ For more curated Computing news, check out the main news page here]
The post AOC's Latest Agon Gaming Monitor Has a 44.5-inch Curved OLED Screen first appeared on www.tomshardware.com