From www.tomshardware.com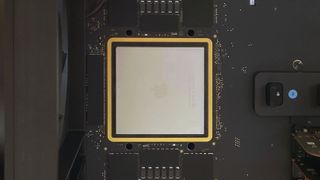 (Image credit: Tom's Hardware)
Apple's M2 Ultra is a mighty processor with 24 general-purpose cores and up to 76 integrated GPU cores. It is also probably faster than Intel's 28-core Xeon W found in the 2019 Mac Pro, so new Mac Pro workstation owners will feel a significant performance uplift. But according to a purported benchmark, this CPU cannot beat competitors from AMD and Intel in Geekbench 5 (via @VadimYuryev) as they boast very high clocks or feature a formidable core count.
Heavy-duty workstation-grade processors are different from desktop and server CPUs in that they should deliver both very responsive performance (like all client processors) and consistently high performance under heavy workloads. This means that they must feature high instruction-per-clock performance, high clocks, high core count, support for loads of memory, and feature loads of PCIe lanes. AMD's Ryzen Threadripper Pro W5995X and Intel's Xeon W9-3495X comply with these requirements with their 64 and 56 cores, respectively. In a nutshell, they use server silicon configured to offer extremely high clocks when needed.
When it comes to Apple's M2 Ultra, it consists of two M2 Max system-on-chips that were designed primarily for MacBook Pro and Mac Studio machines. Those workstations have moderate power consumption and do not support expandability. M2 Max was not exactly architected for high clocks or for expandability, as you can only install so much memory and so much storage in a compact PC. Instead of boosting clocks to extremes when a computationally heavy workload emerges, M2 uses built-in special-purpose accelerators. It was also not designed for an extreme core count because of power and cooling limitations. While two M2 Maxes look formidable on paper, they cannot boast clocks of Intel's Core i9-13900K or the core count of AMD's Ryzen Threadripper Pro W5995WX.
Header Cell – Column 0

M2 Ultra

Xeon W9-3495X

Ryzen Threadripper Pro 5995WX

Core i9-13900K

General specifications

24C/24T, up to 3.68 GHz

56C/112T, 1.90 GHz – 4.60 GHz, 105MB L3

64C/128T, 2.70 GHz – 4.50 GHz, 256MB L3

8P+16E/32T, 3.0 GHz – 5.80 GHz, 68MB L2+L3 cache

Single-Core | Integer

1793

1522

1316

2016

Single-Core | Float

2149

1815

1719

2464

Single-Core | Crypto

2912

3926

3832

5860

Single-Core | Score

1956

1730

1563

2343

Row 5 – Cell 0

Row 5 – Cell 1

Row 5 – Cell 2

Row 5 – Cell 3

Row 5 – Cell 4

Multi-Core | Integer

24532

59183

46049

28379

Multi-Core | Float

32195

55393

49414

31320

Multi-Core | Crypto

46817

36466

44987

22280

Multi-Core | Score

27945

56910

47005

28956

Link

https://browser.geekbench.com/v5/
cpu/21305974
https://browser.geekbench.com/v5/
cpu/211458582
https://browser.geekbench.com/v5/
cpu/19923348
https://browser.geekbench.com/v5/
cpu/20655426
This is why the benchmark result shows Apple's M2 Ultra cannot beat Intel's Core i9-13900K in single-thread workloads and even fall behind in multi-core workloads in Geekbench 5. Intel's desktop offering supports simultaneous multi-threading and can process up to 32 threads instantly. Compared to its actual rivals — AMD's Ryzen Threadripper Pro W5995X and Intel's Xeon W9-3495X — it easily beats them in single-thread workloads but is dramatically slower when more cores are needed.
Some may argue that Geekbench 5 is a synthetic benchmark that does not reflect performance in real-world applications, which is a fair argument. But it gives a sense of what to expect from CPUs regarding their compute capabilities without any special-purpose accelerators. And this brings us to the fact that Apple's M2 SoCs have plenty of accelerators inside. Therefore, it may not need to have high clocks or extreme core count to offer great performance in many workstation-grade workloads.
Then again, with so much compute horsepower under the hood, AMD's and Intel's workstation processors are designed to handle even the most demanding workloads. That said, it remains to be seen whether Apple's Mac Pro can actually beat workstations based on AMD's and Intel's CPUs in workstation applications.
[ If you want more tech news, click here for more curated news presented on the main page ]
The post Apple's M2 Ultra Seemingly Can't Beat AMD and Intel Rivals | Tom's Hardware first appeared on www.tomshardware.com