From www.tomshardware.com
We're accustomed to seeing driver updates that increase GPU performance through game optimizations made at the driver level. This has been especially true with Intel's Arc discrete GPUs, where the company has gained gobs of performance from its latest DX9 and DX11 driver enhancements — allowing GPUs like the Arc A750 to sit in our list of Best GPUs currently.
However, Intel's latest driver release (version 31.0.101.4644) has unexpectedly added another method of increasing GPU performance, for one of its GPUs, at least. According to a Neowin forum post by Eternal Tempest, the new driver update is bundled with a hidden firmware update for the Arc A380 that boosts GPU clock speeds by an impressive 150MHz, going from a flat 2000MHz clock speed by default to 2150MHz with the firmware update.
A 150MHz clock speed upgrade is no joke and is a substantial jump from a mere firmware update. In the world of modern GPU overclocking, getting a stable 150MHz core offset would be a very good result on any of Nvidia's recent GPUs. Most Nvidia GPUs usually top out anywhere between 100MHz to 200MHz on the overclock front, depending on GPU temperatures and silicon quality.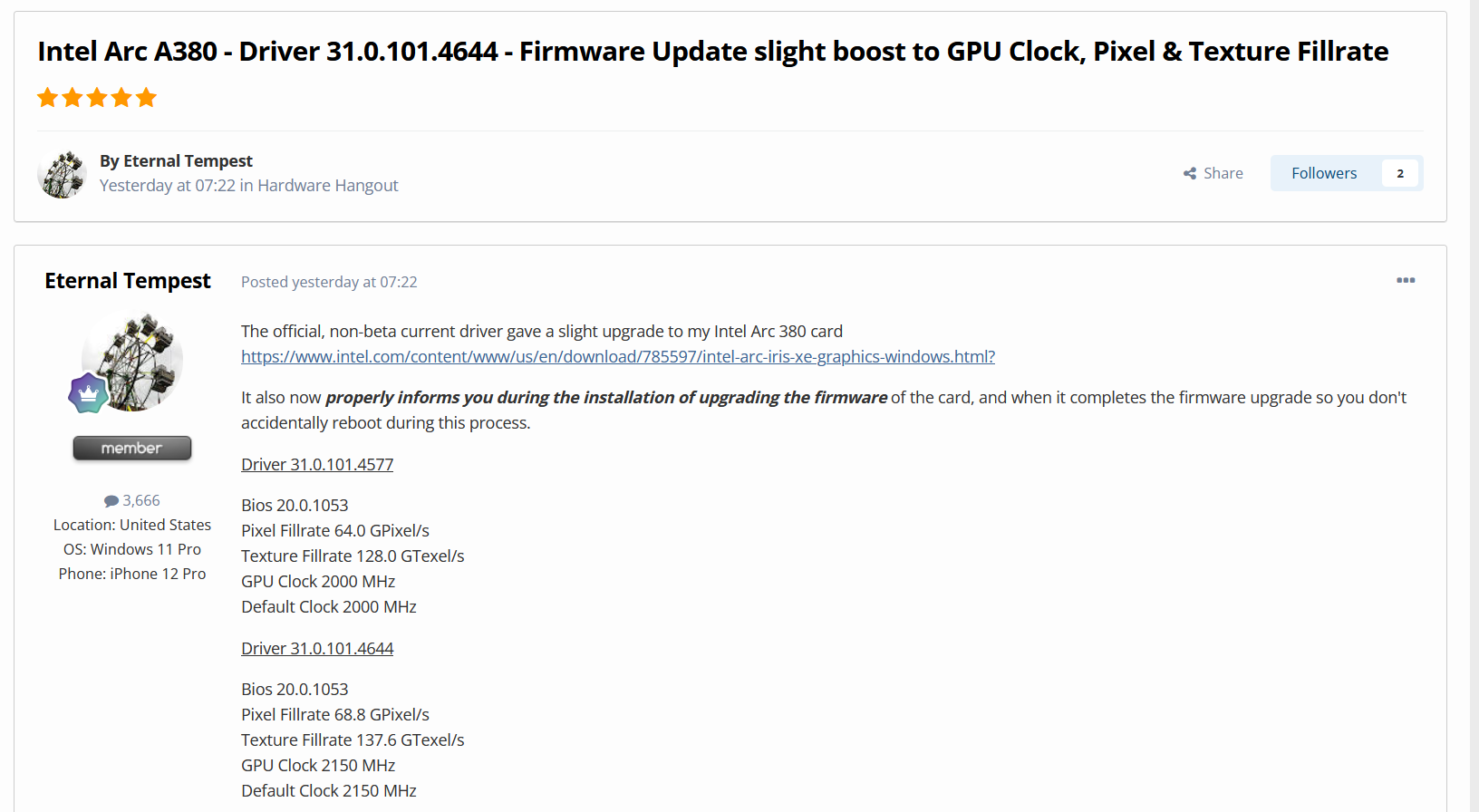 We're not sure what prompted Intel to make the impressive 150MHz clock speed update right now. But we suspect that the company discovered there was additional frequency headroom available in the Arc A380 that it did not perceive during the GPU's development cycle. The Arc A380 was, after all, one of the first discrete Arc GPUs to be released by Intel. Inexperience with discrete GPU architectures and TSMC's 6N process may have resulted in A380's clock speed being tuned below what it could actually handle.
In any case, it is great to see a free performance upgrade on an existing GPU, no matter which way they come. The new firmware update should give A380 owners a small but healthy boost in GPU performance in all games and GPU-intensive applications.
Besides the hidden firmware update (that is not included in the patch notes for some reason), the new driver update also adds game highlights for Madden NFL 24 and Wayfinder. The update also fixes three bugs surrounding a crashing problem in Uncharted: Legacy of Thieves Collection (DX12), a system hang when waking up from sleep mode, and another application crash in Blender 3.6.
[ For more curated Computing news, check out the main news page here]
The post Arc A380 Reportedly Gets Extra 150MHz Clock Boost With Latest Intel GPU Driver Update | Tom's Hardware first appeared on www.tomshardware.com