From www.creativebloq.com
Our Verdict
The ASUS Zenbook 15 OLED may not have a discrete graphics card, but it is still a zippy laptop that benefits from a fast AMD processor. It's nicely thin and light, with a 16:9 OLED screen that's ideal for media consumption as well as serious work. Being thin, and with such a bright screen, means that battery life could be better, but a compromise needed to be made somewhere.
For
Excellent screen
Good performance
USB 4
Against
Merely average battery life
Why you can trust Creative Bloq Our expert reviewers spend hours testing and comparing products and services so you can choose the best for you. Find out more about how we test.
Laptops seem to have been getting chunkier recently – or perhaps it's just the selection we choose to review – so it's nice to see one that's actually thin and light, as well as extremely capable. The ASUS Zenbook 15 OLED carries a nice processor and an even nicer screen but doesn't have a separate GPU chip, so may fall off the radar of anyone wanting to do heavyweight gaming or video-editing tasks.
It's the 15.6-inch OLED screen that's going to attract most people to the Zenbook – it's bright, sharp and, in a time of 16:10 and even 3:2 ratios, feels really wide at a classic 16:9. This ratio makes it nice to carry too – it's perfect for popping under your arm as you whizz in and out of the meeting rooms, coffee bars and cushion-strewn huddle chambers of the modern office, and it helps that it looks great too.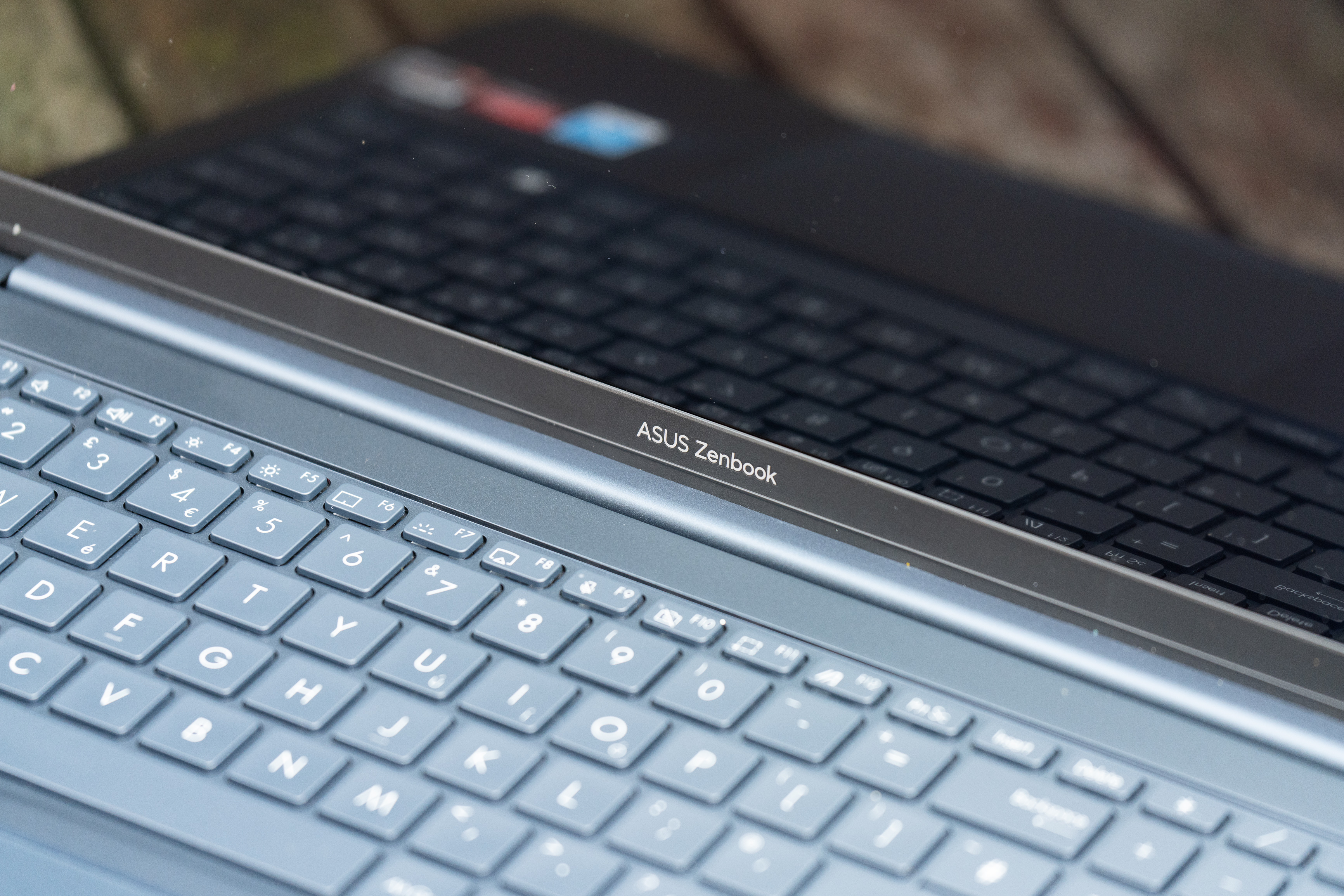 ASUS Zenbook 15 OLED review: Key specs
Swipe to scroll horizontally
| | |
| --- | --- |
| CPU: | AMD Ryzen 7 7735U |
| GPU: | Radeon Graphics 680M |
| RAM: | 16GB |
| Screen: | 15.6in 2880 x 1620 OLED |
| Storage | 512GB SSD |
| Connectivity: | Wi-Fi 6E, Bluetooth 5.3, 1x USB 3.2 Gen 1 Type-A, 1x USB 3.2 Gen 2, 1x USB 4.0 Gen 3 Type-C, 1x HDMI 2.1, 1x 3.5mm combo audio jack |
| Dimensions: | 35.48 x 22.66 x 1.58cm |
| Weight: | 1.5kg |
Design and build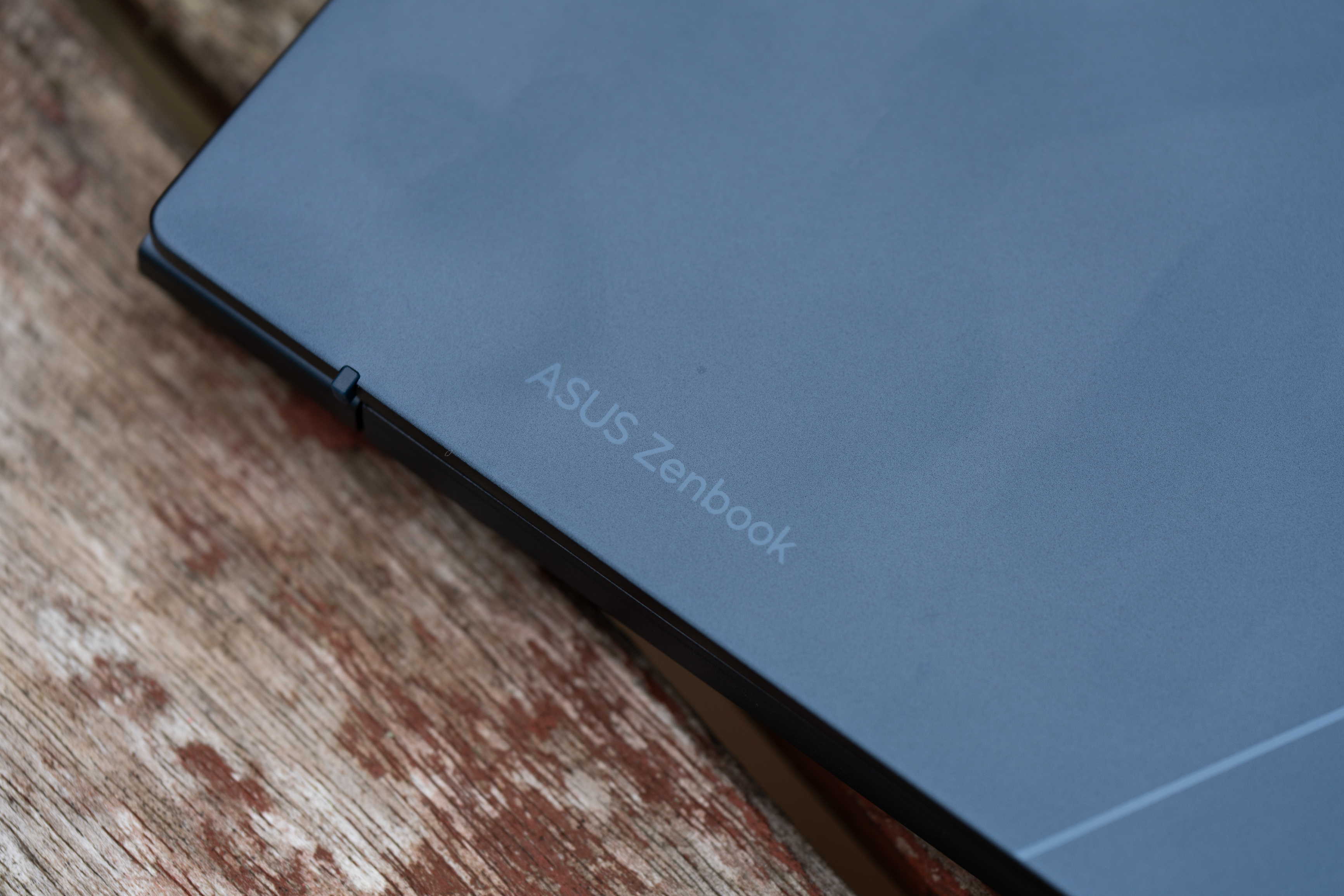 The Zenbook 15 for 2023 comes in black, though it has a bluish sheen as the light catches it. There's a pattern of lines on its lid, created by adding shiny bits to its otherwise matte surface, that looks classy, and there's a hinge that allows the screen to lay flat but not fold back on itself. We're still not sure why laptops do this – other than avoiding overstressing the hinge by overenthusiastic use – and being able to put the laptop into tent mode for movie watching is more useful.
That's a minor gripe, however, and one of few we have with this machine. It's well made, though is obviously plastic rather than aluminium, with a little bit of flex to the slender screen but an otherwise stiff chassis and a lid that closes softly. The keyboard is particularly good to type on, the keys large thanks to the wide aspect ratio, and even the numpad – though its keys are smaller than those on the main keyboard – doesn't feel too squeezed in. There's a larger-than-necessary # key above a beheaded Enter, but there have been no strange tricks to squeeze keys where they're not meant to be – even the arrow keys have been treated with respect. There's a plasticky feeling when you press the keys though.
The trackpad has a beautifully shiny surface but feels ever so slightly wobbly in use. It at least has a nice positive click when you press down on it, and we had no problems with its accuracy.
Features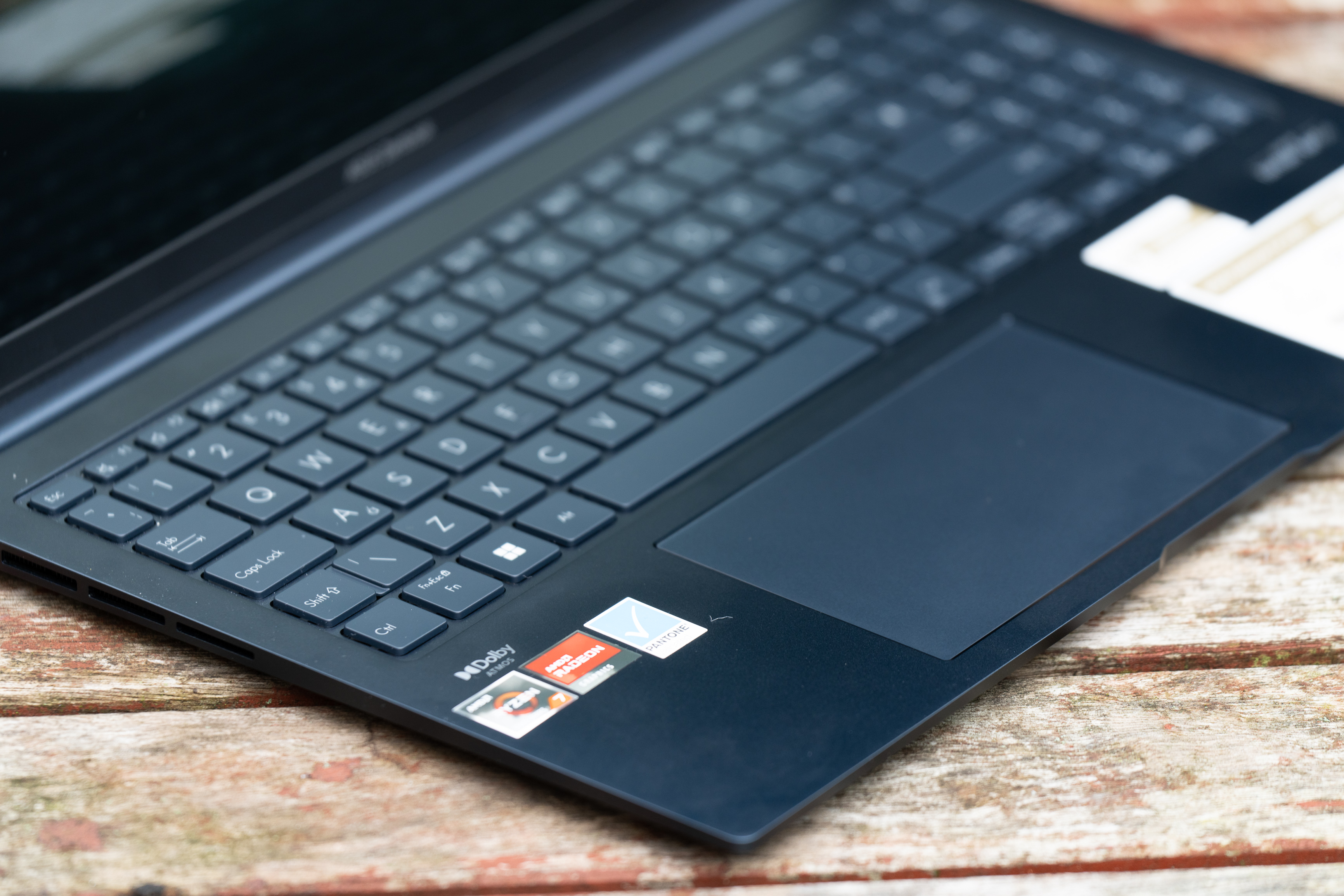 There's a good amount of connectivity on the Zenbook, though no Ethernet port – you'll need a USB adapter for that. It has Wi-Fi 6E to make up for it as long as you've got a router to match, and with the latest Bluetooth 5.3 on board too it's a machine designed to take advantage of a wireless environment. Owners of fast desktop SSDs can hook them up to the USB 4 port, which looks absolutely identical to the USB 3.2 port next to it, with no symbol to distinguish it. Both the Type-C ports can be used to connect a screen or a charger, and there's an HDMI 2.1 socket too if you can't get enough of external monitors. The headphone socket is a combo model for headsets.
We'd have liked to have seen an SD Card reader, but it's a decent array of ports that suggests some sort of dock attached to one of the Type-C sockets would be a good purchase, if only for the extra convenience of only having to remove one cable when you take the Zenbook away with you.
The screen is a good example of what laptop monitors can be like in 2023. It's reasonably high-res, has excellent colour, and with a 120Hz maximum refresh rate, everything is kept smooth while windows open and close. The only downside is that it reflects like crazy in sunlight, something no OLED seems capable of overcoming. With its 16:9 aspect ratio you can completely fill it with streaming video, and watching TV and movies works really well on the Zenbook, but makes us wish harder for a hinge that goes all the way over. It's Pantone validated too, something that might catch the attention of photographers and designers looking for something portable.
Performance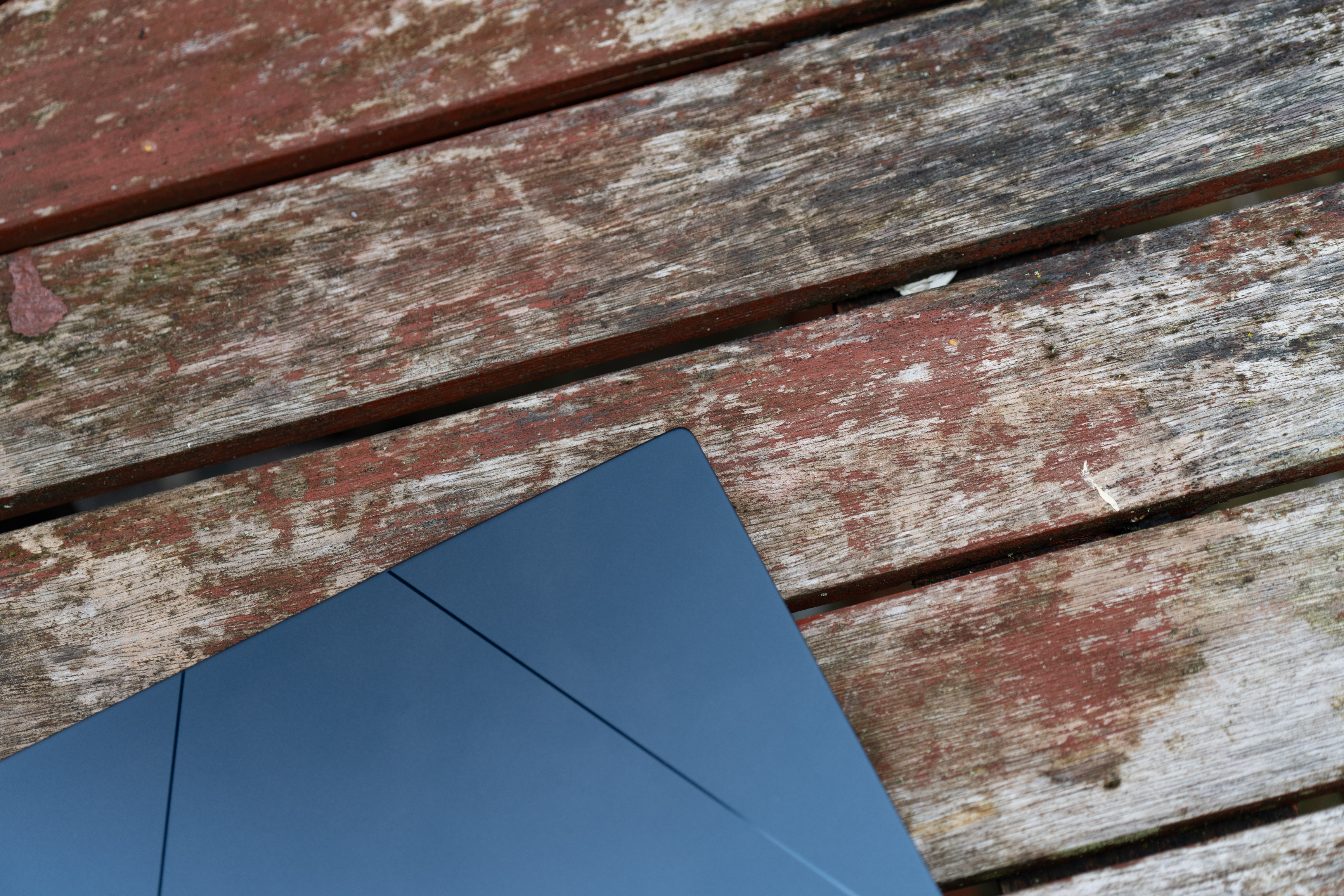 Swipe to scroll horizontally
ASUS Zenbook 15 OLED: Benchmark scoring

| | | |
| --- | --- | --- |
| Cinebench R23: | Multi-core: 7,908 | Single-core: 697 |
| PC Mark 10: | 6,324 | Row 1 – Cell 2 |
| Battery test: | 7h34m | Row 2 – Cell 2 |
| Geekbench 6 CPU: | Multi-core: 5,129 | Single-core: 1,960 |
| Geekbench 6 GPU: | 27,526 | Row 4 – Cell 2 |
| Handbrake: | 6m55s | Row 5 – Cell 2 |
The laptop relies on an integrated GPU, so the fact it can push that many pixels at 120Hz shows there's something extra going on under the lid. There's an AMD APU in this Zenbook, A Ryzen 7 from the new (at the time of writing) 7000 series. These chips are notable for having stronger pixel-pushing powers than previous models, and it really does show in the way windows can fly around on the screen.
To test this, we used the new AI noise reduction in Adobe Camera Raw on a 60MP ISO 12800 raw file from a Sony A7R IV camera at a denoise value of 50%. On a desktop PC with an Nvidia GeForce RTX 3080 GPU, this takes around 15 seconds. On the Xulu XR1 mini PC, which uses an older Ryzen 7 processor and its integrated graphics chip, it takes almost nine minutes, so we were pleased to see the Zenbook complete the denoising process in 4m 55s, although before we started it came up with a rather alarming estimate of 72 minutes.
It's not a GPU that gamers are going to flock to, but its benchmark results put it in the same sort of ballpark as the GeForce GTX 1050 from 2016, way above Intel's Iris Xe integrated graphics solution. It's still pretty weak compared to AMD, Intel or Nvidia's latest discrete cards, and won't give you good framerates in Baldur's Gate 3, but it's nice to see integrated graphics chips getting more powerful.
The eight-core CPU is a different matter, with AMD's Zen 3+ architecture working hard to keep things moving along nicely. The results we got from the Cinebench R23 benchmark look exceptionally low, compared with the Geekbench 6 numbers that tally with the results posted online, leading us to suspect that there's something not quite right there – it's not uncommon for benchmark tests of the latest processors to go wrong if the software needs an update.
And while 16GB of RAM may not be the most it's possible to get in a laptop, it's the right amount for this one, providing plenty of headroom for office apps, image editing, loads of browser tabs and Teams whirring away in the corner.
The downside of OLED screens is that they tend to consume more power, and the 67Wh pack of cells inside the Zenbook managed 7.5 hours of constant use in our tests, which are carried out with the screen on and set to around half brightness to avoid a result skewed by auto-dimming. While we've certainly seen worse, it's not going to trouble the best laptops for battery life, and isn't going to get you through a whole day of work unless that work is extremely light and your lunch break suspiciously long.
Should I buy the ASUS Zenbook 15 OLED?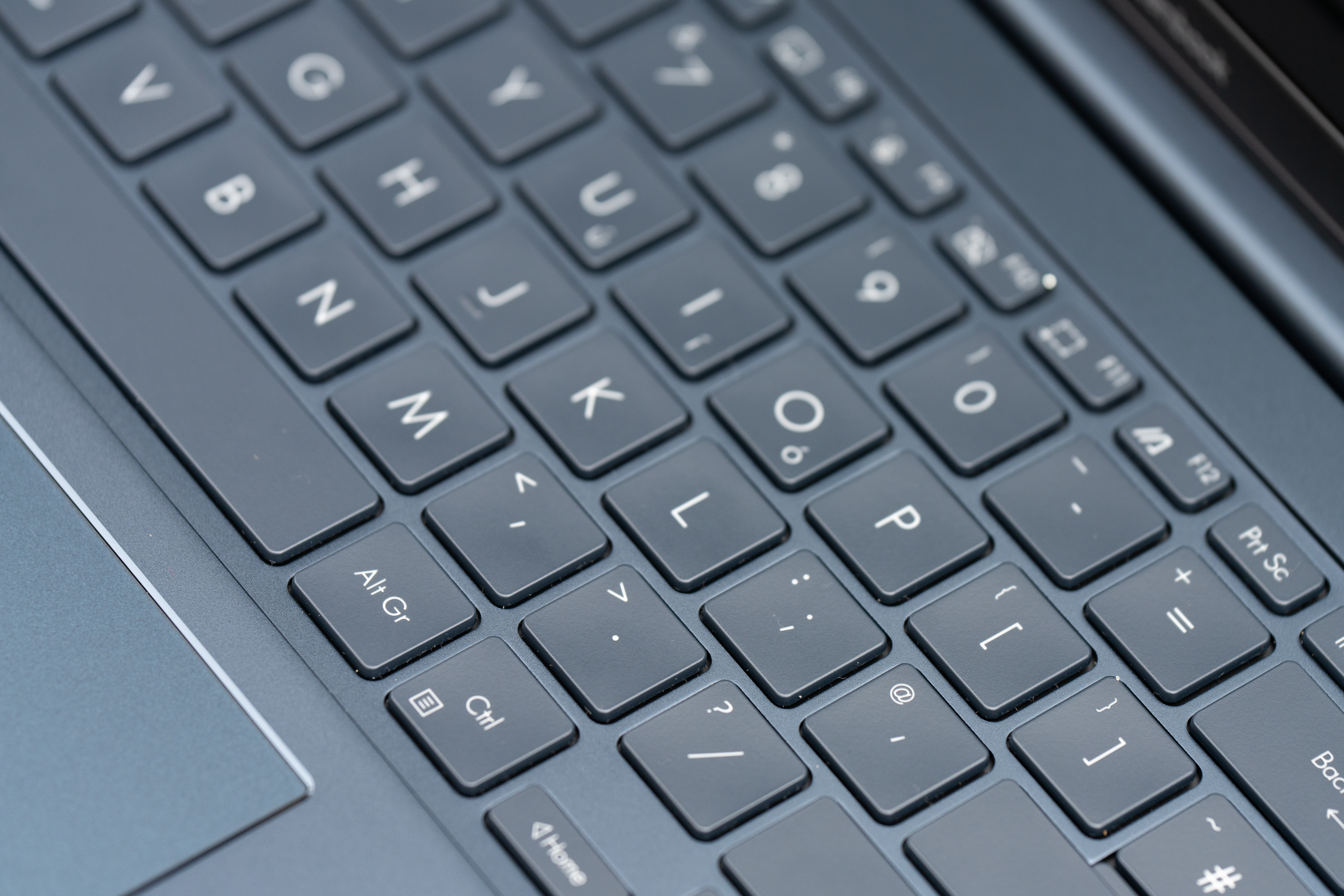 The ASUS Zenbook 15 OLED's slim and light nature, plus its snappy performance in most tasks, combine to make a laptop that's ideal for someone with a busy work life. There's enough power here to run several apps at the same time, and the surprisingly good graphics performance may endear it to photographers looking for something more portable than a larger machine with a discrete graphics chip. The Zenbook has a lot to offer, and is reasonably priced too, so likely to be attractive to a wide range of potential owners.
Asus Zenbook OLED 15 (2023)
The ASUS Zenbook 15 OLED may not have a discrete graphics card, but it is still a zippy laptop that benefits from a fast AMD processor. It's nicely thin and light, with a 16:9 OLED screen that's ideal for media consumption as well as serious work. Being thin, and with such a bright screen, means that battery life could be better, but a compromise needed to be made somewhere.
[ For more curated Computing news, check out the main news page here]
The post ASUS Zenbook 15 OLED review: fast AMD-powered laptop with great screen first appeared on www.creativebloq.com