From www.tomshardware.com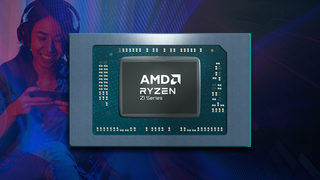 (Image credit: AMD)
After months of waiting, benchmarks of AMD's vanilla Ryzen Z1 chip have finally surfaced, giving us some insight into the chip's performance before we see it appear in handhelds later this year like the ROG Ally. We first heard about the APU back in May, alongside the Z1 Extreme, as gaming-optimized mobile APUs designed for handheld gaming PCs, but only the Z1 Extreme was in reviewed systems.
Now, in a review published by David Huang on Zhulanlan using an unnamed gaming handheld, we've learned that that the Z1 excels specifically at low-TDP gaming featuring power ratings around 15W. At 15W, the chip is extremely efficient, featuring vastly superior performance per watt compared to the Ryzen 7 7840U at 25W. Huang
The Z1 and Z1 Extreme are based on AMD's Ryzen 7040 class of mobile CPUs, featuring the same Zen 4 CPU cores and RDNA3 iGPs. Both chips feature a 9W-30W configurable TDP. The Z1 Extreme offers 8 cores, 16 threads, a peak boost clock of 5.1 GHz, and 12 RDNA 3 CUs, while the vanilla Ryzen Z1 features 6 cores, 12 threads, a 4.9GHz boost clock and just four RDNA3 CUs.
David Huang ran the Z1 in several gaming benchmarks and compared the chip against the more powerful Ryzen 7 7840U which features the same specs as the Ryzen Z1 Extreme. Sadly, he did not test a Z1 Extreme for an apples-to-apples comparison, instead relying on the the 7840U to give an effective approximation of the Z1's performance against its more powerful sibling.
Swipe to scroll horizontally
| Header Cell – Column 0 | AMD Ryzen 7 7840U | AMD Ryzen Z1 Extreme | AMD Ryzen 5 7540U | AMD Ryzen Z1 |
| --- | --- | --- | --- | --- |
| AMD XDNA Architecture | Yes | No | No | No |
| Cores/Threads | 8/16 | 8/16 | 6/12 | 6/12 |
| Base clock | 3.3 GHz | Not specified | 3.2 GHz | Not specified |
| Boost clock (up to) | 5.1 GHz | Not specified | 4.9 GHz | Not specified |
| Cache | 24MB | 24MB | 22MB | 22MB |
| TDP | 15-30W | 9-30W | 15-30W | 9-30W |
| RDNA 3 Compute Units | 12 (Radeon 780M) | 12 | 4 (Radeon 740M) | 4 |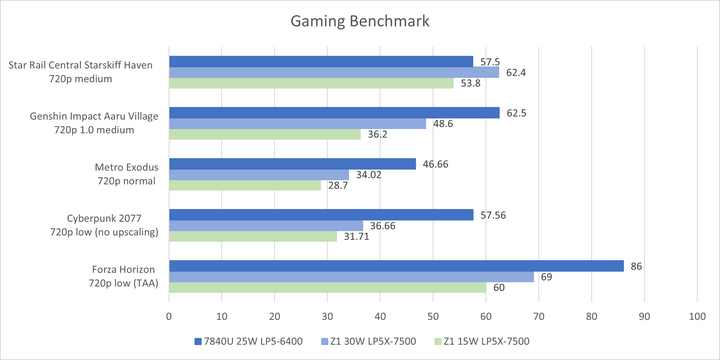 According to his gaming benchmark runs (which included Cyberpunk 2077, Metro Exodus, and Forza Horizon) the Ryzen Z1 offered playable performance at 720p and was only 20-50% slower than the Ryzen 7 7840U at 25W when operating under a 30W power limit.
The Z1 is even more impressive when its power envelope is cut in half to just 15W. At this power rating, the chip only loses 15-18% of its performance while cutting its power consumption in half. Even at 15W, the chip offered mostly playable performance, outputting 31 fps in Cyberpunk 2077 at 720 p/low, and anywhere between 36 to 60 fps in Genshin Impact, Star Rail Central Starskiff Haven, and Forza Horizon at 720p as well. The only game the Z1 had trouble with was Metro Exodus at 720p normal settings, with a frame rate just below 30FPS. But this problem can easily be remedied by dropping some settings or dropping the base resolution with upscaling.
It will be very interesting to see what this chip will do, once we finally see it in consoles like the ROG Ally — not to be confused with the Z1 Extreme variant that's already out. The Ryzen Z1's performance per watt is very impressive, given that the chip has three times less RDNA 3 CUs compared to the much more potent Ryzen 7 7840U. If the Ryzen Z1 Extreme behaves similarly to the 7840U, and loses even more performance at 15W, the baseline Ryzen Z1 could prove to be a very effective entry-level solution among gamers who care more about battery life than performance.
Swipe to scroll horizontally
| Header Cell – Column 0 | AMD Ryzen 7 7840U | AMD Ryzen Z1 Extreme | AMD Ryzen 5 7540U | AMD Ryzen Z1 |
| --- | --- | --- | --- | --- |
| AMD XDNA Architecture | Yes | No | No | No |
| Cores/Threads | 8/16 | 8/16 | 6/12 | 6/12 |
| Base clock | 3.3 GHz | Not specified | 3.2 GHz | Not specified |
| Boost clock (up to) | 5.1 GHz | Not specified | 4.9 GHz | Not specified |
| Cache | 24MB | 24MB | 22MB | 22MB |
| TDP | 15-30W | 9-30W | 15-30W | 9-30W |
| RDNA 3 Compute Units | 12 (Radeon 780M) | 12 | 4 (Radeon 740M) | 4 |
[ For more curated Computing news, check out the main news page here]
The post Benchmarks Reveal Six-Core Ryzen Z1 Is Optimized for 15W Gaming | Tom's Hardware first appeared on www.tomshardware.com