From www.pocket-lint.com
NVMe drives are becoming more and more common. With the rise in popularity of PCIe Gen 4, they're also getting faster and faster.
We've written a detailed guide on how to install these tiny drives to give your system a performance boost, and, if you're contemplating which drive to buy, you might be stuck knowing which one to choose. We're here with a helping hand, covering the best drives available for you – whether you prioritise storage, speed or reliability. Some even feature RGB, because, as every good PC gamer knows, RGB lighting means better performance.
There's plenty more to understand regarding different generations of NVMe, whether your hardware is compatible and how much space you need to run one, and we've covered these queries in the section below our picks to help you choose the right drive.
For now, though, let's dive into the top options we've tested.
Pocket-lint

Kingston KC3000

1. Best Buy

Western Digital

WD_Black SN850

2. Runner Up

Pocket-lint

Samsung 990 Pro

3. A Top Pick

Pocket-lint

Kingston Fury Renegade 4TB PCIe Gen 4.0 NVMe

4. Strong Contender

Pocket-lint

Crucial P5 Plus

5. Also Great
Our Top Pick: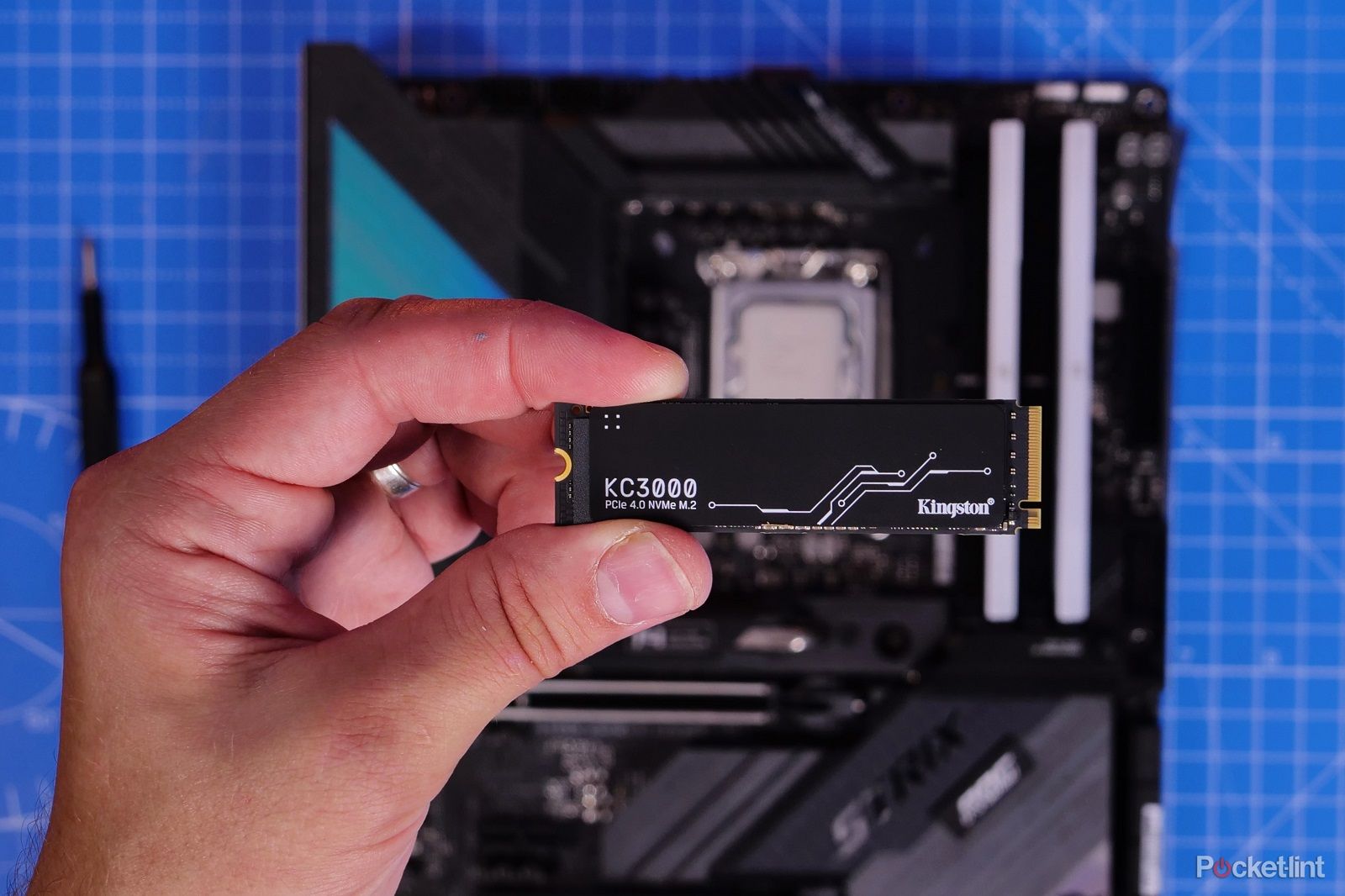 Kingston KC3000
1. Best Buy
This is a swift NVMe drive that lives up to its promises with reliable read and write speeds and large capacities available too.
Pros
Fantastic read and write speed
Reliable design
Simple installation
Loads of storage space
If you want a health mix of storage capacity and speed then this Kingston NVMe drive ticks both boxes. This particular model provides 4TB of storage space but you can buy smaller size options if you're looking to save some cash.
During our testing, we found the drive is just as fast as Kingston claims. Topping out close to the 7,000MB/s read and write speeds and delivering the goods for fast file transfers, even with large video files.
If you have the latest hardware and a PCIe gen 4 compatible motherboard, then the KC3000 is a great purchase.
Other NVMe drives that we recommend
Here are some other NVMe models that also come highly recommended after testing.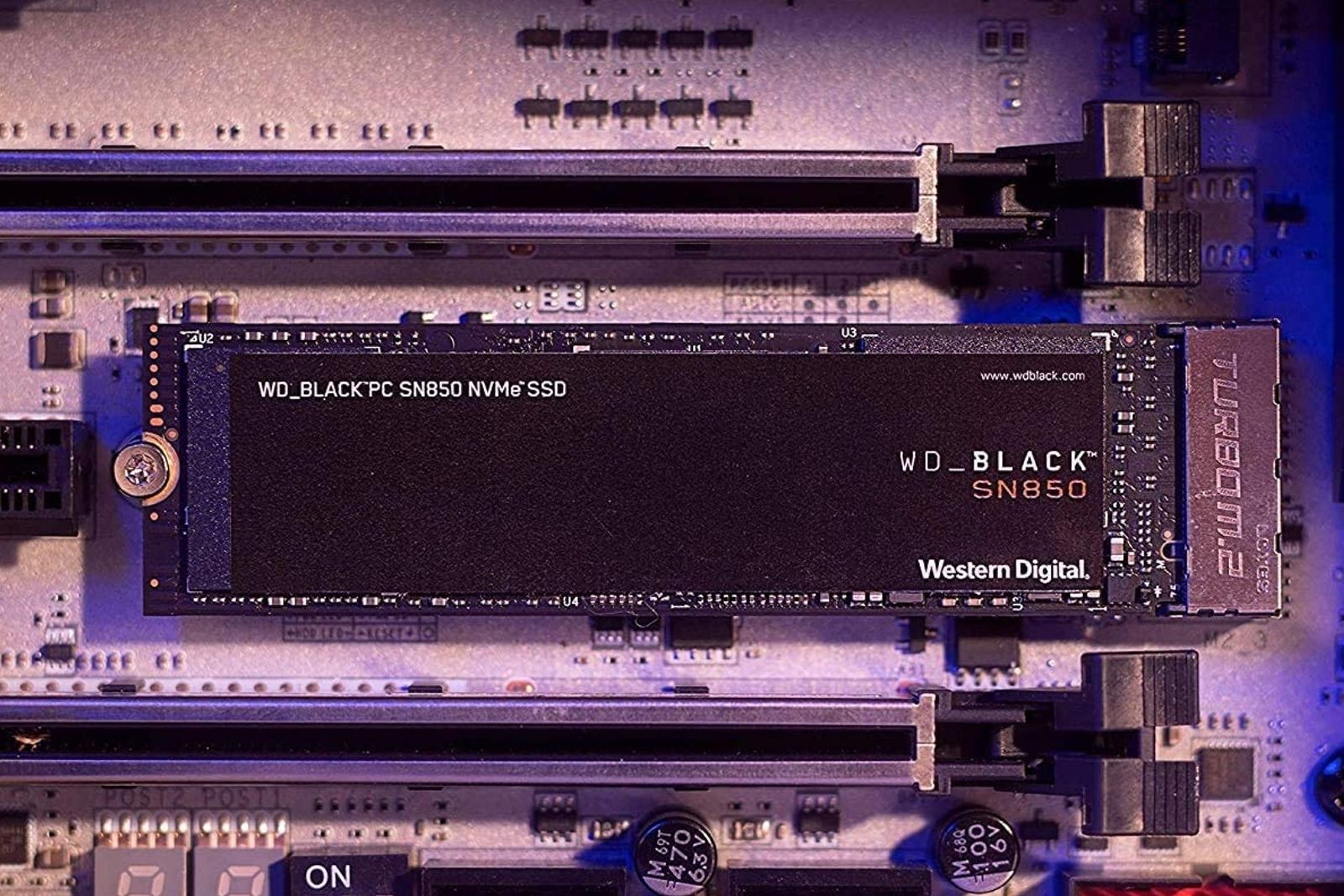 WD_Black SN850
2. Runner Up
Incredibly fast
For bleeding-edge speed, this is a great choice.
Pros
Fantastic speeds
Reliable design
Easy installation
Cons
Can be expensive
Not as snazzy as other drives
If you've got a setup that can take a PCIe Gen 4 drive, there's not much out there that can best this superb option from WD_Black.
The SN850 is blisteringly fast – read/write speeds can reach 7,000/5,300MB/s, so you're looking at a big leap forward from older tech.
You can get it with or without a heatsink, too, in case you're a little worried about overheating in your build. It can be an expensive choice for bigger capacities, but this is a bleeding-edge option.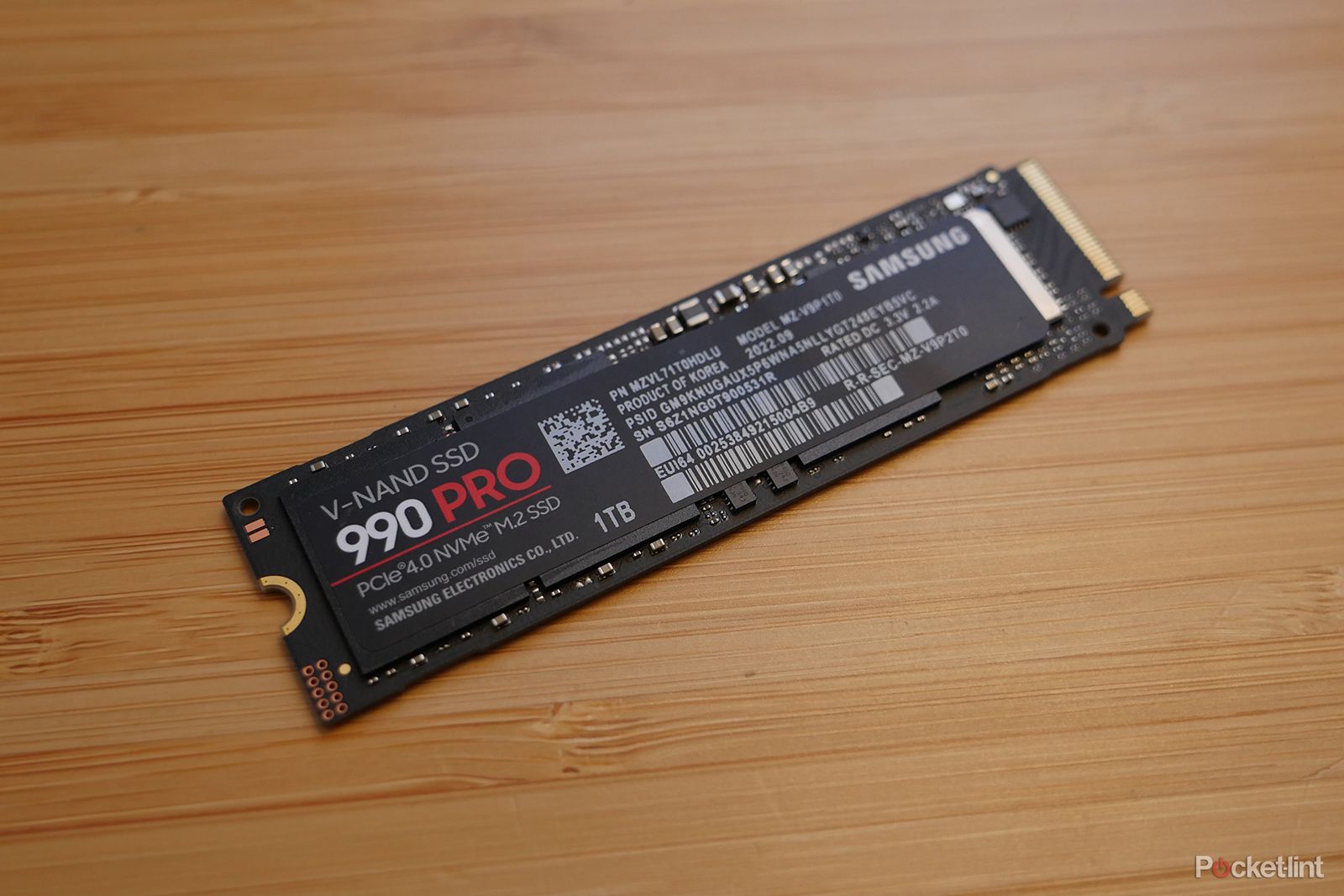 Samsung 990 Pro
3. A Top Pick
Bleeding edge
This excellent drive has nearly peerless speed.
Pros
Unbelievably speedy
Super reliable
Samsung has been one of the biggest names in the SSD spaces for some time now, and its latest flagship drive is a bit of a stunner.
With read/write speeds of up to 7450/6900MB/s, you will be blown away by its speed if you're upgrading, and while it's far from the cheapest option out there, Samsung's pedigree makes it a very solid option.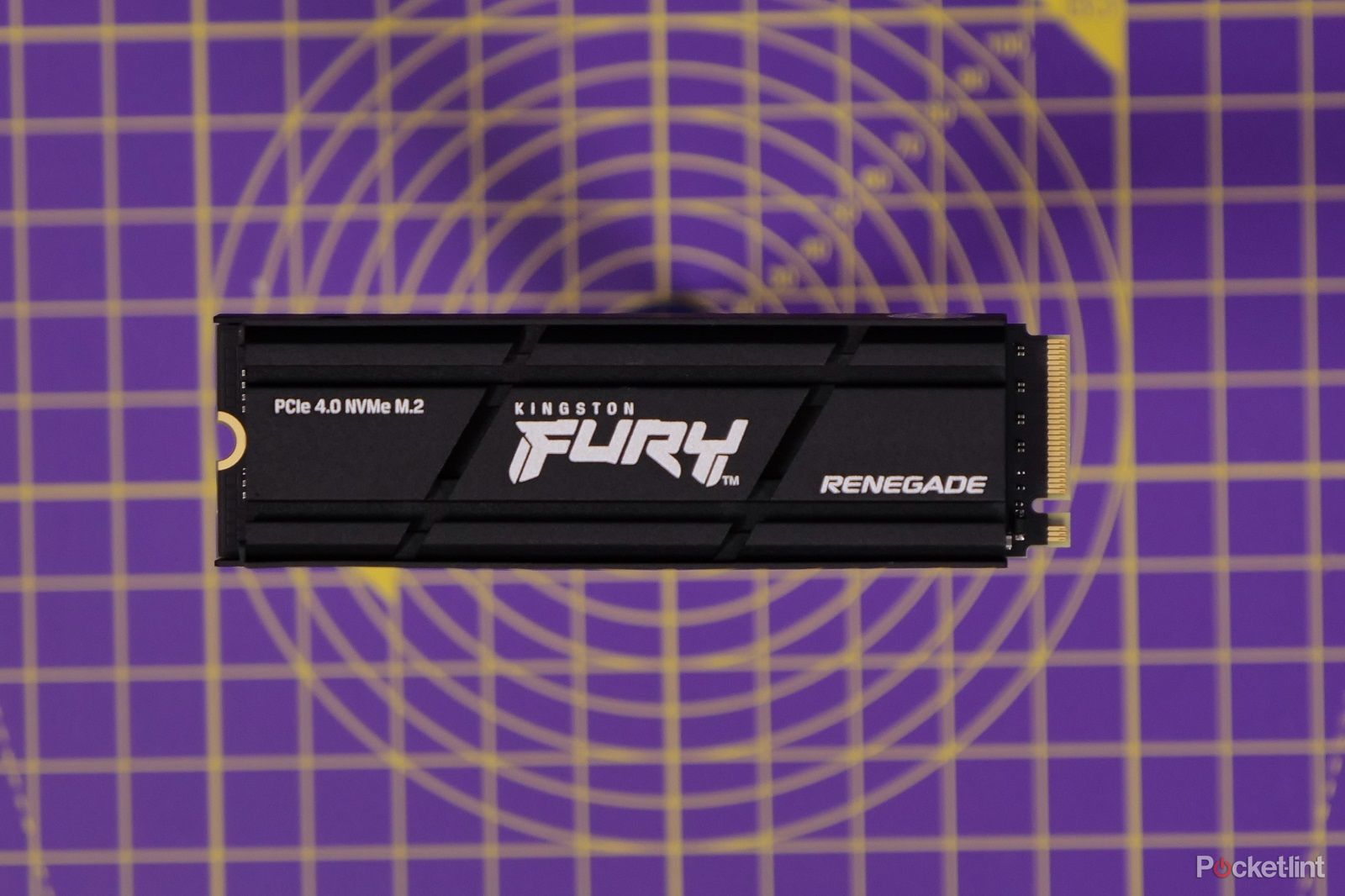 Kingston Fury Renegade 4TB PCIe Gen 4.0 NVMe
4. Strong Contender
Bleeding edge
This is a great drive with ultra-fast speed that runs cool and efficiently thanks to its heat sink. It's not cheap, but it's worth the money.
The Kingston Fury Renegade is available in two different formats, one of which includes this heatsink version.
This drive runs at up to 7,300 MB/s read speed. Which means ultra-fast transfer speeds.
We used this drive for both video files and for gaming and found it to be swift and reliable. It's also great looking when installed in a gaming PC.
The largest ones are very expensive, but these are great quality drives.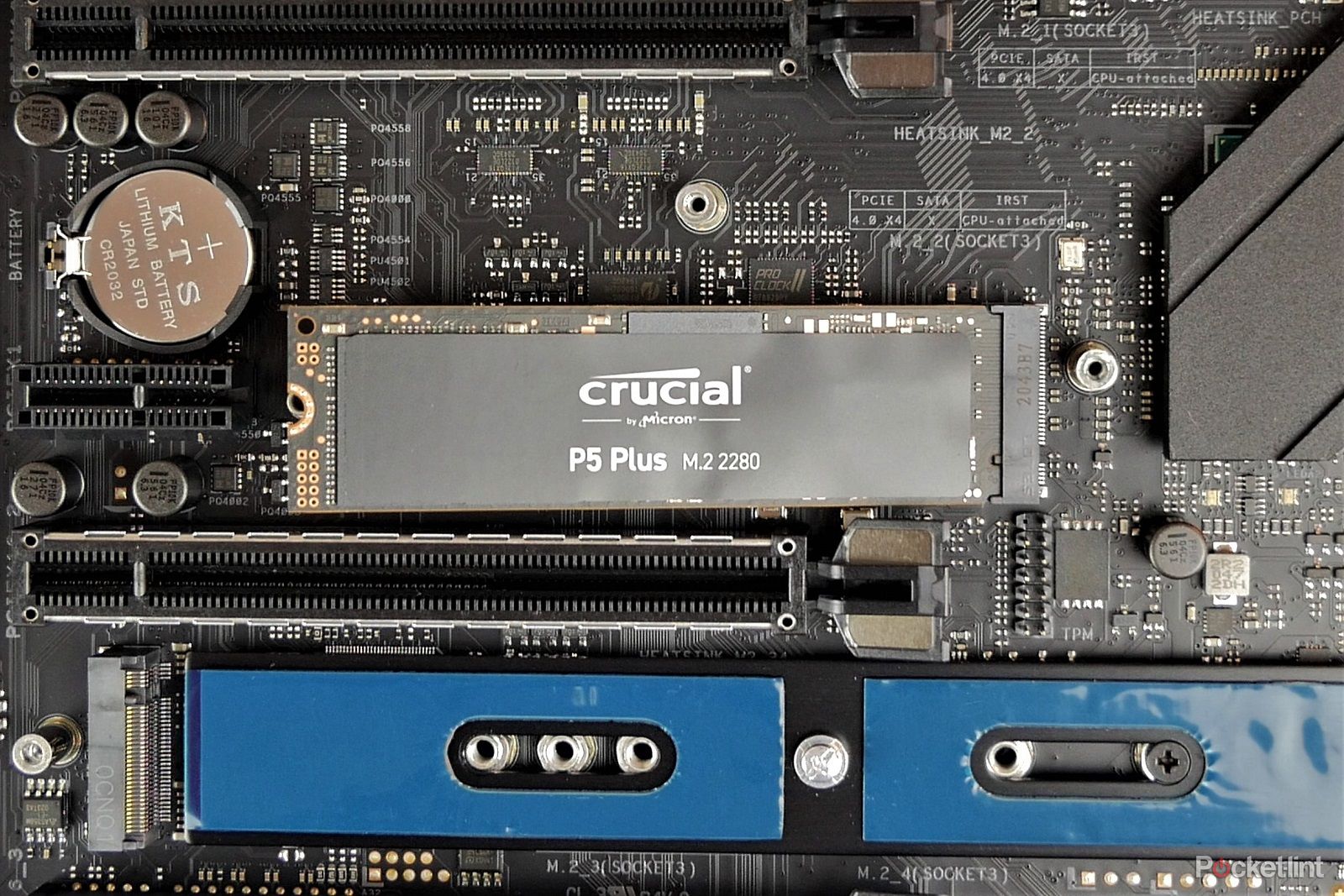 Crucial P5 Plus
5. Also Great
Excellent all-rounder
This is a fast, reasonably priced Gen 4 PCIe NVMe drive that's backwards compatible with Gen 3 systems. What more could you want?
Pros
Fantastic speeds
Actually comes with a screw
The Crucial P5 Plus is a great alternative for those looking for a PCIe Gen 4 drive. It's not as fast as the SN850, but can manage as much as 6600MB/s read speed.
One simple thing we liked about this drive was the fact that it comes with the allow important M.2 mounting screw – something a lot of drives don't. But it's also fast, reliable and easy to use, too.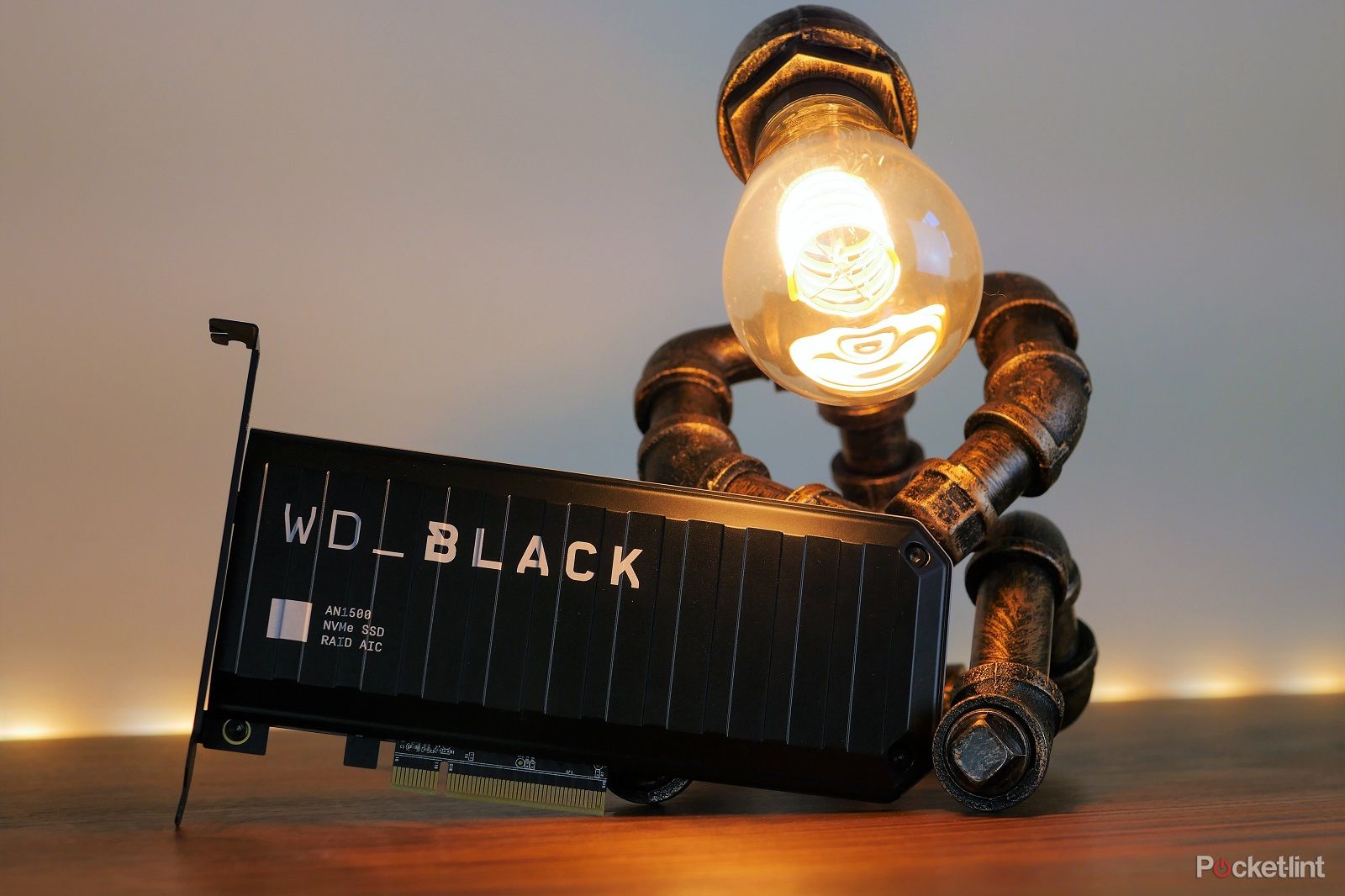 WD_Black AN1500
6. Worth Considering
For those without a M.2 slot
One of the quickest and best looking NVMe drives you can buy.
Pros
Ultra-fast speeds even without Gen 4
Cons
Not always system compatible
Can cause cooling issues depending on your graphics card
If, for some reason, you don't have an M.2 NVMe slot on your motherboard, then this may well be the answer. This drive is also a really interesting option as it boasts speeds similar to PCIe Gen 4 NVMe drives but on Gen 3 motherboards.
That's right, the WD_Black AN1500 can run with up to 6,500MB/s read speeds, which is still very much bonkers.
It also installs in a PCIe X16 slot (the same one as your graphics card) meaning it's potentially even easier to install. You do need to make sure it's compatible, but, if it is, this thing is incredibly fast and also offers RGB.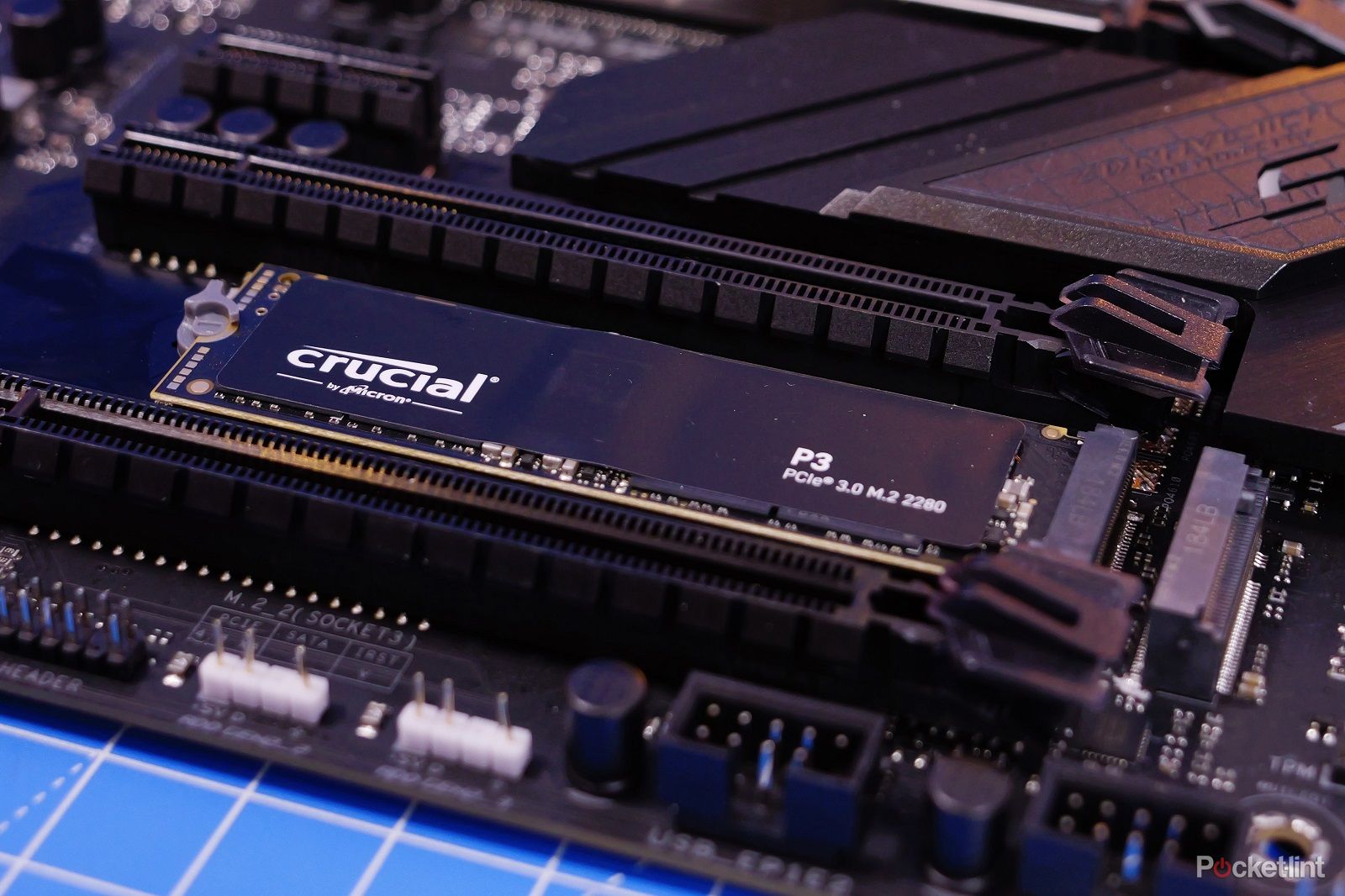 Crucial P3 (2TB)
7. A Good Choice
Nicely affordable
The Crucial P3 NVMe is a smart choice for affordable storage which you can rely on.
Pros
An affordable option
Easy installation
Cons
Only gen 3 speeds
Not as snazzy as other drives
If you're not too fussed about having PCIe gen 4 speeds or have an older motherboard then this Crucial option is a logical choice.
The Crucial P3 is available in sizes up to 4TB but it's also surprisingly affordable at 2TB which is its main appeal.
For your money you get up to 3,500MB/s read speed as well. Plus it has the all-important mounting screw included.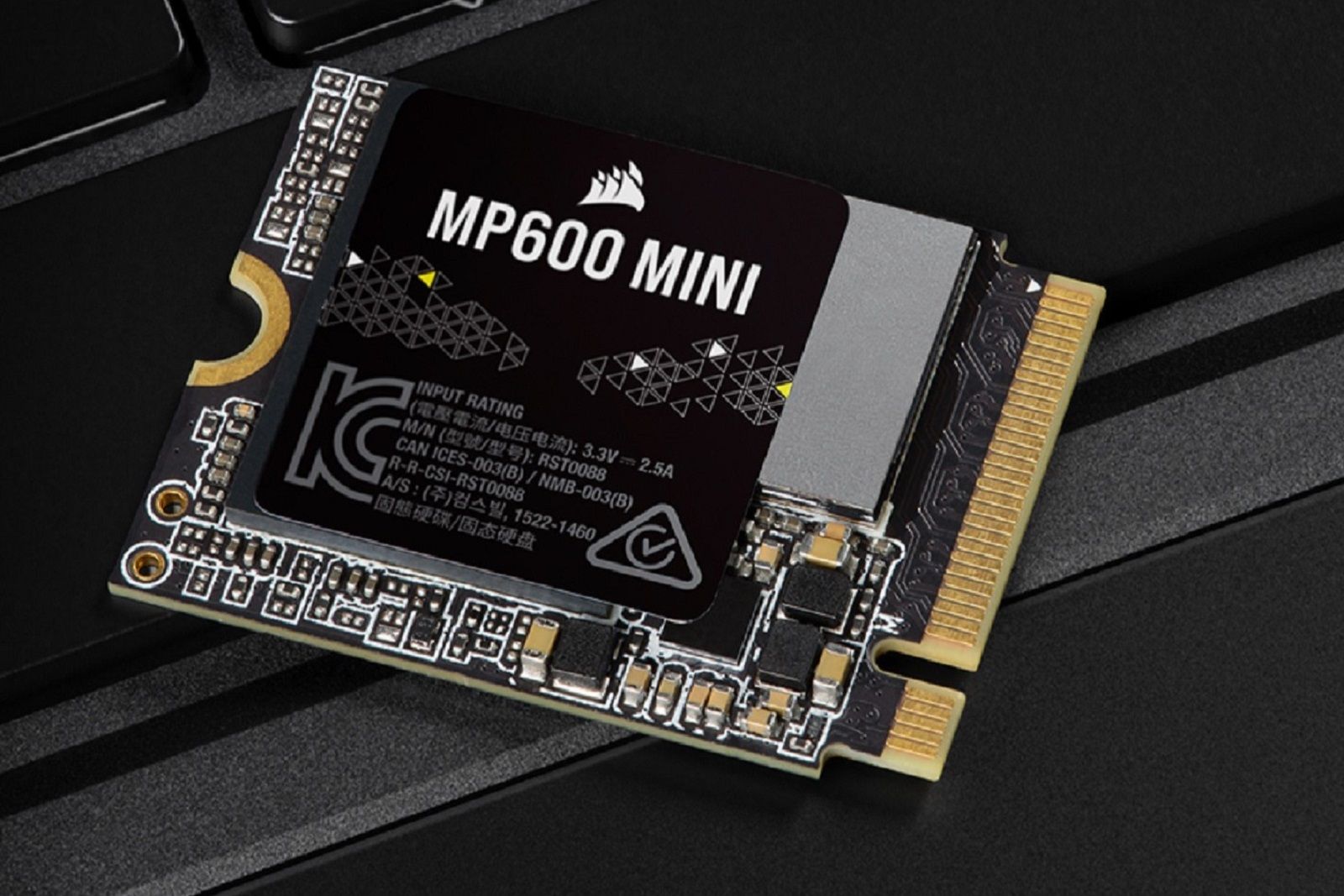 Corsair
Corsair MP600 Mini
8. Best compact option
Superb M.2 2230 NVMe drive
This drive is ideal if you need a small form factor NVMe SSD.
Pros
Ideal for restrictive form-factor uses
Capable speeds
Easy installation
Cons
Not as fast as full size drives
If you need a smaller form factor 2230 NVMe SSD for your storage upgrade then the Corsair MP600 Mini might fit the bill. This is a more compact drive than the standard size and is ideal for things like upgrading the storage of your Steam Deck or popping it into a small notebook.
Despite its small size, this is still a PCIe gen 4 drive that runs up to a reasonable 4,800MB/s read/write speed. It's not as fast as the standard-sized drives out there, but it's still very nippy and reasonably priced too.
How to choose an NVMe SSD
Buying an NVMe SSD isn't quite as simple as buying the best available. There are a few other considerations that need to be made first to make sure you get the right results and aren't wasting money.
Ensure your hardware is compatible
The first thing to do is make sure you actually have an M.2 slot available on your motherboard. Most modern laptops and desktops are able to support NVMe drives via an M.2 slot directly on the motherboard.
Sometimes you'll find your motherboard has one, two, three or even four slots that can be filled up with drives. Check the specs of your motherboard via the manufacturer's website to see what's available or the manual to see where it's located. See our guide on how to build your own PC to see examples, as well.
What generation do you need?
There are currently two generations of PCIe NVMe available, Gen 3 and Gen 4. Both will run in an M.2 slot, but they won't necessarily run at maximum speed.
If you have an older Intel or AMD motherboard, for example, you might only have a PCIe Gen 3 slot on your motherboard and even if you put a Gen 4 drive in there, it might be speed limited.
For example, the Intel 10th generation CPUs on Z490 motherboards are only capable of supporting Gen 3 speeds – around 3,000MB/s. If you put something like the Crucial P5 Plus in there it could only hit that speed, but in a newer motherboard – like Intel's Z590 setup – it could hit double that speed at 7,000mb/s.
You'll also pay more for Gen 4 drives than Gen 3, so it's important to know what your machine can handle.
How much space do you need?
Another big question, and also important on the value front, is how much space you actually need. Are you looking to install chunky games to your NVMe?
The 500GB drives are cheaper to buy, but it's surprisingly easy to fill these up, especially if you consider the massive install sizes of games like Red Dead Redemption 2, Call of Duty: Warzone and more. On the other hand, the 2TB, 4TB and 8TB options will set you back a small fortune.
What are you running?
NVMe drives can be used for many things. You can, for example, use this process to clone your Windows installation onto one and therefore make your PC boot up faster.
Installing games on these drives may also mean less time spent looking at loading screens and better responsiveness. If you're transferring large files around a lot – like video files for example – then a faster PCIe Gen 4 drive will really make a difference and help make your workload more efficient.
There are many considerations to make before clicking that buy button, but, hopefully, we've helped ease the decision-making process.
The post Best NVMe SSDs 2023: Our choice of the fastest and best storage drives you can buy first appeared on www.pocket-lint.com
In many places around the world, horse races are an attraction that a lot of people love to watch. With the fast-paced action and thrill that each game provides, it is no longer surprising to know that millions of fans have grown fond of it.