From www.techradar.com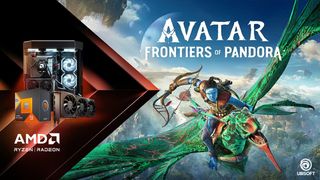 (Image credit: AMD / Ubisoft)
AMD is running another freebie game offer for those who are purchasing one of its current-gen processors or graphics cards.
Buyers of selected Radeon RX 7000 GPUs and Ryzen 7000 CPUs can avail themselves of a fresh bundle that provides a free copy of Avatar: Frontiers of Pandora alongside the hardware.
Wait a minute, you might be thinking – Ubisoft's game isn't out yet – and you'd be right there.
Avatar: Frontiers of Pandora comes out on December 7, so you won't be able to play the game until then.
Note that only certain participating (major) retailers will carry the bundle, and when you get the GPU or CPU, you'll need to put it in the PC where the code for the free game will be used.
The promotion ends on December 30, 2023, and you must redeem your serial code to get the game by January 27, 2024, or it'll no longer be valid.
There's also the small matter of Avatar-themed AMD RX 7900 XTX graphics cards with a custom shroud, and 500 of these have been made. They won't be sold, but instead dispersed via various giveaways and promotions here and there from AMD and Ubisoft.
Naturally, it's also worth bearing in mind that we should see some great deals on the best graphics cards out there, from AMD, Intel, and Nvidia, for Black Friday soon.
---
Analysis: Taking the baton from Starfield
The Avatar: Frontiers of Pandora bundle replaces the existing Starfield offering, and as you may realize, it's part of the regular procession of game bundles that GPU makers throw in to give an extra incentive to buy their products.
How good will Avatar: Frontiers of Pandora be? Obviously, we don't know yet, and won't know until its release in a month. But it looks promising, taking cues from Far Cry and offering a two-player online co-op mode to lend some additional depth (co-op experiences are always very welcome in our books).
If you're hankering after one of those Avatar-inspired RX 7900 XTX GPUs, then you best keep an eye out on all the usual social channels for AMD and Ubisoft for when giveaways pop up. Or you could also keep watch on eBay, where we'll inevitably see somebody selling these limited-edition graphics cards at some point.
Via Wccftech
You might also like
[ For more curated Computing news, check out the main news page here]
The post Buyers of AMD Ryzen 7000 CPUs and RX 7000 GPUs get a free copy of Avatar: Frontiers of Pandora first appeared on www.techradar.com