From www.techradar.com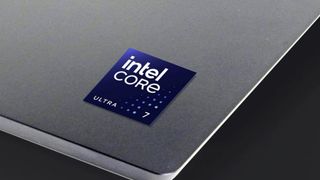 (Image credit: Intel)
Intel's Meteor Lake CPUs are arriving in laptops next month, complete with more powerful integrated Arc graphics, and a new leak shows just how peppy this Alchemist solution should be.
Wccftech flagged up the benchmark posted on X (formerly Twitter) by Benchleaks. It was taken from an MSI Prestige 16 AI Evo laptop with the Core Ultra 7 155H processor inside (and as ever, add seasoning to any leak).
[GB5 GPU] Unknown GPUCPU: Intel Core Ultra 7 155H (16C 22T)CPUID: A06A4 (GenuineIntel)GPU: Intel ArcAPI: Open CLScore: 27249VRAM: 6.27 GBhttps://t.co/2zApyiWPm4November 15, 2023
See more
In Geekbench 5 OpenCL the integrated Arc GPU managed to attain a result of 27,249 points, which puts it within touching distance of AMD's Radeon 780M. The latter scores close to 28,000 in the rankings Wccftech published, but remember that the AMD chip is running at 30W compared to 28W for the Intel Core Ultra 7 155H, so Intel has the slight lead on the power usage front there.
Nvidia's GTX 1060 is also not much faster than the Core Ultra 7 processor's Alchemist graphics, indeed it's only 10% quicker. So you're pretty much getting the same performance as that discrete GPU from Team Green in a Core i7 equivalent Meteor Lake CPU.
---
Analysis: Upward Arc
What we have to bear in mind is that Intel's Arc driver will benefit from further optimization work when Alchemist laptop GPUs are actually on the scene, no doubt (Team Blue has been pretty good at pushing ahead swiftly with driver honing, too). Furthermore, Intel XeSS frame rate boosting tech will help Meteor Lake CPUs deliver faster frame rates too.
On the flip side, Geekbench is hardly the ideal way to measure gaming performance, so we can't get too excited about the result here – but it's certainly promising.
We keep seeing evidence that next-gen integrated GPUs are going to be seriously more powerful than contemporary models, and this is yet another benchmark to add to that growing pile of positive leaks.
It's another sign that discrete graphics cards are becoming a less vital factor for notebooks, and that we'll see some compelling and more affordable gaming laptops – perfectly capable of driving robust 1080p gaming on the go – arriving in force next year. (Speaking of affordability, we're already seeing some excellent deals on gaming portables for Black Friday, too).
Don't forget, as well as Meteor Lake processors, AMD has Strix Point models due in 2024, APUs that take Zen 5 CPU cores and add RDNA 3 refresh graphics for what promises to be a truly potent mix.
Things are definitely looking up for more affordable, slimmer, but still powerful gaming laptops that simply don't need a discrete GPU. For a lot of people anyway – although of course, hardcore gamers will always want super-beefy standalone graphics cards (and will put up with the resultant super-expensive and hefty gaming laptop).
You might also like
[ For more curated Computing news, check out the main news page here]
The post Bye-bye discrete laptop GPUs? Intel Meteor Lake CPU leak is another sign that integrated graphics are getting much stronger first appeared on www.techradar.com