From www.imore.com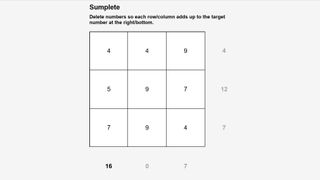 (Image credit: Daniel Tait / ChatGPT)
A new game created by ChatGPT, seemingly from scratch, is actually identical to an Android app store gamed called Summer that has been around since 2020.
Creator Daniel Tate prompted ChatGPT to create Sumplete, with the AI using Tate's simple prompts to conceptualize and code a playable numbers-based game in March.
"I first asked ChatGPT for some recommendations for a new puzzle game to play if I enjoyed playing Sudoku," he says in a blog post. (opens in new tab)
Already familiar with all of these, he asked ChatGPT if it could invent a logic puzzle "similar to Sudoku" that didn't yet exist. It came up with "labyrinth sudoku" first, and then a couple of more options before settling on "Sum Delete puzzle."
When he found a game he liked the look of, Tate simply asked ChatGPT to code the app, and it did! Using HTML and Javascript, the AI created a playable game in just 30 seconds. Tate touched it up with some CSS and then spent the next few hours iterating the game with ChatGPT into a playable version.
ChatGPT told Tate that to the best of its knowledge, the game was original, but Digital Trends reports (opens in new tab) that it is identical to a game developed by RP Apps and Games with "the exact same ruleset as Sumplete" but a more presentable UI.
"My main concern is that ChatGPT confidently told me that it had invented a new game," he told the outlet, stating he thought the model should be less confident in giving answers about originality. This is not the first time AI has come under fire for plagiarism.
Play the puzzle
You can play the puzzle right now at Sumplete.com. (opens in new tab) It offers a multitude of levels, from 3×3 beginner puzzles all the way up to an excruciating 9×9 "master" level which is exactly as hard as it sounds.
The game's concept is simple enough. You have to eliminate numbers from the grid in order to achieve the sum listed at the end of each row and the bottom of each column. A 3×3 grid is simple enough, but even a 4×4 puzzle starts to tease the brain a little. Thankfully, there are buttons for hints and errors, as well as a reveal button if you want to just throw in the towel. I plan to simply use ChatGPT to solve the puzzle, but not sure how I'll go about that yet. I'm sure ChatGPT knows…
This shows the power of AI like ChatGPT when it comes to coding and app creation, but there are great uses for us mere mortals too. Our very own Daryl Baxter recently replaced Siri on his iPhone with ChatGPT using a simple shortcut.
The post ChatGPT-invented Wordle rival is actually just a rip-off of this Android game first appeared on www.imore.com
In many places around the world, horse races are an attraction that a lot of people love to watch. With the fast-paced action and thrill that each game provides, it is no longer surprising to know that millions of fans have grown fond of it.
Cybersecurity threats have become vast and more sophisticated. The rate of malware attacks and malicious activity counts within seconds despite the size or sector the organization belongs to — no one is safe enough to expect that foe actors will bypass vital company resources.