From www.tomshardware.com
Phytium has unveiled its latest high-performance processor core, FTC870, at the 2023 Malanshan Integrated Circuit Application Innovation Forum. The company claims that its FTC870 can rival Arm's Neoverse N2 cores in CINT2017 and CFP2017 benchmarks, according to ICSmart. This is a significant achievement for Phytium, which cannot access technologies developed in the USA due to U.S. government sanctions.
Phytium's FTC870 clocked at 3.0 GHz scores 5.73672 points in CINT2017 (a benchmark that tests the integer performance of CPUs) and 8.42688 points in CFP2017 (a benchmark that tests floating point performance of CPUs). By contrast, Arm's Neoverse N2 at 3.0 GHz hits 5.8608 points in CINT2017 and 7.11 points in CFP2017, whereas Intel's Xeon Scalable 8380 scores 5.73 points in CINT2017 as well as 8.65 points in CFP2017. Keep in mind that we are dealing with performance numbers from the company itself, so take them with a grain of salt.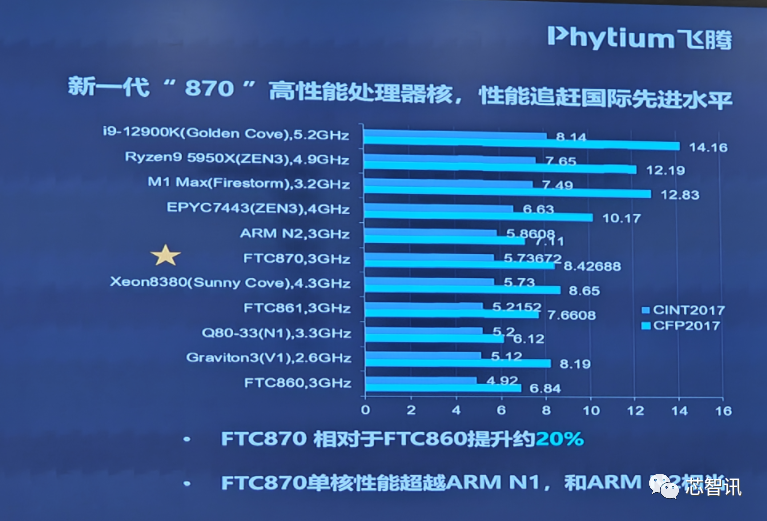 FTC870 is Phytium's top-of-the-range offering for high-performance CPUs aimed at servers and desktops. By contrast, Arm's Neoverse N2 is the company's core aimed at edge and cloud servers. For high-performance computing (HPC), Arm has Neoverse V-series cores, which cannot be licensed to Chinese companies due to restrictions imposed by the U.S. government concerning performance. Meanwhile, it would be logical for Phytium to compare performance of its FTC870 to that of Neoverse V-series, though Phytium is also prepping more capable FTC871 core.
Phytium was added to the U.S. Department of Commerce's Entity List in 2021 and since then it cannot access advanced American technologies, including Arm's CPU cores that are designed (and manufactured) using technologies that originate from the U.S. Despite facing developmental hurdles because of the U.S. restrictions, the new core demonstrates remarkable advancement showcasing performance levels that rival and even surpass Arm's Neoverse N2 core.
Yet, it has taken Phytium over two years to develop its FTC870, so it remains to be seen whether the company can release new CPUs fast enough to stay competitive against its rivals.
[ For more curated Computing news, check out the main news page here]
The post Chinese Phytium's New CPU Claimed To Rival Arm's Neoverse N2 | Tom's Hardware first appeared on www.tomshardware.com