From www.tomshardware.com
Maxon has launched Cinebench 2024 with immediate availability. This established benchmarking tool has been thoroughly reengineered with two main changes: integrating the Redshift engine for CPU and GPU performance testing and wider platform compatibility. Additionally, Maxon boasts of a unified benchmarking scene, revamped UI, and a few other under-the-hood enhancements.
By far, the biggest news with the introduction of Cinebench 2024 is the reinstatement of GPU benchmarking. It has been absent from the app for the past decade. However, thanks to the integration of Redshift (Cinema 4D's default rendering engine), this benchmark can run "the same render algorithms across both CPU and GPU implementations."
Maxon says it is again important to include GPU performance testing due to the demands of modern workflows and the latest creative software taking advantage of GPU horsepower, which makes a significant difference.
Wider compatibility will also be welcomed, enabling clearer comparative tests across diverse platforms. Cinebench 2024 embraces the long-established x86/64 architecture (Intel / AMD processors) on Windows and macOS and the Arm64 architecture. The latter architecture covers Apple Silicon on macOS and Snapdragon compute silicon on Windows. With the broader compatibility comes a new concession to modernity. Cinebench 2024 requires a PC processor that supports AVX2, effectively meaning a mainstream Intel Core processor from the Haswell generation or newer or an AMD CPU based upon the Excavator architecture or newer is required.
Regarding GPU compatibility, Redshift is claimed to help evaluate the performance of systems packing AMD, Nvidia and Apple graphics processors. Thus, it looks like Intel graphics, both integrated and discrete, aren't yet supported for rendering acceleration using this engine. On the mobile side, the lack of mention of Adreno, IMG or Mali graphics indicates that they also lack support right now.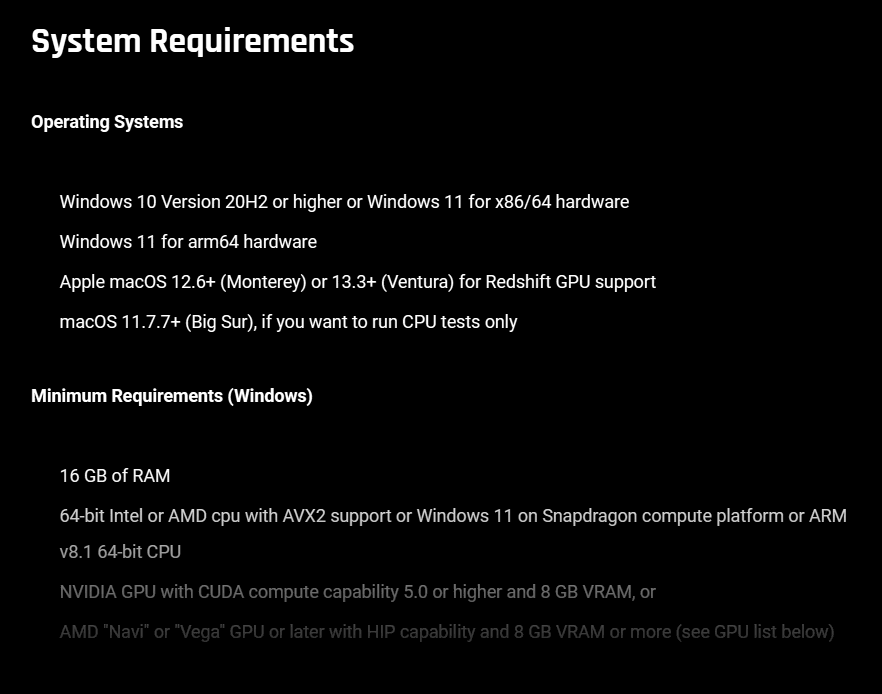 Whichever platform you are on, the new Cinebench 2024 provides benchmarking using the same scene render. This consistent source-to-output pipeline "enables users to discern the advantages of leveraging Redshift GPU," reasons the Maxon team. It will also clearly indicate when rendering via CPU or GPU is advantageous.
Interestingly, one of the critical under-the-hood advantages of Cinebench 2024, highlighted by Maxon, is that the software uses 3x the memory of its predecessor. It is explained that this more closely mimics the "memory-intensive demands of modern projects." Above, you can see your PC will need at least 16 GB of RAM to run this benchmark. Similarly, the six-fold rise in computation effort required for the default scene render means the benchmark is much more modern and representative of a contemporary working environment.
After reading the above, it will be clear that Cinebench R23 and Cinebench 2024 scores cannot be directly compared.
Finally, the new Cinebench has a revamped UI, which is claimed to showcase the "incredible artistic endeavors achieved with the Redshift render engine in Cinema 4D." It is also claimed to be more intuitive.
You can download the new Cinebench 2024 directly from Maxon and read more about its CPU and GPU compatibility within the latest technical information document.
[ For more curated Computing news, check out the main news page here]
The post Cinebench 2024 Reinstates GPU Benchmarking With Redshift Integration first appeared on www.tomshardware.com