From www.techradar.com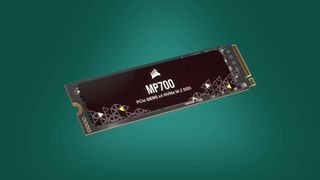 (Image credit: Future)
Corsair's release of its first PCIe 5.0 SSD has been long-awaited, with misgivings that the company's initial foray into Gen 5 drives would prove too costly. But thankfully, it seems that Corsair has managed to avoid any pricey pitfalls. In fact, this new drive could be the best SSD around right now.
As reported by PC World, the MP700 is now available in the full-size M.2 2280 format. Previously, Corsair claimed that PCIe 5.0 could reach 10GB/s read and write rates on a 2TB drive, while its smaller drive has 9.5GB/s and 8.5GB/s read and write rates respectively. Even better, both versions are backward-compatible with Gen 4 and Gen 3 M.2 slots, in case your PC can't handle those speeds yet.
The best part is the pricing, however, with the Corsair MP700 PCIe 5.0 SSD (opens in new tab) 2TB priced at $290 and the 1TB drive at $170. Corsair eschewed heat sinks on its drives, which partially explains the much cheaper pricing. And currently, both models are shipping within one business day, so if you need a new PCIe fast then Corsair will get it to you just as quickly.
Corsair's fast and cheap PCIe 5.0 SSD is impressive
There have been plenty of well-founded fears and reservations about the next generation of PCIe drives, including the fact that since the launch of PCIe 4.0 we still haven't seen its widespread adoption. That mainly boils down to the fact that the average person who uses their SSD to transfer around photos and documents simply doesn't need the ridiculously high speeds of Gen 5 drives.
Another concern was the size of the heatsink expected to pair with the new PCIe 5.0 SSD a problem Corsair has sidestepped by not including one with its own drives, most likely meaning that your system's cooling system will be doing the heavy lifting. But this could be an issue as well, as Gigabyte previously admitted on the product page that overheating could lead to data loss.
The next-gen PCIe drives were expected to be far more expensive than the previous gen, and Gigabyte seemed to fulfill that promise as its own drive was spotted as high as $679.89. But with Corsair only charging $290 and $170, it proves that the jump in technology can be more than affordable — hopefully without compromising on speed and quality.
The last issue is another one that Corsair has addressed: compatibility. As stated before, both versions of the MP700 PCIe 5.0 SSD will be backward-compatible with Gen 4 and Gen 3 M.2 slots, which is great news for those wanting an upgrade without having to worry about also buying a new motherboard at the same time.
Hopefully, other manufacturers will follow suit and release Gen 5 drives that are just as fast and cheap – because the last thing we need is even more expensive PC components. Looking at you, RTX 4090.
The post Corsair's first foray into PCIe 5.0 SSD is fast and cheap – a winning combination first appeared on www.techradar.com
In many places around the world, horse races are an attraction that a lot of people love to watch. With the fast-paced action and thrill that each game provides, it is no longer surprising to know that millions of fans have grown fond of it.