From www.techradar.com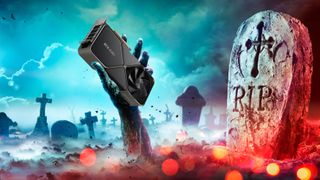 (Image credit: Romolo Tavani / Shutterstock / Nvidia)
Nvidia might be mulling scrapping the RTX 4080 graphics card, if a fresh rumor pans out – but clearly this is one we should regard with a large amount of skepticism.
For starters, the source of the rumor is IT Home (via Tom's Hardware), a Chinese tech site with a somewhat patchy record, with the actual speculation itself coming from Bopantang news.
According to the source cited, the RTX 4080 graphics card may be 'discontinued' – note that it's may, rather than a firm assertion – and Nvidia could effectively replace it with the RTX 4080 Super (or 4080 Ti, whichever naming scheme Team Green plumps for).
Essentially, the incoming RTX 4080 refresh is going to replace the existing RTX 4080, or that's the contention.
IT Home recently put forward the rumor – one heard elsewhere – that Nvidia has three new models of Lovelace graphics cards inbound, also pointing to Benchlife (another Chinese source) which believes one will be an RTX 4080 Super with 20GB of GDDR6X VRAM.
---
Analysis: How realistic is the idea of canceling the 4080?
Well, there's been a persistent buzz that sales of the RTX 4080 have been an uphill struggle for Nvidia, of course, ever since the graphics card was launched. A near vertical struggle, in fact, and the timing of this report is interesting, because YouTube leaker Moore's Law is Dead (MLID) – a prominent source of GPU (and CPU) rumors – noted that his retail sources are saying RTX 4080 sales are really, really bad in his latest video.
So, you might think that there could be some weight to the idea that Nvidia is mulling a cancelation of the RTX 4080, rather than watching it limp on. Although MLID's theory is that Nvidia may push up the price of the RTX 4090 – to follow what's happening in China (where the GPU will be imminently banned, so demand is unsurprisingly surging) – in order to make the RTX 4080 seem more attractive (and hold its MSRP better).
Mind you, we're not talking about a complete cancelation of the RTX 4080, and we presume the source of the above rumor isn't, either (though that isn't made clear – maybe the source is). But we presume Nvidia would run an effective cancelation, winding down production to next to nothing, rather than actually nothing.
As we've theorized before, it would surely seem too embarrassing for Team Green to outright cancel the RTX 4080 – admitting it was a mistake effectively – when Nvidia already 'unlaunched' the other initial 4080 variant (12GB model). It starts to look like Nvidia doesn't know what it's doing in that case, making multiple blunders, or at least that's the way we see it.
Also, other rumor-mongers have not mentioned any canceling of cards, and certainly MLID believes the RTX 4080 will run alongside the new Super or Ti spin – and RTX 4070 refreshes – if only to make them look good value, relatively speaking, when they launch. (Assuming the 4080 goes up in price as is Nvidia's purported intention, according to MLID).
IT Home's source also expects RTX 4080 prices to go up, but not due to any strategic maneuvering with RTX 4090 pricing – rather, simply because with production being wound down, 4080 stock is going to be thin on the ground soon enough.
Time will tell, and add huge amounts of seasoning with all this speculation. It's becoming pretty clear that Nvidia has some fresh would-be contenders to grab a spot on our best graphics cards list, but as to what they are, or how the Lovelace range is going to be rejigged – well, the likelihood is that Team Green may not have made those final decisions yet.
You might also like
[ For more curated Computing news, check out the main news page here]
The post Could Nvidia scrap the RTX 4080 graphics card? New rumor suggests it might first appeared on www.techradar.com