Windows Central Verdict
Dell's new 32-inch 6K display packs a lot of punch, delivering 220 PPI and outstanding color calibration for graphics pros. But the built-in speakers, 4K UHD webcam (with Windows Hello), and USB front hub put this screen over the top, making it one of the best on the market for those with the cash.
Pros
+

Extremely high resolution and PPI

+

Excellent color calibration

+

Anti-reflective

+

Built-in 4K UHD webcam is phenomenal

+

Front USB Hub and audio are added perks
Cons
–

Expensive

–

Uses miniDP

–

Up and downstream ports are a bit confusing
Why you can trust Windows Central Our expert reviewers spend hours testing and comparing products and services so you can choose the best for you. Find out more about how we test.
Let's get this straight: Dell's new Ultrasharp 32 6K Monitor (U3224KB) costs an eye-watering $3,199. But besides one of the most high-resolution displays I've seen in a desktop monitor (that's not Apple), it features some fantastic technology that makes it much more than just a high-resolution 32-inch display.
I've spent the last week using the Ultrasharp 32 6K Monitor (U3224KB), which has been a banger of an experience.
Here's why the Ultrasharp 32 6K Monitor (U3224KB) is worth the hefty price tag Dell is asking. And why it's the best monitor I have used in over 15 years of covering PC technology.
Disclaimer: This review was made possible by a review unit provided by Dell. The company did not see the contents of the review before publishing.
Ultrasharp 32 6K (U3224KB): Pricing and availability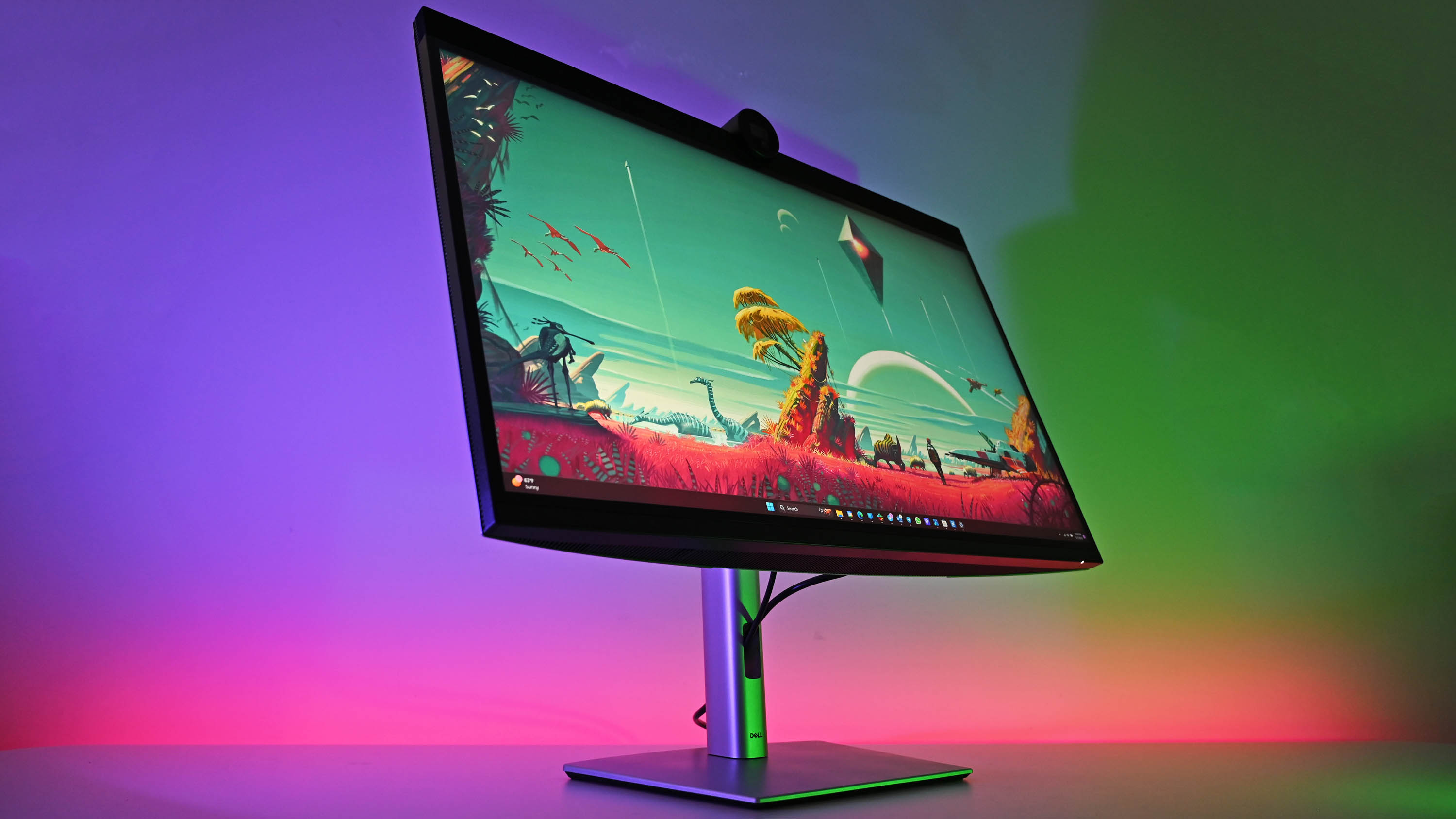 The Dell Ultrasharp 32 6K (U3224KB) Monitor is now available for purchase through Dell.com for $3,199 (US) or $4,289.99 (CA).
There are no configuration options, and due to the price and limited demographic, this monitor is unlikely to show up at your local Best Buy. Still, it will likely end up on Amazon.com, B&H Photo, and other high-end electronic retailers in the coming weeks.
Ultrasharp 32 6K (U3224KB): First impressions and setup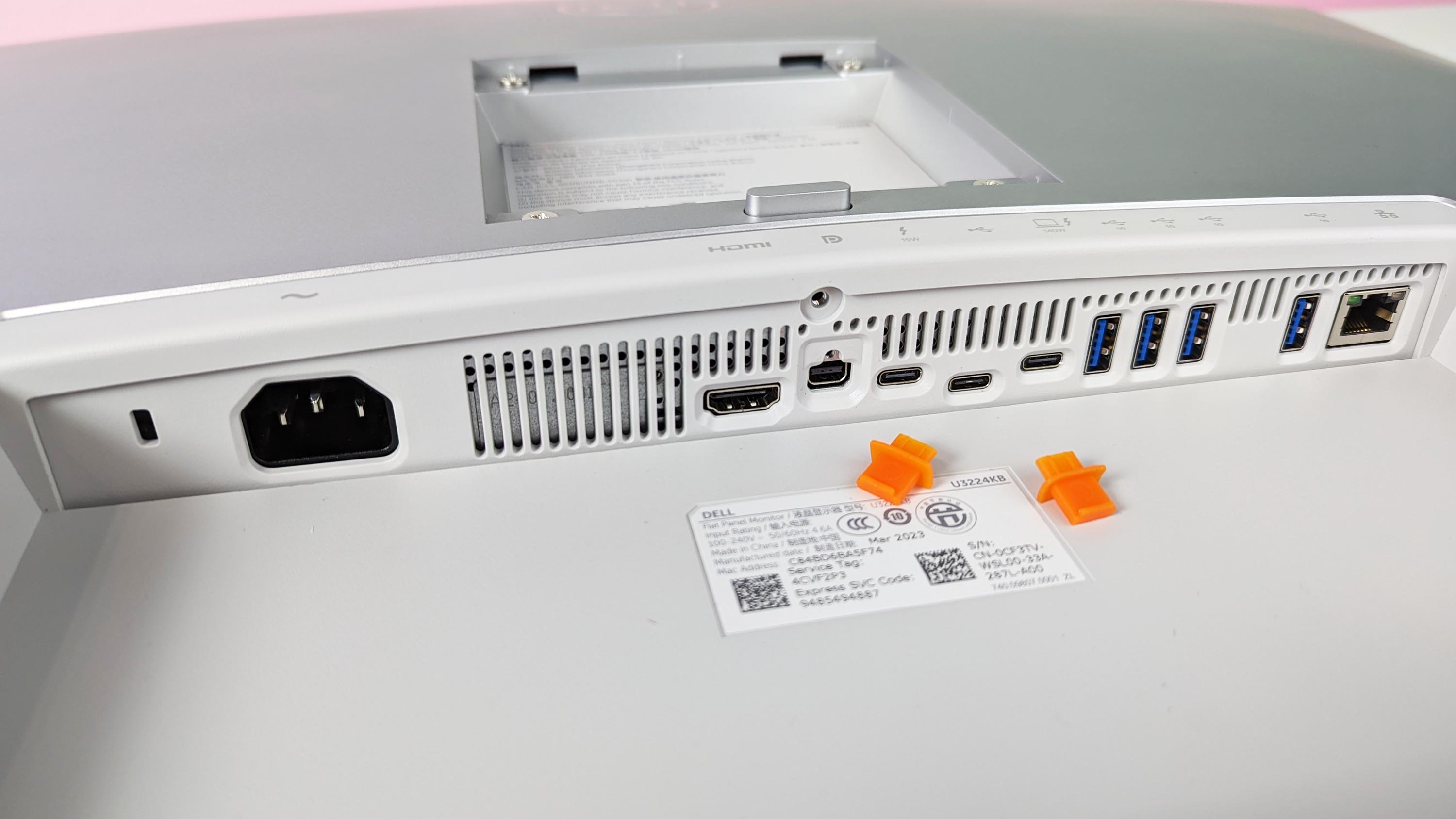 The Ultrasharp 32 6K (U3224KB) shows up in a typical Dell box with an easy-carry handle. Opening it up, you're greeted with no foam or plastics and instead a cardboard-based system to hold and protect the display, which is excellent for the environment.
I love setting up Dell monitors; it takes two minutes, and no tools are needed.
The monitor has three parts: Display, vertical stand, and base. The Vertical stand and base attach, and you screw it in using the toolless screw at the bottom. Next, you slip the stand's mount into the back of the Ultrasharp 32 6K (U3224KB), where it simply clicks in. You can just as easily undo the mounting by pushing a button at the bottom to release the stand.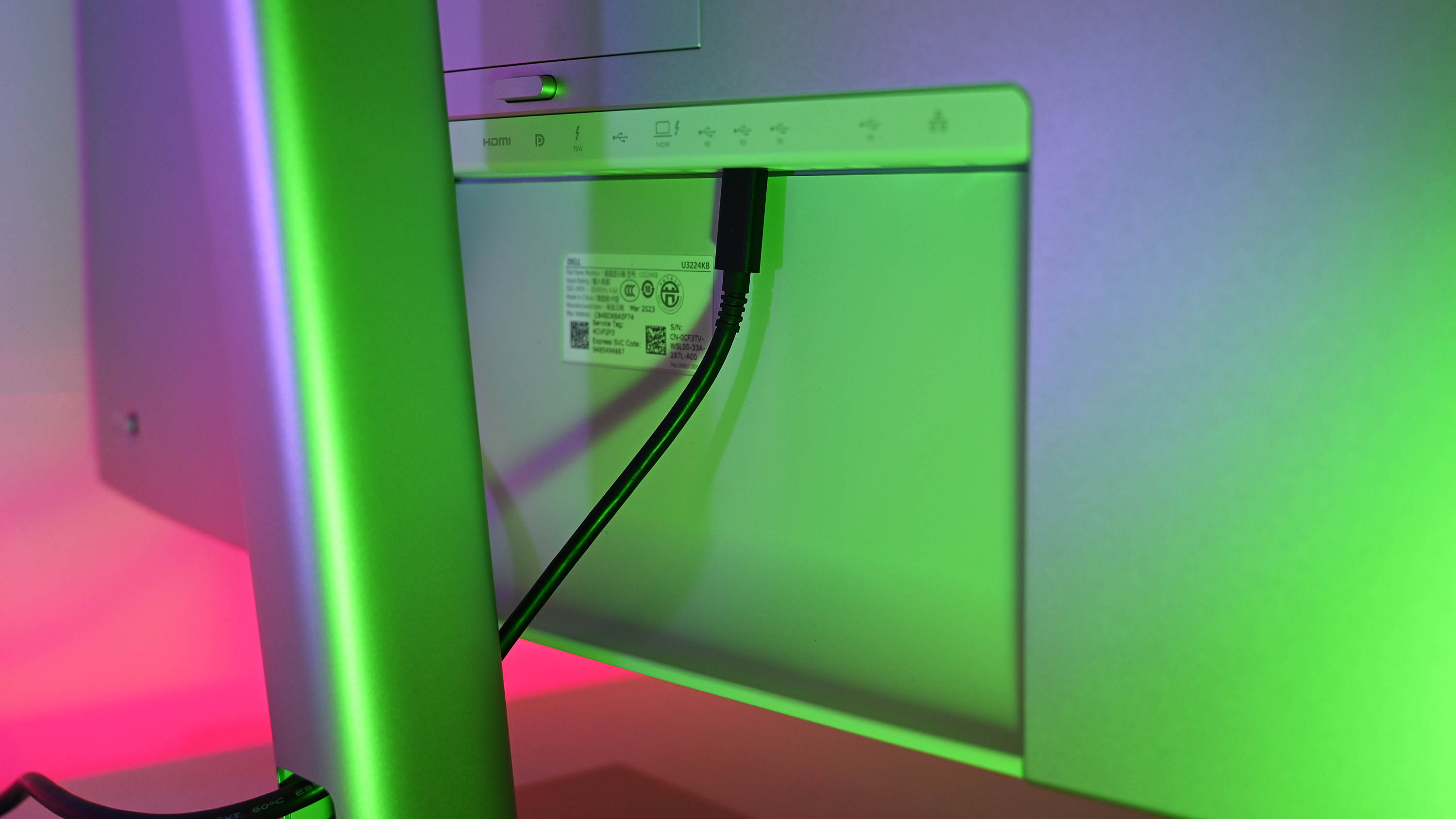 For cables, Dell includes cables for one mini-DisplayPort (mDP to mDP), one USB 3.2 Type A to Type-C, and one Thunderbolt 4 (rated to 240W), along with the cable for power. The Type-C / Type-A cable is for data upstream, powering the onboard USB hub and 4K HDR webcam. A factory calibration report also proves your display's colors will be as accurate as possible.
Oddly, no HDMI cable is included, even though a single HDMI 2.1 port is available as an input. Just as strange, while the display takes mini-DisplayPort (mDP), the other end is also mDP instead of a full DisplayPort connector, which you usually find on high-end graphics cards.
The Thunderbolt 4 cable is ideal for those who will power this display with their laptop as either the primary or secondary input (a KVM switch is built-in). That one cable handles everything, including the 4K webcam and 140W pass-through charging.
Ultrasharp 32 6K (U3224KB): Features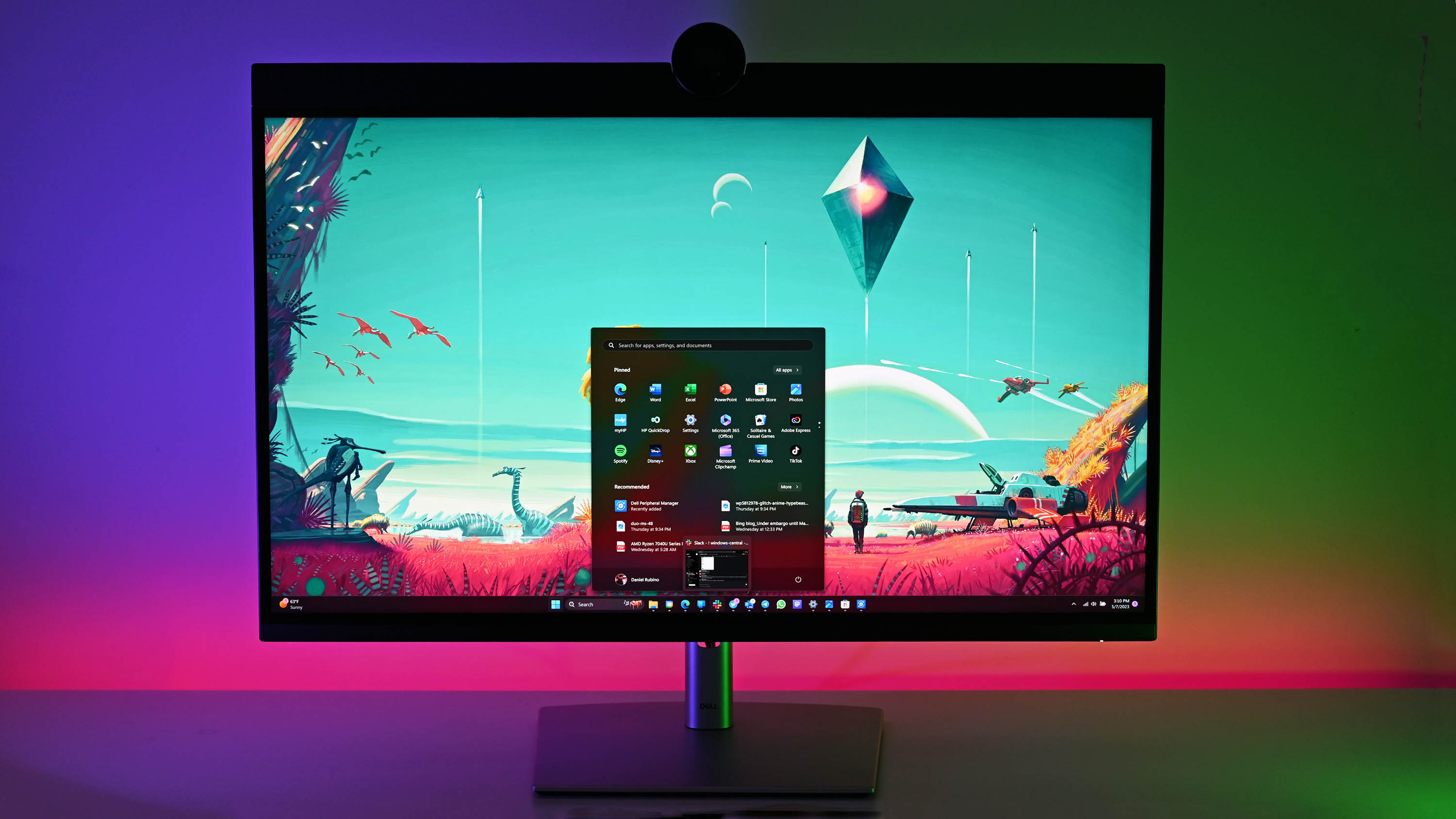 Let's get to the star of the show: The 32-inch 6144 x 3456 (60Hz) screen with IPS Black Technology. It's simply gorgeous, and 32 inches is one of the best sizes for a screen packing this many pixels, which results in an ideal 220 pixels per inch (PPI).
Dell UltraSharp 32 6K Monitor
Price: $3,200
Display size: 32-inch
Resolution: 6K
Type: IPS Black (LG)
Color: VESA Display HDR 600
Refresh rate: 60Hz
Brightness: 500 nits
Camera: 4K HDR w/Windows Hello
Ports: Thunderbolt 4 (up to 140W power)
HDR 600 is supported, although native Windows HDR support is not.
For the first time, I'm using a desktop display where no, I can't see the pixels, and the text looks very sharp. Screenshots are hilariously large at over 2MB but are fantastic for sharing or publishing media.
IPS Black Technology is meant to deliver an experience approaching, although not quite matching, the deep blacks on AMOLED displays but with the benefits of IPS. LG is behind the tech, which improves the contrast ratio and viewing angles (especially when combined with the anti-reflective design of the U3224KB). The tech is good, and the colors look punchy and bright, although it's still far from AMOLED. That's probably a good thing as AMOLED, while great to look at, can be eye-straining after a few hours and a bit too intense for some.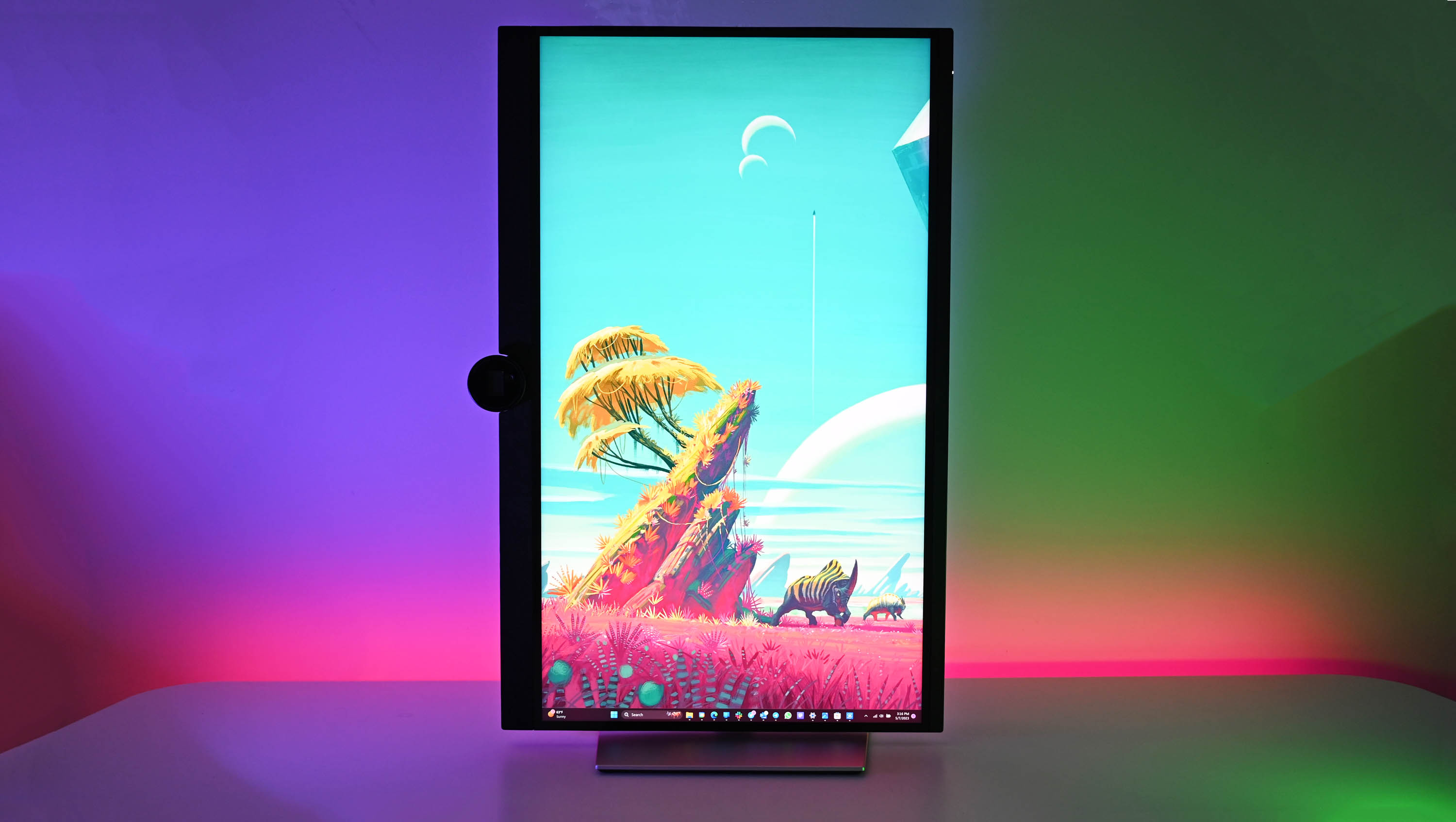 Dell includes a tilting 4K HDR 8 MP webcam with 5X digital zoom built-in to the top of the display, and get this … it's fantastic. Indeed, it's arguably the best webcam I have ever used. You can see it in action below in a recent interview I did (Note: the background blur is due to NVIDIA Broadcast):
Who's ready for the shift to #AI? 🤖@Daniel_Rubino and Jim Worden examine the fundamentals of Alphabet with @NPetallides, and zero in on which tech companies are best positioned to enhance their offerings for the future: https://t.co/LL1AhavJ7nMay 10, 2023
See more
Ports are plenty, although not too many, as few GPUs will handle multiple screens when one is 6K. There is mDP 2.1, Thunderbolt 4, and HDMI 2.1 for inputs along with Ethernet, Thunderbolt 4 downstream, USB-C upstream, two USB-A, and USB-C (15W).
But oh, there is so much more to this display.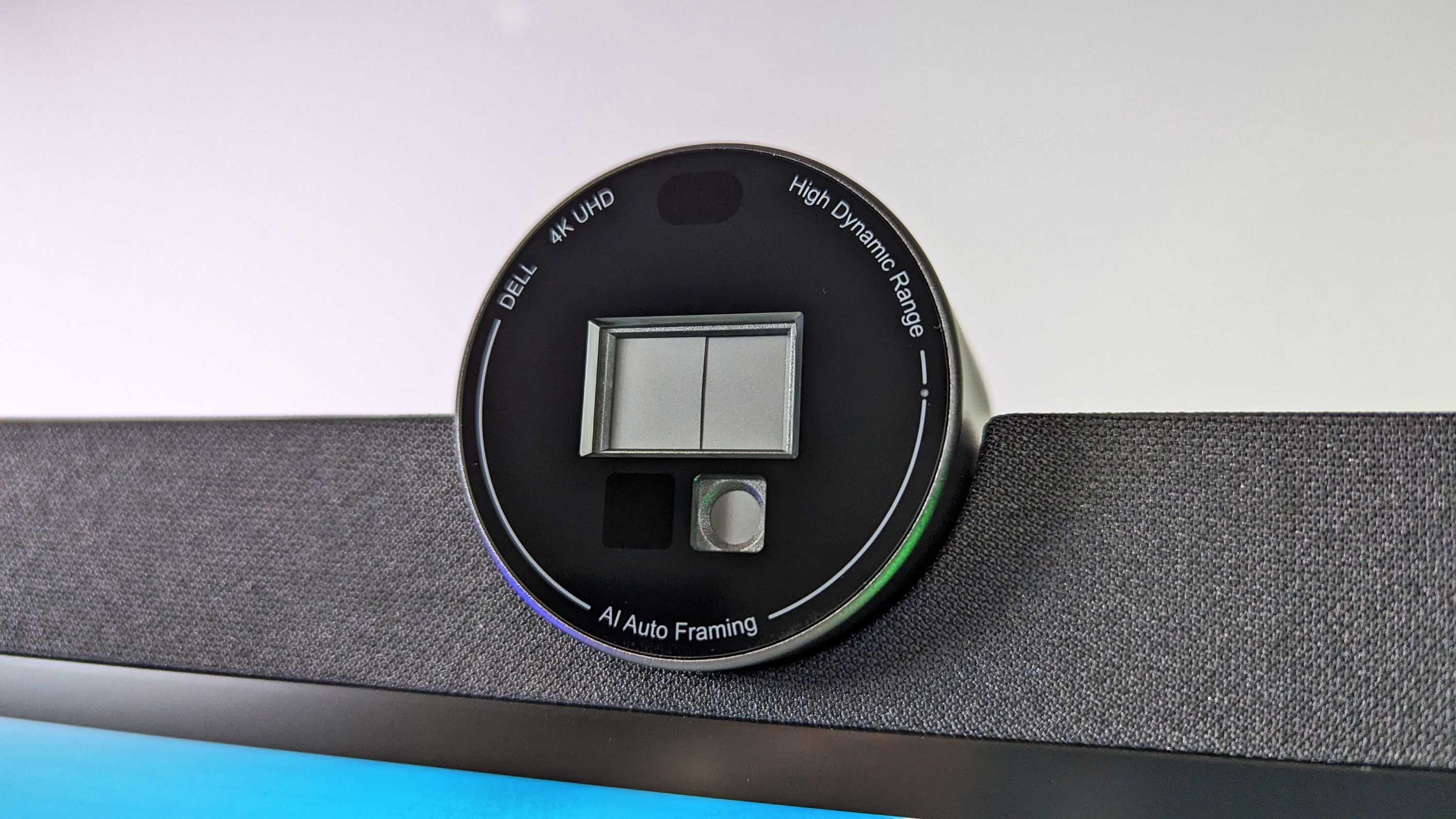 This camera is chock full of features, too, including:
Built-in privacy shutter
Windows Hello facial recognition
Proximity detector
Tilt-adjustable
Dell software to AI auto track, zoom, and configure
The built-in shutter opens and closes based on current usage and is quite wild. Regardless of the app, it simply snaps open anytime you turn on the camera. So, for example, turning on your PC (or resuming), the shutter will open, use Windows Hello to log you into Windows, then snap shut, and this often happens even before I see the login screen!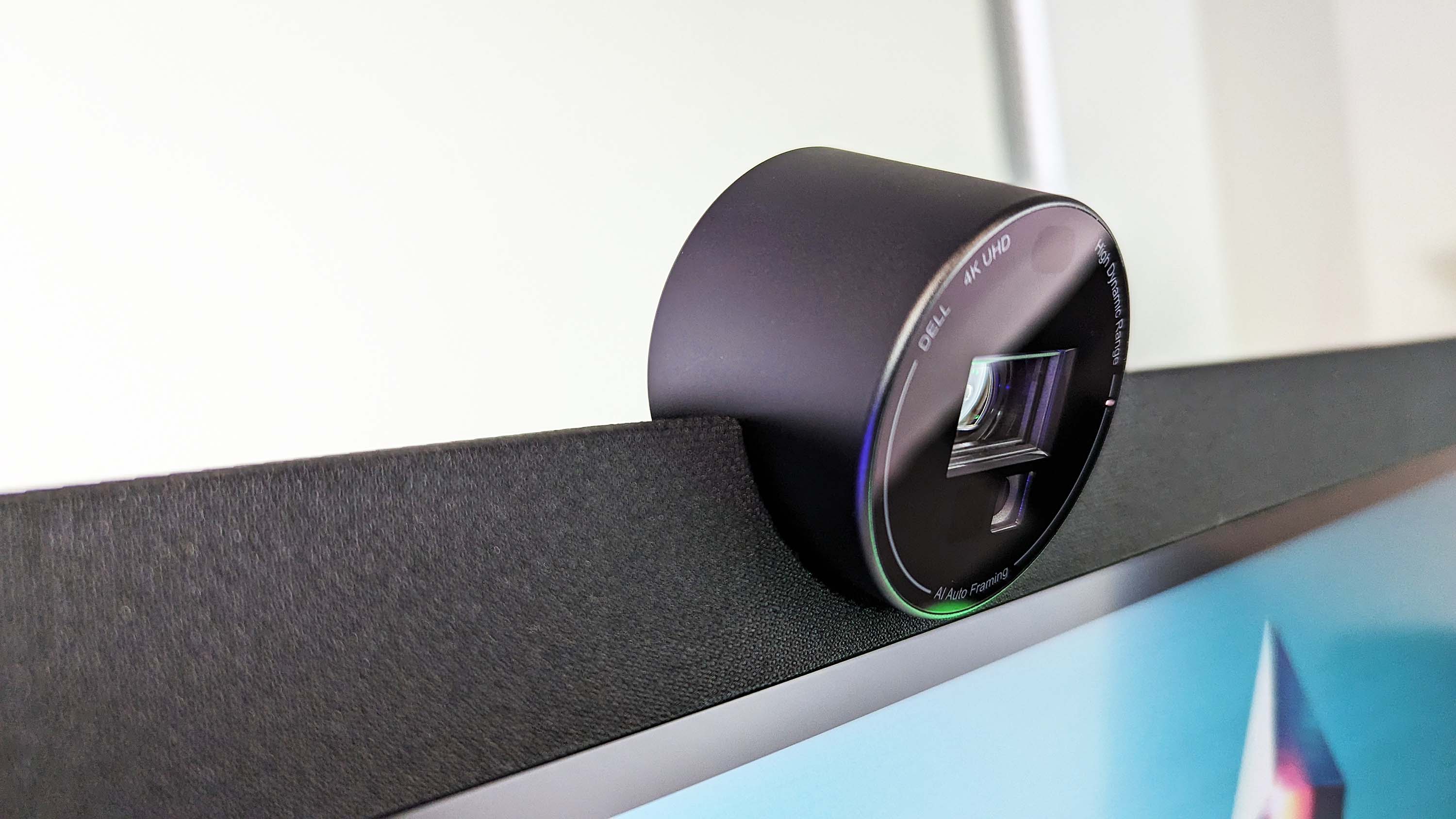 Flanking that excellent camera are two 14W speakers and dual-array microphones. While the speakers won't replace my $500 Razer Nomos, they are good enough for work usage, especially since you can set the speaker to voice (using the on-display settings), making it superb for video call usage. There is even spatial separation when using the movie audio mode. The bass is lacking, but these are the best display speakers I have used.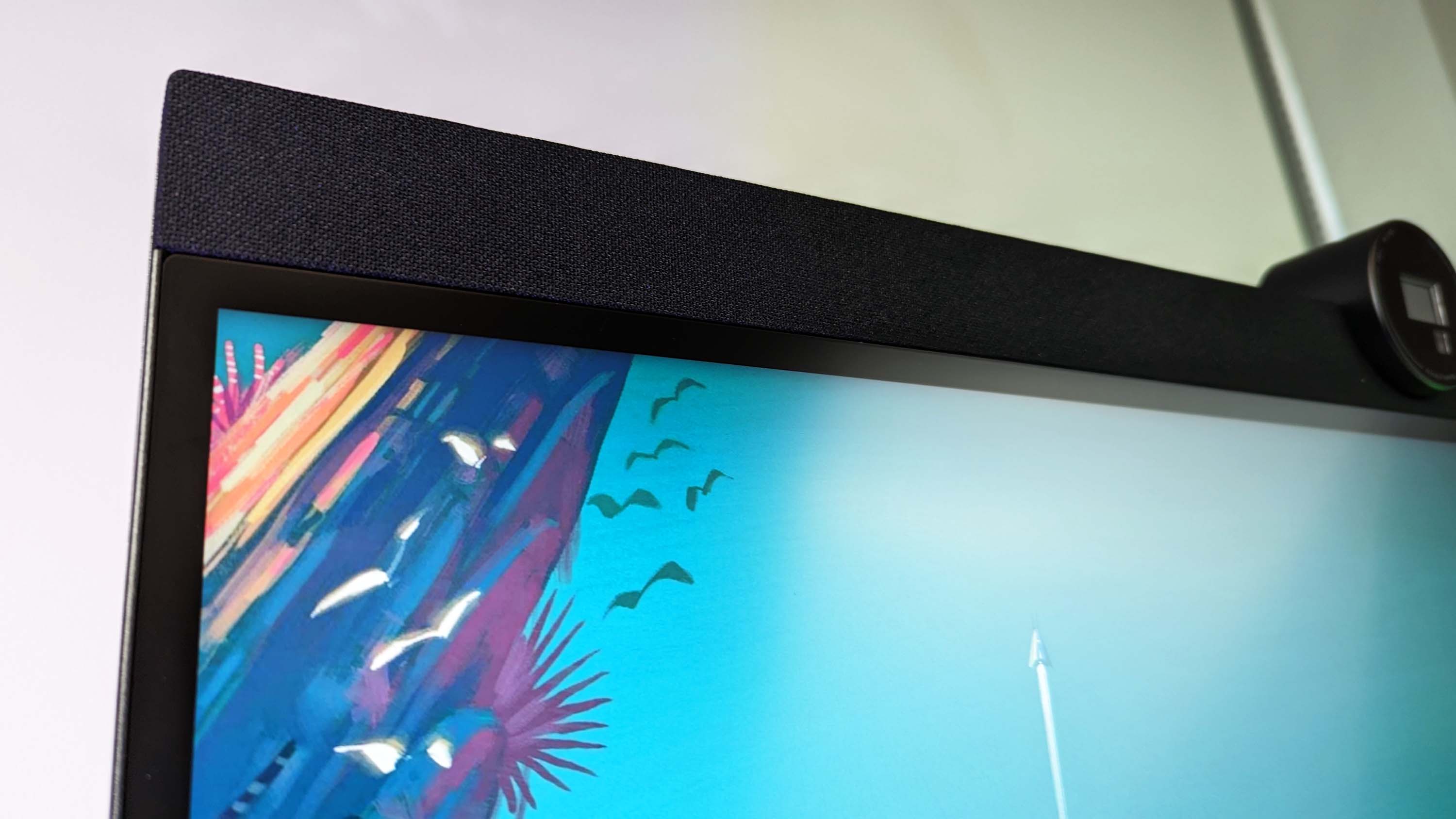 Getting to the bottom of the Ultrasharp 32 6K and Dell has another trick: A pop-out USB hub. On the left side, press in, and a hub with two Type-C and one Type-A port drops down, making it super easy to connect temporary peripherals like a thumb drive and card readers without reaching for your PC. Then, pop it back into the chassis, and it's gone if you no longer need it.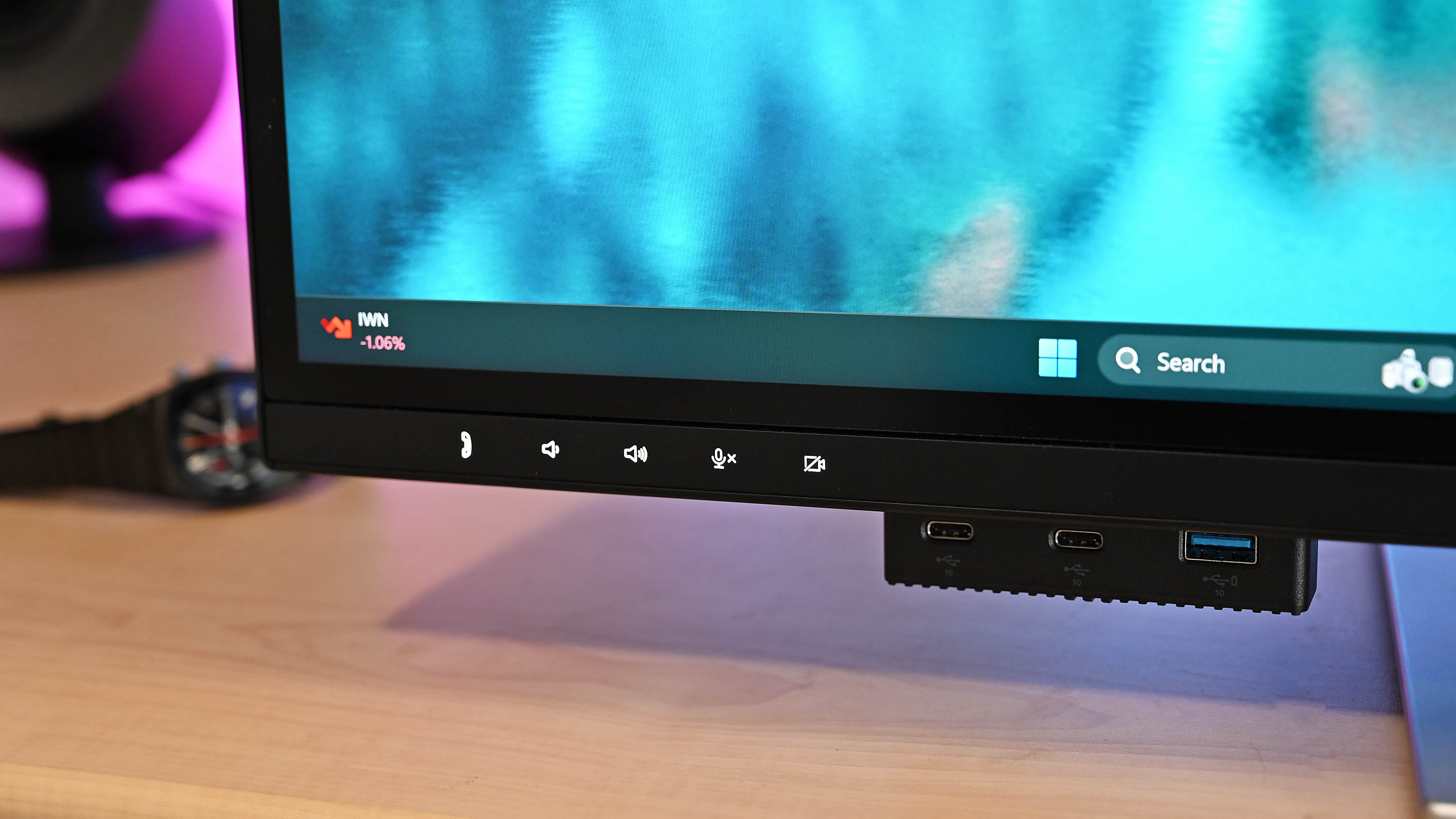 For convenience, the Ultrasharp 32 6K (U3224KB) also has LED buttons on the lower bezel to hang up calls, control and mute volume, and toggle the video camera on and off. The buttons work well enough, and they only light up when your fingers come close to them, but I didn't find myself reaching for them during meetings when I could mouse over or use my Razer keyboard instead.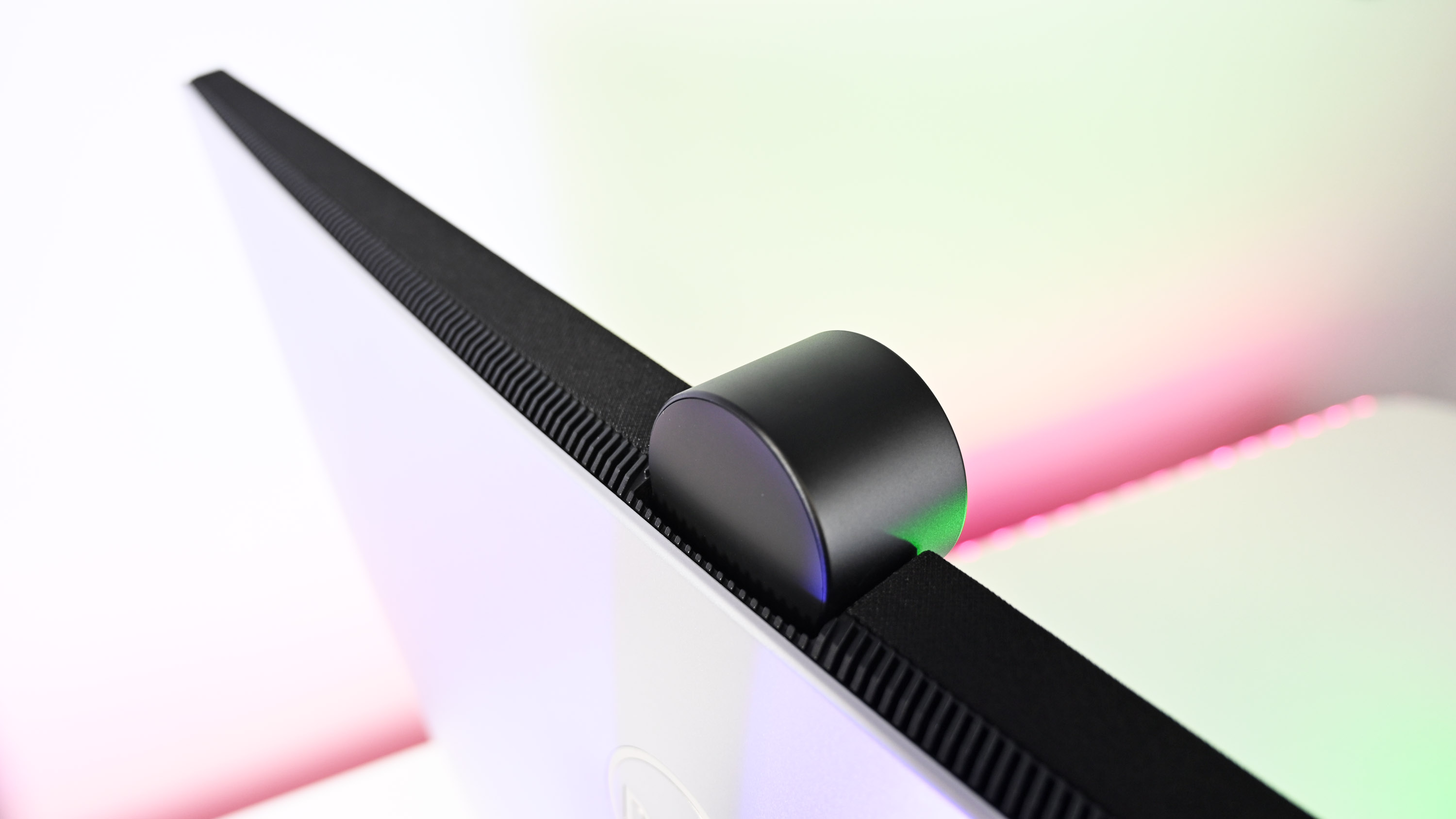 The Ultrasharp 32 6K also has other perks, like a built-in KVM switch (keyboard, video, and mouse), letting you connect to two devices simultaneously while using one keyboard and mouse to control both. In addition, picture-by-Picture (PbP) and Picture-in-Picture (PiP) are also supported.
For software, you want to use Dell Display Manager, which lets you configure snapping zones for your windows, adjust brightness and contrast via software, switch inputs, and more, all without physically touching the monitor. You also need Dell Peripheral Manager, which enables and lets you control the 4K HDR webcam, including color presets, tracking, and more.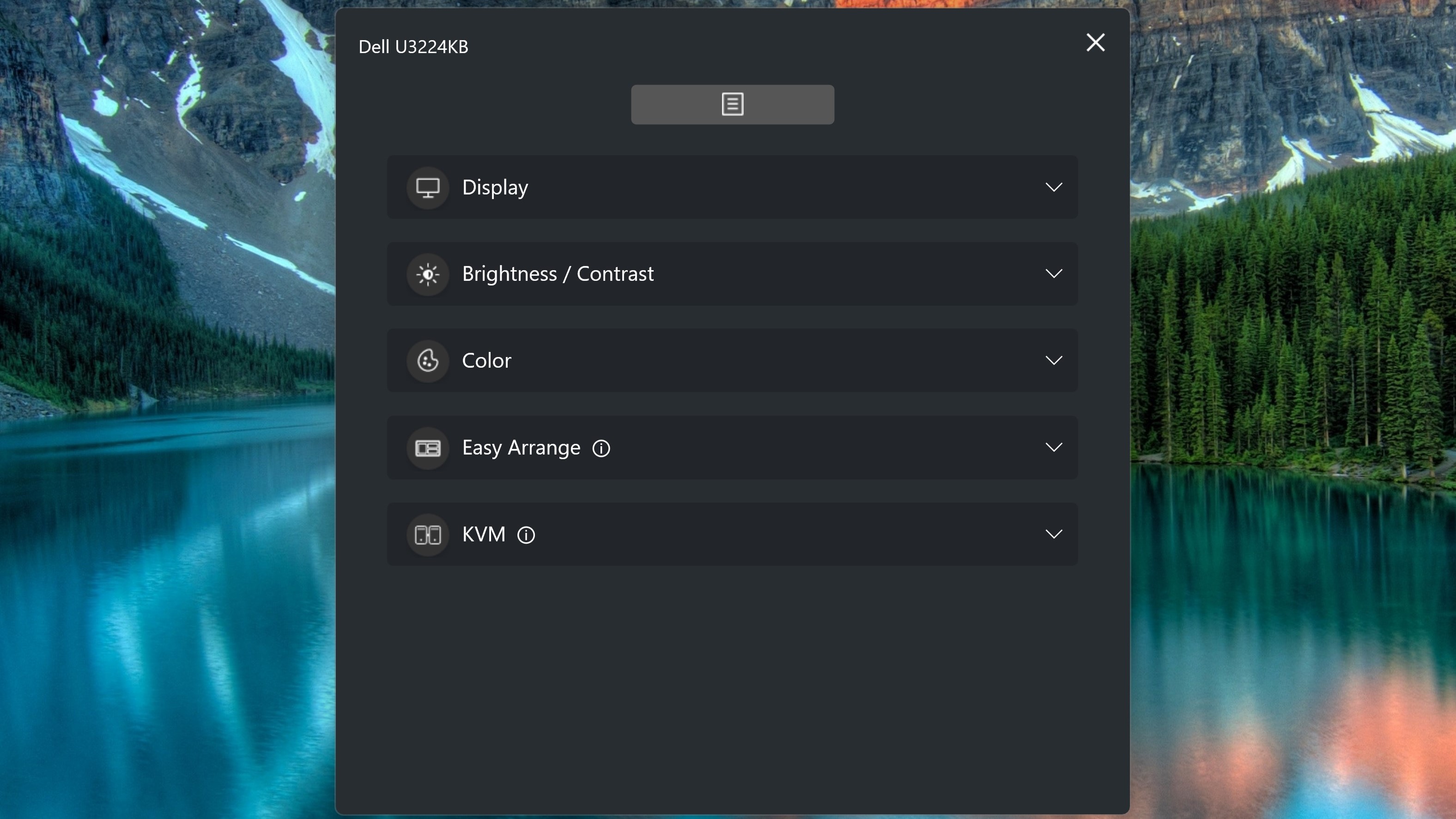 Finally, being such a large monitor Dell's excellent stand does allow the display to adjust vertically, going as low as 1.5 inches, which gives a more natural eye-level experience. Still, it can also go up to around 7.5 inches for those who need much more clearance. Additionally, this monitor can rotate vertically for those who want a taller 6K experience.
Ultrasharp 32 6K (U3224KB): Benchmarks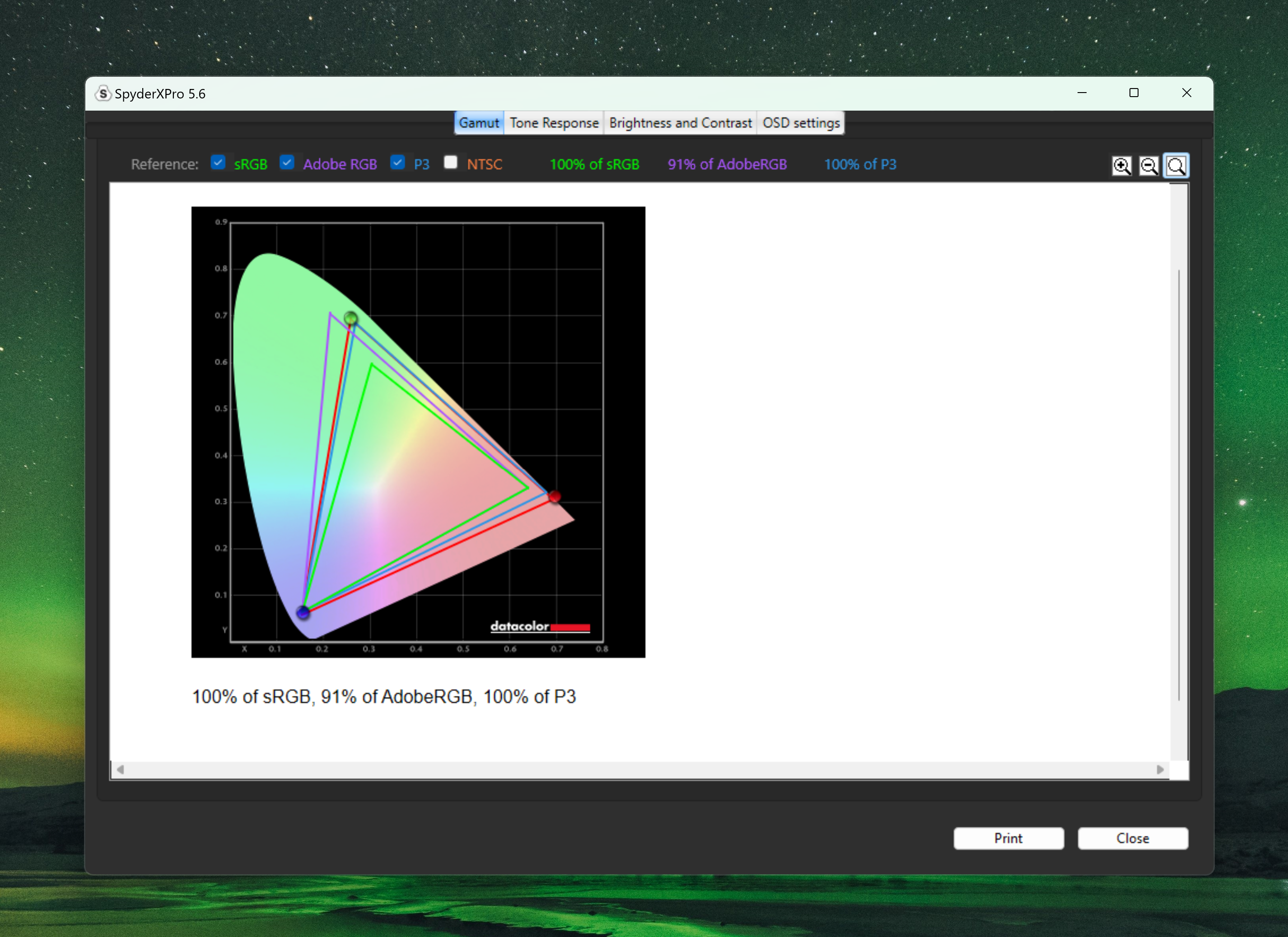 You would expect a $3,200 6K monitor to have a good color gamut, and Dell delivers. In my tests, the Ultrasharp 32 6K (U3224KB) earned 100% sRGB, 100% DCI-P3, and 91% AdobeRGB making it one of the most color-accurate displays I've used.
Brightness is also good, peaking at 490 nits while hitting just 30 nits when set to zero percent. That brightness level is shy of 500 nits (HDR 600) but is also brighter than most other displays on the market.
Ultrasharp 32 6K (U3224KB): The Competition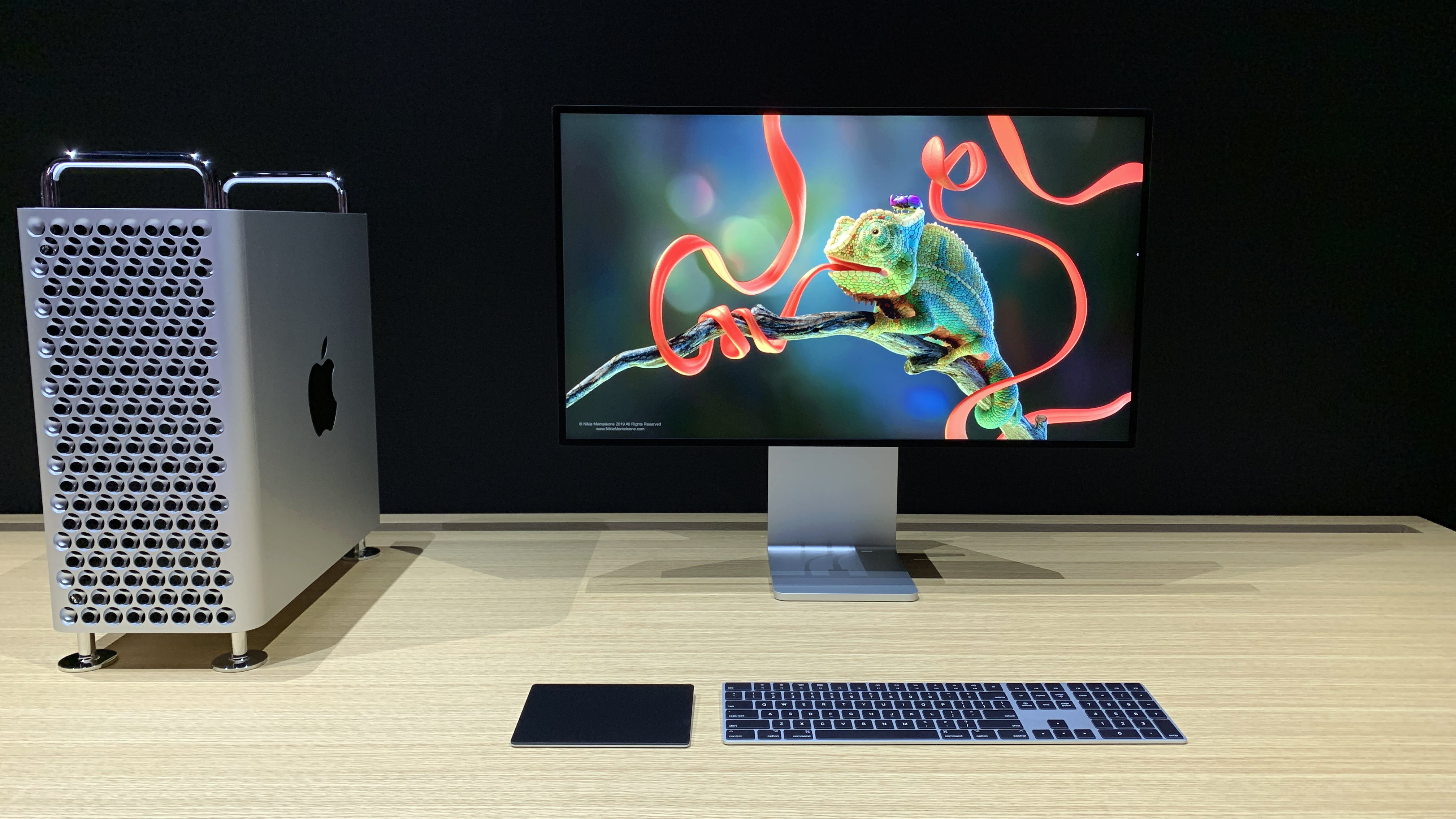 There's not much competition in this ultra-premium display space as most people never get to $3,000 and up monitors, which is reserved for graphics professionals or someone with money to burn.
The most obvious competition to the Ultrasharp 32 6K (U3224KB) is Apple's 32-inch Pro Display XDR, which costs $1,800 more at $4,999. Apple's display gets much brighter at 1,600 nits, has nano-texture glass, Extreme Dynamic Range (XDR), 576 full array local dimming zones, Dolby Vision, HDR10, and much thinner bezels. However, it lacks a 4K HDR webcam, two 14W speakers, microphones, and a front USB hub for easy access along with KVM.
While the Pro Display XDR technically works with a Windows PC, the only connection available is Thunderbolt 3 Type-C. Unfortunately, many video cards do not offer this as a port selection for display out, requiring you to get into Type-C converters (e.g., the Belkin USB-C to DisplayPort cable), which could get messy for compatibility reasons when trying to hit 6K with the Pro Display XDR (though it should work).
Say you were OK with Dell but wanted more … but also less. The UltraSharp 32 8K Monitor (UP3218K) has the same 31.5-inch display size, but it jumps to a 7680 x 4320 resolution or 8K, which is a bump to 280 PPI. You also get super thin InfinityEdge bezels and a USB 3.0 hub, but you drop some brightness, speakers, and a nifty 4K HDR web camera. The price also goes up to $4,024, which is nearly $1,000 more than the Ultrasharp 32 6K (U3224KB), but did I mention it is 8K?
LG offers the 27MD5K-B Ultrafine, which rocks a 5K resolution (5,120 x 2,880) in a smaller 27-inch package. It also hits 500 nits but only had Thunderbolt 4 and fewer ports (just one TB3, three Type-C), but you do get a built-in camera and speakers, although they will most certainly be worse compared to Dell's latest 6K monitor. On the other hand, the 27MD5K-B Ultrafine costs $1,175, which is significantly more affordable.
Finally, if you like everything here but want to spend much less, Dell offers the 2022 UltraSharp 32 4K (U3223QZ) for $1,280. But, again, you drop to a 4K resolution and still have IPS Black Technology and dual 14W speakers. While you get a similar camera, it doesn't seem as high-end as the one featured in the Ultrasharp 32 6K (U3224KB), and the display is HDR 400, so not as bright.
Ultrasharp 32 6K (U3224KB): Should you buy?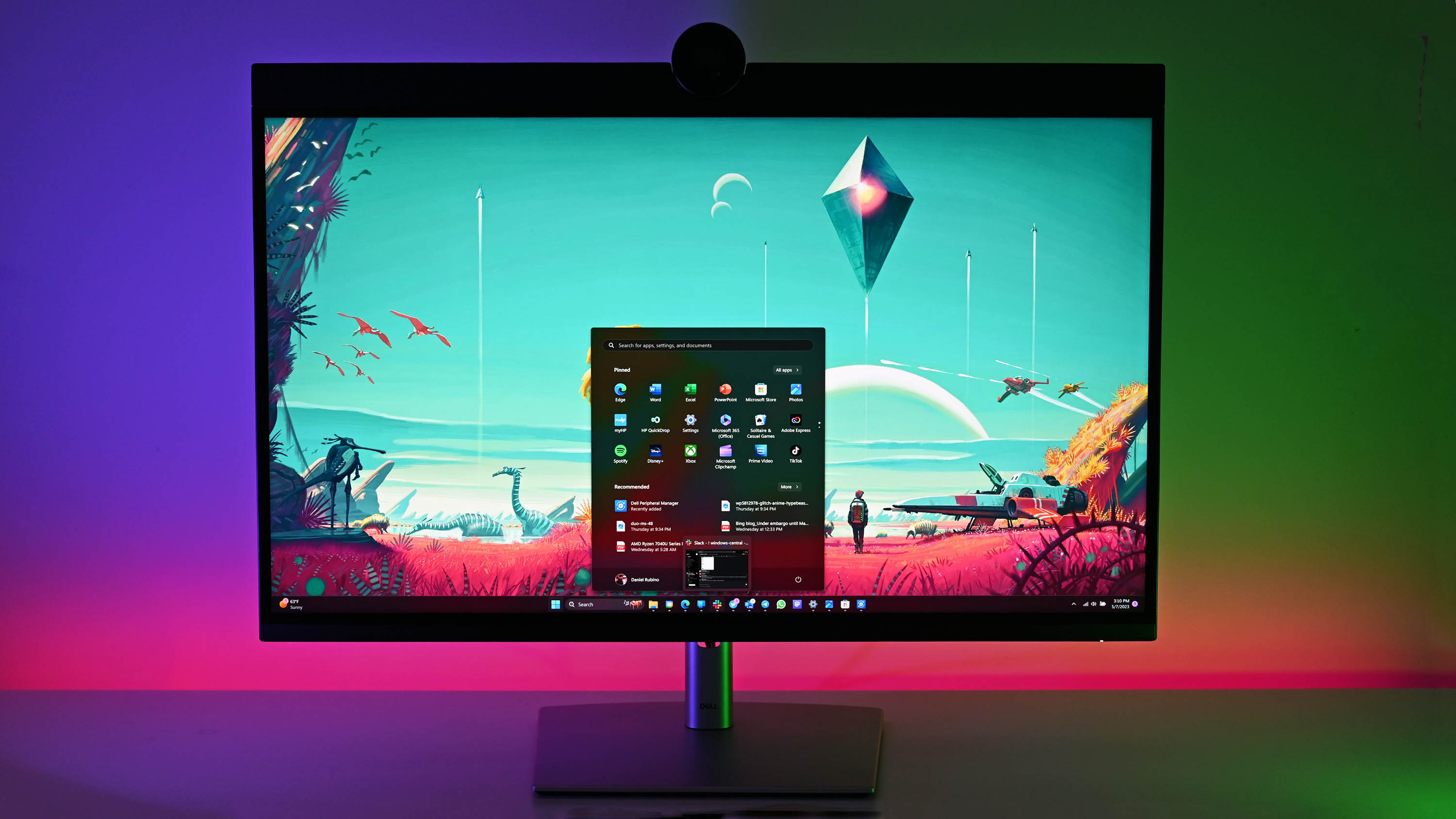 You should buy this if …
You are a graphics designer who needs color accuracy and high resolution
You have plenty of money and want the best
You spend all day on video calls and enjoy an excellent collaboration tool
You think 4K is for chumps
You should not buy this if …
Spending $3,200 on a monitor sounds insane
You don't need a built-in speaker and prefer your current webcam
You think 6K is for chumps and want 8K
There's no way to spin this review other than saying the Dell Ultrasharp 32 6K (U3224KB) is the coolest and nicest monitor I have ever seen or used. Sure, Dell's giant UltraSharp 43 4K USB-C Hub Monitor (U4323QE), which I'm also reviewing, is one hell of an experience being 43 inches and not curved. Still, there is no arguing that 6K at 32 inches is a stunning achievement and option for those who need (or want) that high pixel-per-inch count.
What surprised me, however, was just how good the webcam is compared to all third-party options. Of course, I didn't expect it to be the best, which means Dell should rip it out and sell it on its own (it wipes the floor with the Dell UltraSharp Webcam from late 2021). Nevertheless, Windows Hello, efficient AI tracking, and an innovative privacy shutter are an absolute joy to use.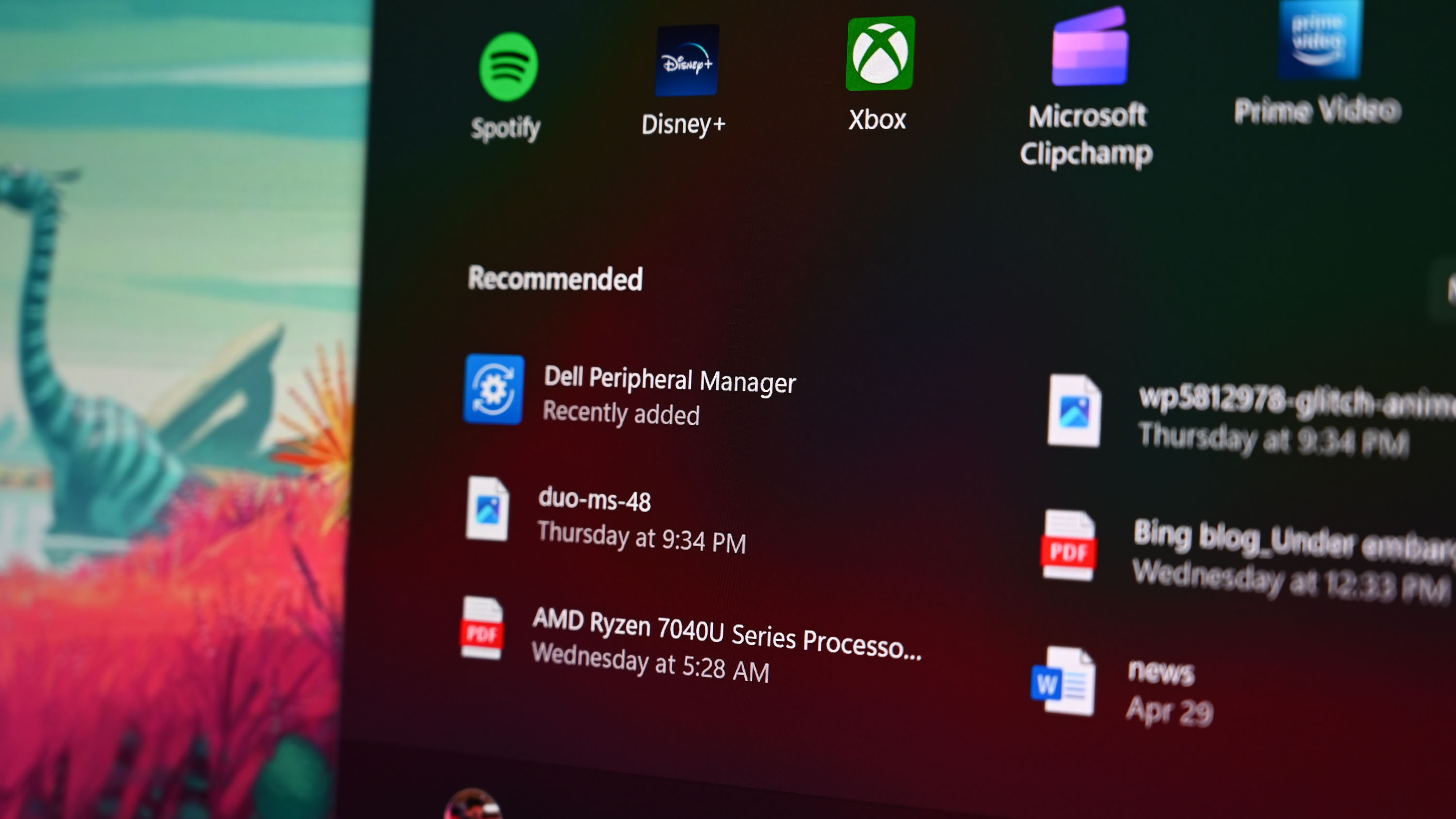 Heck, even the dual 14-watt speakers are better than expected, as nearly all in-display speakers are trash.
I could complain about the price, but considering the spec sheet and how much cheaper it is compared to Apple, it seems reasonable.
My only complaint is a bit of confusion regarding display inputs, downstream for the video camera, and connecting the upstream ports, which gets a little tricky, but is not Dell's fault per se. The easiest way to use this monitor is with a laptop and a Thunderbolt 4 connection: One cable to rule them all.
Putting that minor gripe aside, if you wanted 6K and an excellent Windows Hello camera for your desktop PC (or laptop setup), then you're not going to find anything better than this Dell Ultrasharp 32 6K (U3224KB), making it very easy to recommend assuming you can afford it.
Great review. Very informative. Thanks, Dan!

As my eyes age, I find 4K to be sufficient (barely though) on a 32″ (I have an Asus 32″ 4K HDR in portrait mainly for Outlook — it was really cheap, under $300, or I'd never pay for HDR for an Outlook monitor), so can't really justify a big expense for a sharper image. More pixels would be better, just not something I NEED for the money.

On the other hand, I also have a 43″ Gigabyte Aorus (144Hz and HDR) monitor as my main screen, and at 4K on that, the pixels are too big. I only run it at 125% scale to keep the text and windows reasonably sized, which doesn't look great. I really want to get to a minimum of 150%, scale and ideally higher than that. That requires 5K minimum, where 6K or 8K would be much better. I would LOVE to be able to get a 6K 40″ – 43″, but I'd also want > 60Hz along with HDR, or I'd feel like it's a tradeoff from my current screen.

Hopefully the advent of this Dell encourages more monitors to follow-suit with higher DPI displays at all screen sizes. We also need to see graphics cards start shipping with Thunderbolt support on the cards. Is that an option on any yet? Will it be?
The post Dell Ultrasharp 32 6K Monitor (U3224KB) review: All the pixels and a fantastic 4K UHD webcam make this one AMAZING display first appeared on www.windowscentral.com
In many places around the world, horse races are an attraction that a lot of people love to watch. With the fast-paced action and thrill that each game provides, it is no longer surprising to know that millions of fans have grown fond of it.