From www.techradar.com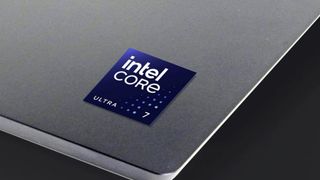 (Image credit: Intel)
Intel's Meteor Lake CPUs for laptops are set to arrive in December, and the company just demonstrated the integrated graphics on one of these Core Ultra processors running a big-name game nice and smoothly – with a little help from Intel's DLSS rival, that is.
The demo witnessed the Meteor Lake processor (presumably a top-end model, we aren't told which one, though) running Dying Light 2 with the frame rate boosting XeSS tech enabled.
In fact, with the Xe-LPG (Alchemist-based) integrated GPU, Dying Light 2 was 1.7x faster or so (on average, spiking to 1.8x or higher briefly here and there) with XeSS than without it running at 1080p. (That is, comparing native 1080p, to XeSS-powered 1080p which is upscaled from 720p to look almost the same, or near as indistinguishable).
Sadly, we don't get to see actual frame rate numbers, but the game looks like it's running very smoothly, and with a decent level of visual detail and quality.
Xe-LPG integrated graphics runs with up to 8 Xe-Cores, so that's the same amount of cores as an existing discrete Arc A370M laptop GPU.
---
Analysis: A glimpse of the future for gaming laptops?
This is notable because it's the first time we've seen Intel demonstrate XeSS on an Xe integrated GPU, indicating that Team Blue is now more confident about pushing this combo as a viable solution for laptop gaming. Indeed, as noted in the video presentation (see above), the idea is to achieve performance you can get with a discrete graphics card, eliminating the need for that separate GPU.
The obvious caveat is, of course, that this refers to lower-end laptop GPUs – there's no way integrated graphics can compete with a flagship mobile discrete card – but it's an important step towards integrated graphics being a realistic proposition for more demanding (contemporary) gaming on a laptop.
Ditching the need for a discrete graphics card not only lowers the price of a laptop substantially, but also lowers the overall power used by the notebook, which means more battery life – a very precious commodity for a gaming laptop.
The catch is that the crutch required here is XeSS to boost those frames per second (not too far off doubling them). So, we have to bear in mind that XeSS only works with the newest Intel (Xe) GPUs, and evidently Meteor Lake unlocks it to be powerful enough to be more viable (hence Intel's demo coming now with the Core Ultra chips about to launch).
Furthermore, games need to support XeSS, too, although the number of titles supported is growing, and Intel notes that over 80 games are now compatible with XeSS.
What this represents is a glimpse of a future where integrated GPUs could take over for laptops, at least away from high-end monster notebooks, and things are certainly shaping up nicely for Intel on the portable front in this respect. Team Blue is doing a good job with XeSS – with positive feedback on the tech compared to FSR, certainly – and Intel is forging ahead nicely with driver progress on a continual basis.
At this point, Battlemage (next-gen) GPUs look promising, it's just that Team Blue needs to watch out and not make any more major missteps like Starfield (the game failed to work at all with the current Arc graphics driver when released).
Via VideoCardz
You might also like
[ For more curated Computing news, check out the main news page here]
The post Dying Light 2 demo shows Intel's Meteor Lake integrated graphics could replace discrete laptop GPUs first appeared on www.techradar.com