From www.tomshardware.com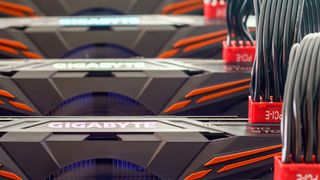 (Image credit: Shutterstock)
PC gamers looking for GPUs other than the latest and greatest — and most expensive — options have been waiting for months now for solid new offerings from either AMD and Nvidia that retail for less than $800. We recently covered how AMD might be gearing up for launch of its mainstream-performance RDNA3 cards around July. Now, Gigabyte has registered eleven different GPU SKUs with the Eurasian Economic Commission (EEC), a step the company historically takes a few weeks in advance of any product's market launch. It looks like the RTX 4060 Ti and RX 7600 will soon take on the best graphics cards.
The grass does seem to be greener for Gigabyte, considering the ratio of Nvidia to AMD GPUs in the filing, with nine different SKU models being prepped for the RTX 4060 Ti, and a comparatively measly duo of models for the Radeon RX 7600 camp. This should come as no surprise, considering Nvidia commands a much greater share of the GPU market than AMD. There's simply more demand for the team green accelerators than those from the red camp.
Consumers looking to pick up an AMD GPU only have a single available model from Gigabyte, with two variations: one running stock, and the other with a slight factory overclock. For Nvidia users, Gigabyte plans a number of different Gigabyte designs, scattered among the Windforce, Eagle, Gaming, Aero, and Aorus Extreme branding. All except the Aorus Extreme are available in stock and OC variants:
Gigabyte Radeon RX 7600 8GB Gaming (GV-R76GAMING-8GD)
Gigabyte Radeon RX 7600 8GB Gaming OC (GV-R76GAMING OC-8GD)
Gigabyte GeForce RTX 4060 Ti AORUS Extreme 8GB (GV-N406TAORUS E-8GD)
Gigabyte GeForce RTX 4060 Ti AERO OC 8GB (GV-N406TAERO OC-8GD)
Gigabyte GeForce RTX 4060 Ti AERO 8GB (GV-N406TAERO-8GD)
Gigabyte GeForce RTX 4060 Ti Gaming OC 8GB (GV-N406TGAMING OC-8GD)
Gigabyte GeForce RTX 4060 Ti Gaming 8GB (GV-N406TGAMING-8GD)
Gigabyte GeForce RTX 4060 Ti Eagle OC 8GB (GV-N406TEAGLE OC-8GD)
Gigabyte GeForce RTX 4060 Ti Eagle 8GB (GV-N406TEAGLE-8GD)
Gigabyte GeForce RTX 4060 Ti WindForce OC 8GB (GV-N406TWF2OC-8GD)
Gigabyte GeForce RTX 4060 Ti WindForce 8GB (GV-N406TWF2-8GD)
It's hard to be a gamer right now, as the cost of living crisis (among others) takes its toll on consumers' spendable income. But tech companies have been hit as well, as we've seen from Intel's Q1 results — the company's worst in its history. AMD's financial results for the past quarter are equally grim. Gamers on tighter budgets have been doubly hit, however, as not only has graphics cards median pricing increased over the last few years, but the manufacturers' launch strategies have been delayed.
AMD and Nvidia have both launched their most expensive SKUs first, absorbing as many sales as possible. Nvidia has at least started moving down the product stack with cards like the RTX 4070, but at $599 it's still a far cry from being truly mainstream. AMD meanwhile only has the RX 7900 XTX and XT available since December. Gamers who can't afford the high cost of latest-generation GPUs have had to stick with what they're already running, or opt for previous generation cards.
It appears AMD has decided to skip its RX 7800/7700 series parts for now and instead jump straight to the lower-tier RX 7600 first. That should mean more reasonable pricing, but it also means hardware specifications will be quite a bit lower. Based on current leaks, the RX 7600 will supposedly have 28 RDNA3 Compute Units. That's the same count as the existing RX 6600, but with architectural enhancements that should further boost performance. All that remains now is to see the price and real-world performance, and mainstream gamers might have something worth considering.
As for Nvidia, the RTX 4060 Ti rumors currently peg the card as having 34 Streaming Multiprocessors and 4,352 CUDA cores. That's less than the previous generation RTX 3060 Ti's 38 SMs, but do bear in mind that the Nvidia Ada Lovelace architecture tends to clock about 40% higher than the Ampere architecture, plus there are other potential bonuses like DLSS 3 support. The rumored price is $399, which depending on your perspective is either the bottom of the high-end bracket or firmly in midrange territory — sadly, the days of $200 "midrange" Nvidia GPUs seem to be well in the past now.
We're looking forward to getting our hands on both upcoming graphics cards, at which point we'll run them through their paces and see where they land on our GPU benchmarks hierarchy. We should know for sure within the next month or so.
The post Gigabyte EEC Listing Confirms AMD RX 7600, Nvidia RTX 4060 Ti Cards for Launch | Tom's Hardware first appeared on www.tomshardware.com
In many places around the world, horse races are an attraction that a lot of people love to watch. With the fast-paced action and thrill that each game provides, it is no longer surprising to know that millions of fans have grown fond of it.