From www.pcgamer.com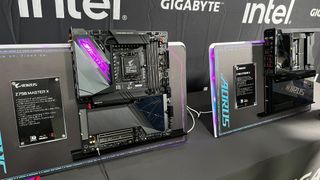 (Image credit: Future)
As we approach the next generation of Intel CPUs (which haven't been officially announced yet), motherboard manufacturers are doing their best to get ready. Gigabyte calls its new line of Z790 X motherboards the "fast track to Gen X," promising faster overclocking capabilities, better connectivity, and some welcome DIY updates.
The Taiwanese manufacturer invited me to check some of its upcoming Z790 X motherboards and get hands-on time with the Z790 Aorus Master X, Pro X, and Elite X WiFi 7.
Extracting as much speed as possible from DDR5 RAM seems to be Gigabyte's big mission here. The redesigned BIOS of the Z790 X will let overclockers increase DDR5 memory frequencies with the help of an auto-boost that will automatically set DDR5 modules to the highest profile, increase bandwidth, and shorten latency, all with one click. The dual-channel DDR5 board will also support up to DDR5-8266+, which is pretty wild.
Gigabyte says its exclusive back-drilling technology will reduce "signal reflections and timing issues" and enhance "signal integrity, improving system performance and reliability." It's tough to see in photos, but I could make out the back-drilled spots in person once the backplate of the board is removed. They are not quite holes but more like little bumps. We'll have to take their word on the benefits of the technology for now.
The new I/O design, on the other hand, does feature holes. Well, they are being called "vents." Gigabyte says it's for cooling efficiency, and this design has a temperature difference of up to 7 degrees Celsius.
The three boards are Wi-Fi 7 compatible and come with a redesigned antenna. Gigabyte is really future-proofing with these boards. For instance, the PCIe UD slot (where the graphics card goes) has been reinforced to hold our increasingly heavy video cards better and prevent them from sagging.
All the boards feature some variation of an EZ-Latch, which are screwless M.2 slots that also accommodate heatsinks. You can slot in the SSD and secure it with a latch instead of a screw. I got a chance to pop an SSD on and off each of the boards, and it was a painless experience, which made me question why more motherboard manufacturers don't do this.
The board that caught everyone's eye at this event was the Z790 Aorus Pro X, with its stunning white paint job on both the front and back. Apart from the alabaster coating, what makes this Pro X special is its Sensor Panel Link, which makes installing the board in a chassis with a built-in screen much easier and avoids unsightly cables.
If you're looking for a more budget-friendly motherboard to pair with an affordable Intel CPU, I'm quite impressed with what the Aorus Elite X WiFi 7 has to offer. Priced under $300, it presents a compelling option.
Speaking of CPUs, each of the Z790 Xs I observed is designed to support "next-gen processors," which, using my keen powers of deduction, are most likely Intel's anticipated Raptor Lake CPUs rumored to launch in October However, if you're curious, the Z790s will also be compatible with the previous 13th and 12th-gen processors. So, even if you don't have immediate plans to upgrade your CPU, these motherboards still provide a solid foundation to work with.
Naturally, Gigabyte didn't delve into specific CPU performance details, as Intel hasn't yet officially unveiled its new chips. According to recent leaks , the refreshed Raptor Lake is expected to deliver multi-core performance gains ranging from 8% to 15%. However, until we can test these motherboards and CPUs ourselves, we'll see if those numbers hold true.
Regarding pricing, Gigabyte provided us with pricing information for the five motherboards announced today, starting at $280 for the Aorus Elite X Wi-Fi 7 and going up to $1,000 for the Aorus Extreme X. We should anticipate more details on release dates soon; it appears they are aiming for a late September launch.
[ For more curated Computing news, check out the main news page here]
The post Gigabyte's new Z790 X motherboards are all about speed first appeared on www.pcgamer.com