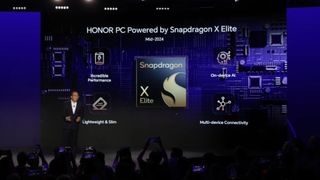 Honor announces their first ARM PC for mid-2024 (Image credit: Snapdragon)
What you need to know
HONOR is a leading global provider of smart devices.
During the Snapdragon event going on now, HONOR announced their first ARM PC launching in mid-2024.
HONOR will be using the new Snapdragon X Elite platform.
---
If you haven't been seeing the steady stream of news coming out of the Qualcomm Snapdragon Summit taking place in Hawaii, it's time to catch up. Breaking news already hit with the announcement of Qualcomm's Snapdragon X Elite platform that looks to outperform both Mac and Intel, as well as the popular video editing app Davinci's Resolve coming to ARM. Now we have some more news hitting as well. Kedar Kondap, SVP and GM of Compute and Gaming at Qualcomm took to the stage to introduce their partner, HONOR. Let's take a look at the announcement.
HONOR is now in the ARM PC space
Kondap stood up to introduce the HONOR CEO, George Zhao. Kondap had nice things to say before giving up the stage. Here is the praise he had to give about the importance of the Qualcomm and HONOR relationship.
After the introduction, George Zhao took the stage and talked through several of their upcoming projects, but the presentation finished with the exciting news that HONOR is developing an ARM PC using the newly announced Snapdragon X Elite platform. The presentation promises that the new PC will have incredible performance, on-device AI, and multi-device connectivity and will be lightweight and slim.
This announcement will likely be the first of many companies as the promise of the power and performance of the new Snapdragon platform entices them to develop new ARM PCs.
George Zhao ended his announcement with the following words.
The announcement of a powerful ARM processor by Snapdragon could be a catalyst that drives the entire industry forward. Hopefully, this will push Intel and AMD to innovate and offer better prices and performance for consumers. George Zhao's comments on collaboration were well-timed as the tech industry gets increasingly competitive, and companies like Qualcomm and HONOR are working together to bring great consumer products to market.
Are you excited for HONOR to release an ARM PC? Do you think the Snapdragon X Elite will compete with Intel and Mac? Let us know in the comments.
[ For more curated Computing news, check out the main news page here]
The post HONOR announces its first ARM PC built on Snapdragon X Elite will release next year first appeared on www.windowscentral.com