From www.pcworld.com
Image: Mattias Inghe
At a glance
Expert's Rating
Pros
Well-built and comfortable to use
Performance that lasts
Fast screen with great picture
The price
Cons
Only 1080p resolution
Constant fan noise
Not great battery life
Some bloatware
Our Verdict
It's not the prettiest, fastest or best, it's just missing when it doesn't cost more than it does. Stable, well-built and delivers the right performance for both work and play as long as you don't have high expectations and can put up with some fan noise. Poor battery life can be forgiven, but you'll still be running with the plug in most of the time. A gaming PC for the people.
Price When Reviewed
$799
Best Prices Today: HP Omen 16-wd0995no
$779.99
Playing PC games isn't cheap. A good gaming PC can cost as much as a black market kidney, at least if you have high ambitions. Some folks want the best of the best with ultra-fast high refresh rate screens and the latest hardware. But you don't have to spend a ton of money to get good performance out of a gaming machine. That's where this laptop from HP comes in, a 16-inch laptop from their Omen brand.
As of right now, it costs just $799.99 at Best Buy, a very modest price for a well-built laptop with modern hardware. You're getting DDR5 memory, fast W-iFi, and the latest generation of processors and graphics.
The computer is a solid build with a sheet metal chassis covered in matte black plastic. It's a bit angular with beveled surfaces as gaming laptops tend to be, but otherwise has a clean and simple design. You can easily fold it up in the office without attracting attention with its RGB keyboard and neon-colored decoration. It has a standard white backlight adjustable in three steps. There are apparently other models with RGB keyboards, but not this one. Read on to learn more.
Looking for more options? Check out PCWorld's roundup of the best gaming laptops available right now.
HP Omen 16: Specifications
Product name: Omen Gaming 16
Tested: October 2023
Manufacturer: HP
Processor: Intel Core i5-13420H, 4 Performance cores up to 4.6 GHz + 4 Efficieny cores up to 3.4 GHz
Graphics: Nvidia GeForce RTX 4050, 6 GB
Memory: 16 GB DDR5
Storage: 512 GB SSD
Displays: 16.1 inch semi-matte ips, 1920×1080 pixels, 144 Hz
Webcam: 1080p
Connections: Usb 3 gen 1 type c with displayport, 3 pcs usb 3 gen 1 type a, gigabit ethernet lan, hdmi 2.1, headset
Wireless: Wifi 6e, Bluetooth 5.3
Operating system: Windows 11 Home
Other: Backlit keyboard
Noise level: 34-40 dBa
Battery life: 1 hour 35 min (high load, full brightness) to approx. 7 hours 10 min (low load, low brightness)
Size: 36.9 x 25.9 x 2.4 cm
Weight: 5.18 lbs
Current price: $799.99 at Best Buy
HP Omen 16: Performance
Cinebench R23, CPU: 12,491 points
Cinebench R23, CPU single core: 1,715 points
Geekbench 6, CPU multi-core: 10,726 points
Geekbench 6, CPU single core: 2,426 points
Geekbench 6, GPU: 82,384 points
3dmark Fire Strike (DirectX 11): 20,799 points
3dmark Time Spy (DirectX 12): 8,618 points
3dmark Port Royal (ray tracing): 4,726 points
Disk, read: up to 6,716.07 MB/s
Disk, write: up to 4,012.97 MB/s
HP Omen 16: Portability
Mattias Inghe
A large cooling grid at the bottom raises the computer slightly, but otherwise it's quite thin. That said, it's not light, as it weighs over five pounds. This is primarily a computer that you have at home unless you have dedicated space for a desktop box.
HP Omen 16: Right thinking in the design
The large format does wonders for the keyboard. It features comfortable, well-spaced keys with an excellent typing feel. This is partly due to the fact that HP has skipped the numeric keypad, but kept the "center keys", i.e. arrow keys and buttons such as Insert, Home, Page Up, and Page Down. So it's like a full-sized desktop keyboard, but without the last part on the right. The mouse pad is large and functional, but doesn't have perfect detail precision. A separate mouse is recommended if you want to tweak pixels in Photoshop or play games.
If you buy the Omen 16 through HP's own online store, you'll see that you can choose different configurations, with two choices each for processor, storage, display and graphics card. My test computer has the simplest version of everything, but it doesn't feel the least bit budget-friendly. The choices are between good hardware and better.
The tested model has a Core i5 processor of the 13th generation. It's an H-type, the more powerful laptop processors from Intel that, unlike the P- and U-series, sacrifice energy efficiency for longer-lasting performance peaks. To that you get 16 gigabytes of DDR5 memory, and 512 gigabytes of superbly fast SSD. Is it an extreme performance monster? No, but it's a definite step up from thinner and lighter laptops for doing heavy, time-consuming jobs. For example, exporting an edited video project.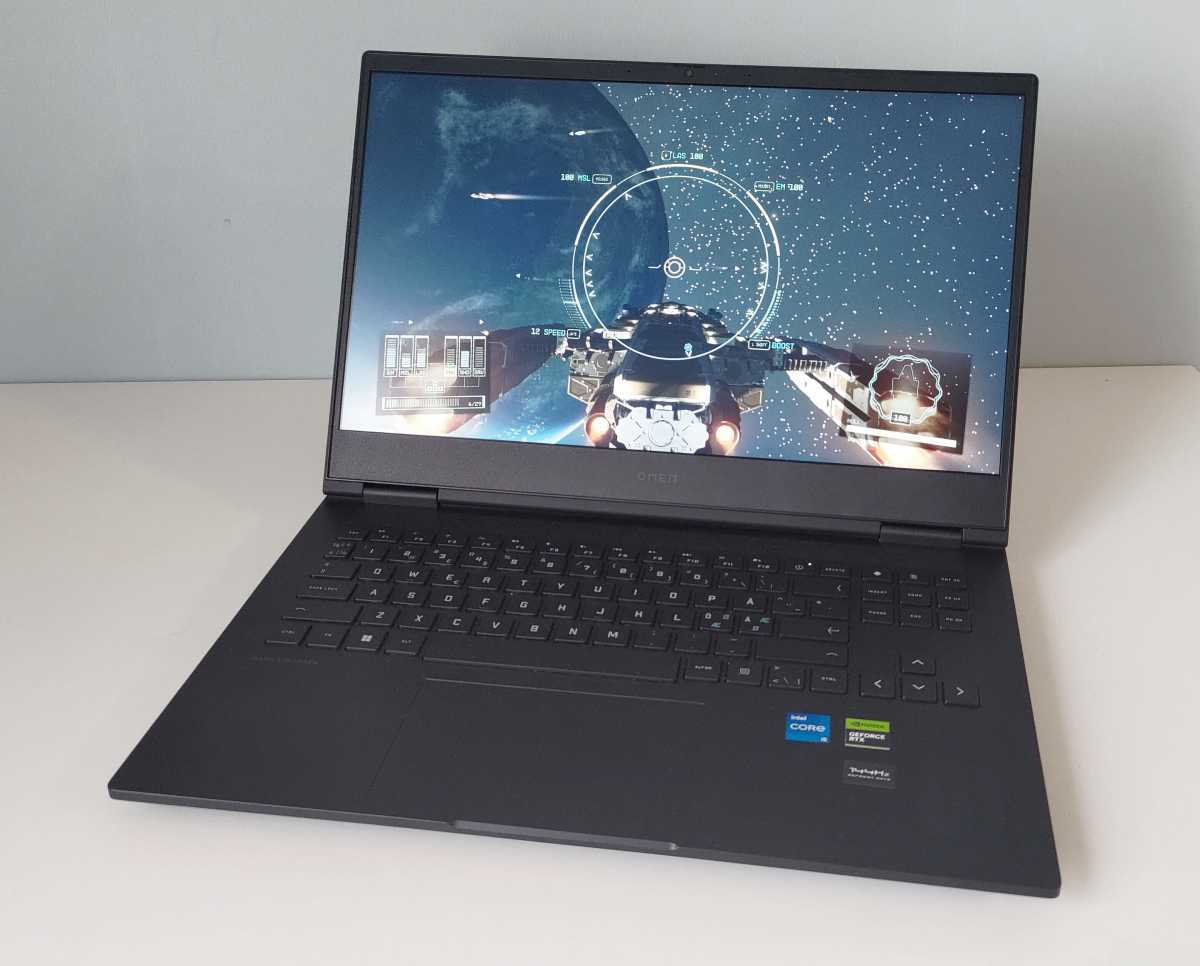 Mattias Inghe
HP Omen 16: The 4050 GPU exceeds expectations
It also has a separate, discrete graphics card for extra performance in such programs and especially for games. Here is a GeForce RTX 4050 with six gigabytes of video memory. It's the simplest laptop graphics card in Nvidia's latest 4000 series, but has proven to have the potential to deliver above expectations for such a low-priced card.
That's partly because it shares its modern architecture with the 4000 series heavyweights, supporting technologies like DLSS 3, which allows compatible games to run much faster. With configurable power levels, a computer manufacturer can push the performance of the card at the expense of power consumption.
It has somewhat limited video memory, which reportedly limits the functionality for ray tracing. But heavy ray tracing effects are still the first thing I turn off in most games if I need to tweak their performance. And for the most part, they look good anyway.
HP Omen 16: Reasonable screen and sound quality
In the Omen 16, the computer has a modest 1920×1080 pixel screen to display the games on, which also helps a lot to keep gaming performance up. For moving images like films and games, it provides a good experience, but for quiet desktop work with lots of lines and text, it gets a little annoyingly pixelated at times.
Its IPS panel gives it excellent viewing angles and srb-class color gamut with what appears to be realistic and neutral color reproduction. At about 270 cd/m2 in brightness, you should stay indoors, but it's plenty bright for normal use, and contrast is unusually high for an IPS display, with distinct blacks and nice dynamics. It has no specific support for HDR viewing, other than handling HDR video, but there's no extra dynamic range when playing it.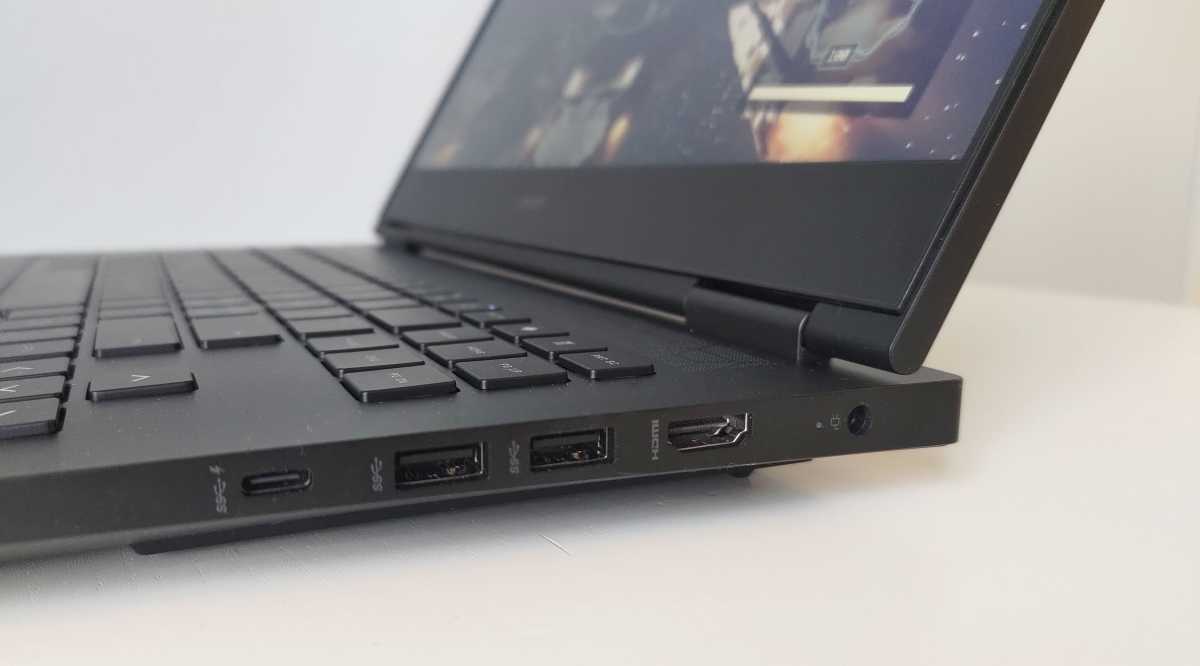 Mattias Inghe
Speakers hidden inside the chassis provide an airy sound with good stereo dispersion, but with noticeably higher volume on the left side. There is a lack of weight in the bass, but otherwise you get a pleasant experience for music, films, games, and voices. I can't find any apps or settings to adjust either the equalizer or balance. But it sounds perfectly fine without. Not great, but decent.
HP Omen 16: Plenty of ports
If you want more control, you can plug in external audio and there's plenty of room for that, with plenty of USB ports on the short sides of the computer. One is type c and the other three are type a, all with five gigabit USB 3 speeds. The type c port is not full thunderbolt 4 class, but you can connect a display. You can also do that via a separate HDMI 2.1 port. A previous model of the Omen 16 had some of the ports on the back which gave a freedom of choice that I liked, but now they are moved to the sides and most are crammed on the right side.
The cooling in the computer is effective and I never feel that it would be disturbingly hot, a little uncomfortably warm at the top of the keyboard, and a lot of heat escaping backwards and out to the sides. A stress run of the processor and graphics card in 3DMark reveals no signs of performance degradation over time. But the fans can produce an intrusive noise under high load and it's never completely free of fan noise, but a semi-damped noise is constant.
You can choose between three modes in the accompanying Omen Gaming Hub control software: Eco, Balanced, and Performance. But none of the modes, including manual control, can dampen the fans further. The same program also provides an interface for optimizing and launching installed games, network optimization tools, system cleaning and a store tab with offers for gaming services such as GeForce Now and discounted games, seemingly exclusively from Ubisoft.
Mattias Inghe
HP Omen 16: Some bloatware to clear away
Beyond that, HP has a bunch of small programs for support, security, and accessories, which can be ignored until you might need them. You also get a bit too much typical laptop bloatware, trial versions of antivirus, VPN, Office, and Gamepass that must be extended with payment after 30 days. Would it have been nicer without it? Yes, but they are easy to remove as well.
The 70 watt-hour battery is enough for a short one-hour session of intensive CPU and GPU use or at best seven hours of low-powered driving. That's pretty much what you'd expect from a more powerful laptop, and you should keep the power adapter close at hand. It also performs better plugged into the wall, so for demanding or semi-demanding jobs and games, you'll want to leave it plugged in. The computer has well-functioning hybrid graphics and in standard mode switches down to Intel Iris Xe when the more powerful Geforce card is not needed. Not that it does any direct wonders for battery life.
There are things that aren't perfect about the Omen 16, but given its low price, it's hard to complain about them, as long as your expectations are set right. This is a $799.99 laptop, not one that costs thousands of dollars. And for that money, you get an awful lot.
This review was translated from Swedish to English and originally appeared on pcforalla.se.
Best Prices Today: HP Omen 16-wd0995no
$779.99
[ For more curated Computing news, check out the main news page here]
The post HP Omen 16 laptop review: An affordable RTX-powered gaming laptop first appeared on www.pcworld.com