From www.techradar.com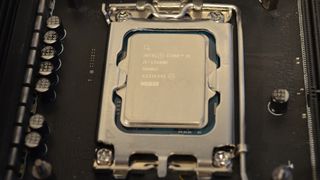 (Image credit: Future / John Loeffler)
Intel's Meteor Lake processors aren't going to be realized for desktop PCs after all, it seems, with Team Blue issuing a clarification following a recent statement seemingly indicating that the chips would debut for desktops next year.
This rather odd episode began when PC World interviewed Michelle Johnston Holthaus, VP and General Manager of Intel's Client Computing Group.
When questioned out of the blue on whether there would be a 'desktop version' of Meteor Lake, Holthaus confirmed that: "Desktop will come in 2024."
There seemed little room for doubt with that statement, and indeed the interviewer, clearly rather surprised, asked for confirmation, which Holthaus gave.
However, Intel has since been pressed for more details on this, and has come out with a separation confirmation to German tech site Computerbase that Meteor Lake desktop isn't actually going to be a thing – as such.
As VideoCardz highlighted, Intel told Computerbase: "Meteor Lake is a power efficient architecture that will power innovative mobile and desktop designs, including desktop form factors such as All-in-One (AIO). We will have more product details to share in the future."
---
Analysis: An odd affair indeed
So, there's a distinction being drawn here, namely that Meteor Lake will be coming to desktops, but that this will include form factors such as All-in-One (AIO) PCs, which will be powered by mobile chips.
In short, there won't be any actual desktop (socketed) Meteor Lake processors, but the silicon will come to AIOs and the likes of mini PCs, with Intel plonking mobile CPUs inside of these. (This is a trick that's been tried in the past, of course, though not too often).
The speculation that Holthaus fired up, that there would be actual desktop chips, was believable because Intel has talked about doing this in the past – and samples have even been made, and details shared on the grapevine.
Therefore, the conclusion jumped to was that a Core i5 or i3 Meteor Lake desktop part was coming. Now, that didn't make a lot of sense to us, because as we pointed out at the time, this was a very surprising (apparent) development at this late stage, and we didn't really see how this would fit into next year's launch timings (with Arrow Lake desktop due later in 2024). But the statement from Holthaus seemed a clear indication that actual desktop chips were coming – in some form – so we took it at face value.
As mentioned, Holthaus was even given an opportunity to clarify what she meant by desktop – when the interviewer was clearly taken aback by the sudden announcement that yes, Meteor Lake desktop was coming – and she failed to do so. That seems like poor judgment, frankly, unless maybe Holthaus herself was somehow misinformed.
As a final thought, is there any chance that a Core i5 or similar desktop part could still be inbound with Meteor Lake? As that isn't actually ruled out by Intel's statement, not quite – the company says it will have desktop designs including AIOs, and there will be further details shared in the future. It doesn't rule out a proper desktop part, then, but clearly that's the subtext here – while avoiding actually referring directly to the statement made by Holthaus (which needs to be swept under the proverbial carpet).
We weren't expecting Meteor Lake desktop anyway, mind, and we definitely aren't now – but this whole affair has been a headscratcher, frankly. We'd suggest Intel execs should be more careful with their phrasing and meaning when it comes to talking about future product launches.
You might also like
[ For more curated Computing news, check out the main news page here]
The post If you wanted an Intel Meteor Lake CPU for your next desktop PC, we've got some bad news first appeared on www.techradar.com